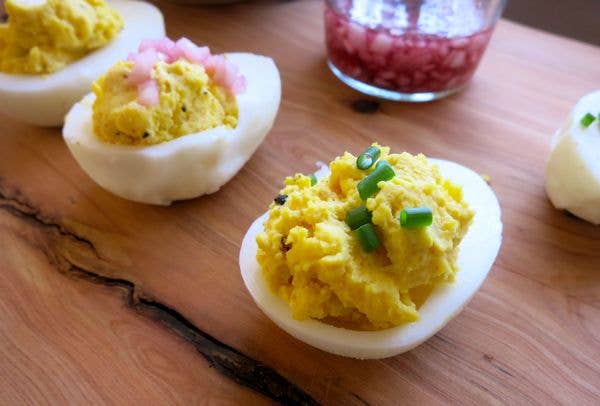 Culture
Meet the 2014 BFBA Winners: Dinner: A Love Story
Each year we've hosted the Best Food Blog Awards, we're astounded at the depth, variety, creativity, and ingenuity of the food blogs nominated, and this year was no exception. Through this series of interviews, the 2014 winners share the stories behind their blogs, deepening our appreciation for their work that much more. Here, Jenny Rosenstrach talks about her site Dinner: A Love Story, the readers' choice winner for Best Family Blog. **[See the rest of the wi
Category: Best Family Blog, Readers' Choice
Geographic Location: Westchester County, New York
When and how did you come up with the concept for your blog, and how did you first decide to start blogging? I grew up in a house where dinner was something we looked forward to—and I had two working parents. Somewhere along the way, the narrative about family dinner got either a) shaming ("if you don't eat with your kids they will fail in school") or b) sanctimonious (with the slight whiff of family values) and it bothered me. I wanted to reframe the conversation, make it more about all the good things that can happen if you can get organized to share a meal with your kids—as opposed to all the bad things that can happen if you don't. My blog is just showing how a real family does it every day—which is why you'll see recipes for the most basic meals ("Perfect Pan-Fried Chicken Thighs") right alongside some more challenging ones ("Clear the Afternoon, Kids! We're Making Mole") I think both kinds of recipes are important for families—the first, obviously, is the kind of recipe you need in your arsenal to get you through a busy week. But the second is what I call a "Keep-the-Spark-Alive" recipe, which helps keep you excited about cooking. That can be hard when you're cooking for kids. There's a whole section in my next book, Dinner: The Playbook, devoted to that concept.
What are your favorite posts? This is like asking me to pick my favorite child. I would have to say that The 100 Rules of Dinner is right up there—if only because it's so much fun to hear people disagree with me and Andy (my husband, frequent contributor) and write their own rules. I hear from people all the time that their favorite recipes are Andy's famous Pork Ragu, my Chicken Parm Meatballs, Tried-and-True Cobbler and Burrito Bowl, which, like most of my recipes, starts with the basic assumption that there will be a small person at the table who doesn't eat dinner the way everyone else does. But the posts closest to my heart are, not surprisingly, all about rituals and family. The one about the ritual of lunch with my dad ( "Absolute Value") and Andy's post about how his sweet-toothed grandmother and her cohorts defined "From Scratch" in the 50s. (Hint: It involved a box of Duncan Hines.) Now that I think about it, my favorites don't have a whole lot to do with dinner, but everything to do with family.
What is your process for developing a post? It's a combination of things. Usually I'll get an idea and then just write a title and one-line description of it in my WordPress queue. (If I don't do this, then there's a 100% chance I will forget it.) Some posts, like one I wrote about How I Blog, take months of writing and revisiting. Others, I'll write in the waiting room of my daughter's 1-hour ballet class. It depends. I do force myself to post between two and four times a week, except when I'm on vacation. The relentlessness of blogging is brutal, but it's also incredibly rewarding—you get as much back from your readers as you put into it.
What do you draw inspiration from? I don't think I'm the only one who will answer this question with "everywhere." It's not surprising that there are so many food blogs considering that everything seems to happen over a meal. Last month I heard Rebecca Lee read from her short story collection "Bobcat," and there was a whole description about a dinner party and a magnificent trifle with a gingerbread base and anise and berries. It was fiction, but I'm sure that you'll see some version of this trifle on the blog in the next few weeks—along with Lee's description. I'm a contributor at Bon Appétit, so I also get tons of inspiration from their pages and editors (especially their Instagram feed!). And obviously, I draw a lot of ideas from restaurants—for instance, ever since I ate Buvette's roasted beets with horseradish crème fraîche last week, I've been meaning to recreate it in my kitchen. It's not all high-brow stuff, though—our burgers are rolled flat In-N-Out style and that burrito bowl I linked to up top was built on my children's love of Chipotle's signature order. Ultimately, that's where I get most of my inspiration—from my children and cooking for them every night. They inform everything.