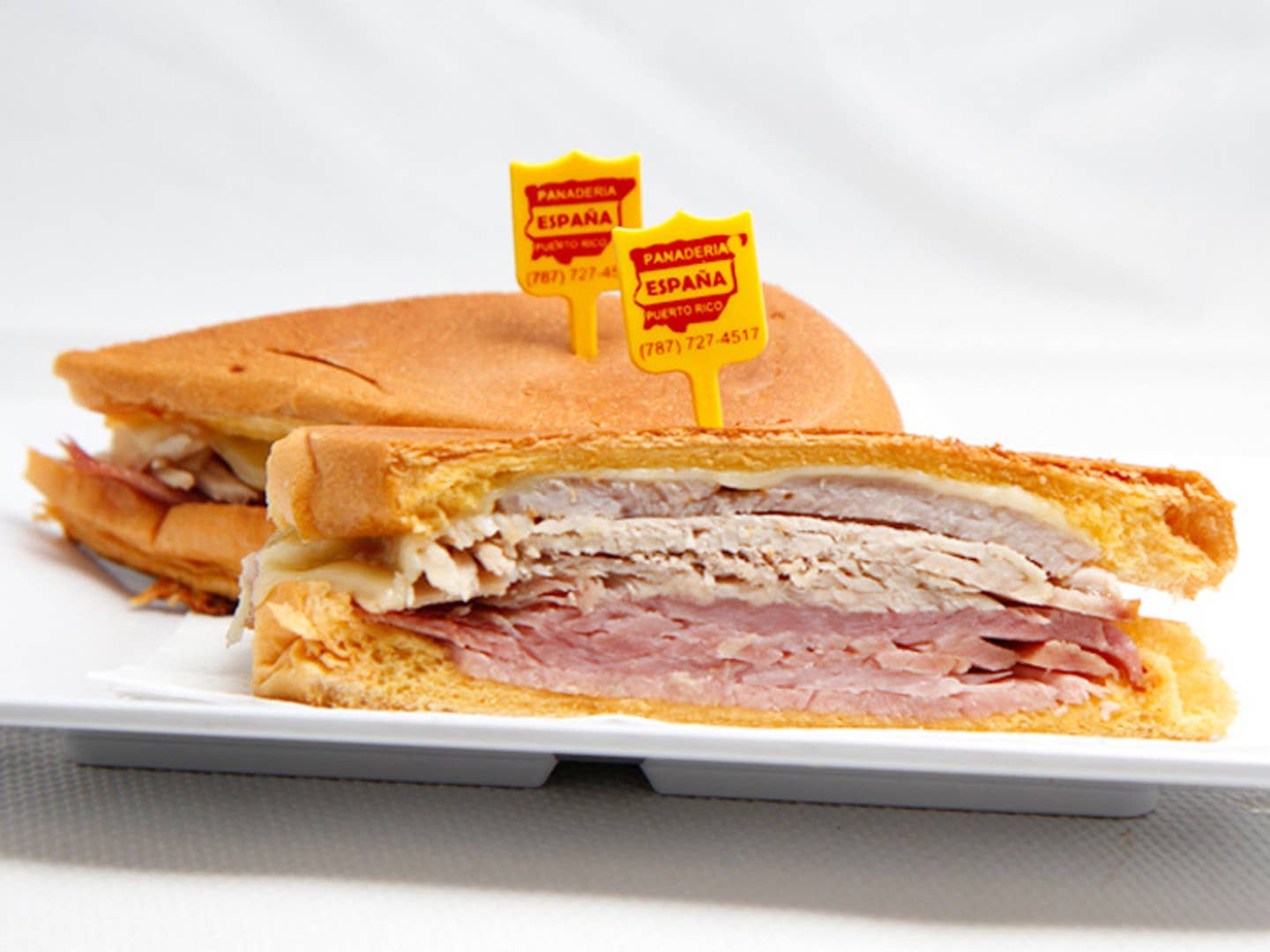 Travel
5 to Know: Jose Enrique's San Juan, Puerto Rico
In a city where the music is loud and the beach is never far, chef Jose Enrique picks out his five go-to restaurants
Born in San Juan, Puerto Rico, chef José Enrique spent his childhood seated at long restaurant tables with his family, where the music was loud and the food was plentiful. Any time there was a reason to celebrate, his family would do so with food.
"On the weekends, we'd drive to different part of Puerto Rico to eat the food that the area was known for," Enrique says. The island's food reflects the diversity of its peoples, past and present: Go to one part of the island and olive oil is the predominant fat, thanks to the Spanish who settled there in the 16th century; go to another part and fatback takes that place, which comes from the native Indians who were there before anyone else.
Enrique left for the mainland in 1997 when he was only 19 years old, but he always knew he'd come back. After studying at the CIA and working at restaurants such as Todd English's now-closed Riche in New Orleans and Café Centro in New York, he returned to San Juan and opened up his restaurant Jose Enrique in 2007. He now also owns Capital and Miel, a creole brasserie and a breakfast- and coffee-shop, respectively.
"I needed to have a place to surf, and I just love the lifestyle here," he says. "We work, but we always know we're going to have a drink that night."
So, from a man that knows where to grab coconut crust pizza and his favorite Don Q rum for the night's drink, here are 5 places not to miss in Puerto Rico's vibrant capital:
Panadería España
This old school bakery is across the street from where Enrique grew up in Isla Verde, a touristy part of San Juan. With a Spanish slant, the bakery sells freshly baked breads, boiled ham, pork butt, and savory croquettes; you'll be smart to ask for a meat and cheese sandwich, to take advantage of all their offerings at once. There's also a huge assortment of sweet pastries, Enrique's favorite being the famous quesito: puff pastry rolled in sugar with a cream cheese filling. "I could pound twenty of those, easy," Enrique says. Do as he does and grab a few quesitos, paired with freshly squeezed orange, soursop, or tamarind juice, and maybe a sandwich for later.
Panadería España
AO-23 Centro Comercial Villamar
Marginal Ave. Baldorioty de Castro
Isla Verde, Puerto Rico
+1 787-727-3860
Loiza 2050
Enrique considers this the best pizza around, for three good reasons. One: It's run by one woman, Thelma, whose mother, the original owner, still makes the pizza in the back. Two: They use creative toppings on super-thin crusts, one of Enrique's favorites being one with a mixture of cheese, herbs, and sliced almonds. (They also have a crispy coconut dough pizza with local vegetables, which Enrique says is incredible). And third: Inside the restaurant is a whiskey bar, with everything from scotch to bourbon to rye. However, it's worth noting that this pizza-place-meets-whiskey-bar's hours are fleeting—predictably, it's only open at night.
Loiza 2050
Loiza St. #2050
Santurce, Puerto Rico
+1 787-726-7141
Pikayo
Run by Wilo Benet, one of Puerto Rico's most decorated chefs, Pikayo specializes in traditional Puerto Rican cuisine with international influences. Located in The Condada Plaza Hilton, the restaurant has been churning out everything from octopus to sliders for 25 years, with a uniquely Puerto Rican twist: you'll always get rice and beans on the side. If you're looking for San Juan's take on fine dining, this is the place to go.
Pikayo
999 Ashford Ave.
San Juan, Puerto Rico
+1 787-721-6194
Laurel Kitchen | Art bar
This restaurant, located at Puerto Rico's Museum of Art, is chef Mario Pagans' take on "Nuevo Caribe Cuisine,"with a beautiful modern dining room and a menu that highlights local produce like breadfruit and guava. Come here for a fine dining experience that's elegant but unpretentious.
Aji Dulce
"This old San Juan restaurant serves some of the best creole food around," Enrique says of this small diner located in Old San Juan. We tend to associate creole food with New Orleans, but in this case, it implies "food from here." Think land crabs, plantains, and pigs' feet. Among Enrique's many favorite dishes here are the pounded steak with onion, vinegar, and "hot sauce all over it"; and the chicken fricassee with lots of olives.
Aji Dulce
250 Calle San José
San Juan, Puerto Rico 00901
+1 787-729-1717