A Tree Grows in Oklahoma City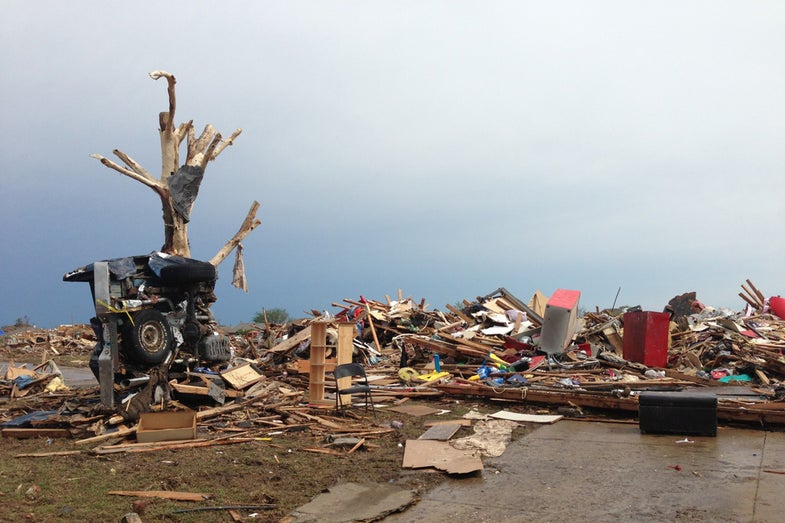 Devastation in the city of Moore, Oklahoma
There is an old American Elm in downtown Oklahoma City that grew up across the street from where the Alfred P. Murrah Federal Building stood on April 19, 1995. The Murrah Building was taken in an act of terrorism, but that elm still stands. We call it the Survivor Tree.
Having withstood mankind at its worst, the tree now stands taller than ever, and marks the point where mankind at its best began to rebuild and recover. The day of the Oklahoma City bombing may be the worst day in our city's history, but the months that followed are chocked full of its best days. The Oklahoma City that has blossomed since that terrible day is the result of a collective resolute focus on recovery. In 1995, we learned how to dust ourselves off and get up.
We were tested again on May 3, 1999, when a tremendous tornado hit. That May, the home of my children's great-grandparents was smashed by a hammer from the sky and I spent the better part of the ensuing spring helping to pick up the pieces. We all did. So we're no stranger to disaster, or recovery.
As the food editor at The Oklahoman, I've been a great booster of the chefs and food service professionals of this city, whose energy and vision has made my job a pleasure over the years. But this week, in the wake of the tornado that decimated parts of the city, I've been astonished and amazed at how this community has responded to the tragedy.
Food service professionals joined the wave of first responders, with food trucks rolling into affected areas, organizing cooking outposts to feed victims and rescue workers. MotoChef. The Crepe Brewers. La Gumbo Yaya. The Taste of Soul Egg Roll. Wild Al's. Pizza23. Big Truck Tacos. Mutt's Amazing Hot Dogs. Heo's Kitchen. Waffle Champion. They all drove into the hardest hit parts of town and started feeding as many people as they could.
The morning after the tornado hit, a group of Oklahoma City chefs determined to join together to cook to raise relief money. Their battle cry: "just cook." A pop-up restaurant, OK Chefs Relief, will operate all day Sunday May 26, with 100% of proceeds going to disaster relief. The roster includes the city's old guard chefs, newcomers, and even Oklahoma natives whose restaurants are thousands of miles away. There's James Beard Award-winning chef Danny Bowien, who will be flying into Oklahoma City on his own dime to work the line. He'll be working side by side with "Top Chef" contestant Josh Valentine; Chris Becker (formerly of Del Posto); Marc Dunham (formerly of Picholine); Kurt Fleischfresser (who pioneered fine dining at The Coach House) and Jonathon Stranger (who runs the city's first nose-to-tail restaurant, Ludivine).
The collective heart of our local chefs is in the right place. And it'll need to stay there because the hardest days are still ahead. The adrenaline shot tragedy provides doesn't last forever. By Monday of next week, the throng of national media will dwindle to nearly nothing. Someone or something will draw their attention. And the clean-up will barely be under way.
As we move from one stage of grief to another, Oklahoma will again press its collective shoulder into the monumental task ahead and lean into the pain and force chaos back into the box it came from. It won't be easy, but no one expects it to be. But it will get done, and the city will again blossom higher, broader and healthier than before chaos made its unwelcome visit. And well follow the lead of that old American Elm, which still refuses to loosen its hold on life.
How to Help
OK Chefs Relief Pop-up Restaurant
Sunday, May 2611am-10pm
Myriad Botanical Gardens
301 West Reno Ave
Oklahoma City, OK, 73102
100 percent of the proceeds will go to the Red Cross. There will be no charge for the meal, but guests are asked to donate at least $35. The event is first-come, first-served, but hosts will take names at the entrance and text those waiting for seats.
On Monday, Bowien will do a pop-up version of Mission Chinese in downtown Oklahoma City with dessert provided by David Chang's Momofuku Milk Bar.
To donate to the Regional Food Bank of Oklahoma, which is seeking donations to help tornado victims, visit: regionalfoodbank.org
Dave Cathey is the Food editor of The Oklahoman.