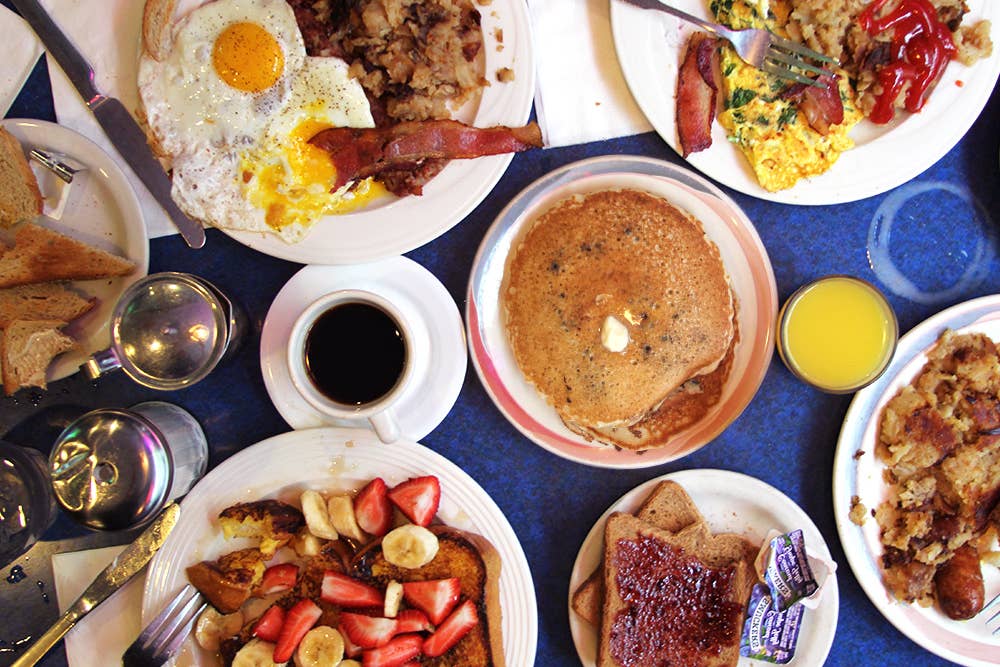 Culture
The Beauty of the Classic Diner Breakfast
There's something deeply ritualistic about eating breakfast in a diner. Sitting down to a formica countertop, whether it's in the first moments of an early day or the dreamy, fluorescent-lit finale of a late night, we know exactly what we want on our plates—no looking at menus required. When the subject of diner breakfasts came up in the SAVEUR office not too long ago, it set off a flurry of conversation: in-office debates on the merits of rye vs. white toast, which little packets of jelly are acceptable (and how many), and whether the better sausage choice is links or patties. Clearly, for all its universality, a diner breakfast is a deeply personal and particular thing. Here are our go-to orders; let us know yours in the comments.
Cory Baldwin, Associate Digital Editor
I rarely make it to a diner at a time when breakfast foods are still appealing, so my usual order is grilled cheese with bacon. When I do make it out for brunch, I get a spinach and feta omelet with a side of bacon, homefries doused in ketchup and tabasco, whole wheat toast, and black coffee. And an order of blueberry pancakes for the table—everyone wants something sweet but no one ever wants to commit their whole plate to pancakes.
Helen Rosner, Executive Digital Editor
I don't even look at the menu: three scrambled eggs, extra crispy bacon, sausage links cooked to a snappy crisp, and (if they have them) shredded hash browns with American cheese melted over the top, Denny's-style.
Laura Sant, Assistant Digital Editor
If I'm north of the Mason-Dixon, I'll get some sort of veggie omelette (it has to have that slightly rubbery, stretchy mozzarella), home fries, and toast. South of the Mason-Dixon (or some place I can be reasonably sure makes good grits), it's scrambled eggs with cheese grits and a biscuit. Either way, hot sauce on the eggs, and a cup of coffee with tons of milk and sugar.
Keith Pandolfi, Senior Editor
Two eggs over easy (with plenty of pepper and Tabasco sauce), home fries, rye toast, fruit, coffee with cream and sugar, and, being from Cincinnati, the ubiquitous steel-cut-oats and sausage patty known as goetta.
James Oseland, Editor-in-Chief
I always get an American cheese omelet with lots of Tabasco; white toast with butter and grape jelly; Lipton tea with sugar and at least three full creamer cups; and water, no ice.
Gabriella Gershenson, Senior Editor
Eggs over easy and buttered toast. If there are baked beans, I'll get them too. If I eat my eggs scrambled, chances are I'll be dabbing them in ketchup.
Judy Haubert, Associate Kitchen Director
Back in my pre-gluten free days it was always biscuits with sausage gravy, and hot chocolate with whipped cream. Now, no matter what time of day or night, it's the chicken salad and cottage cheese plate, with a baked potato on the side if I'm really ravenous, and chocolate milk.
Betsy Andrews, Executive Editor
If there's eggs Florentine on the menu, absolutely that's my first choice, though it can be dicey. For some diners, that basically means the filling from their spinach pie under poached eggs drowned in some weirdness resembling Hollandaise. For others, it's proper steamed spinach and proper sauce. If it's a Jewish joint, always, always kippers and eggs, or lox, eggs, and onions, or some other combo of fish with my eggs. With an everything bagel and cream cheese on the side. Also: corned beef hash, or any kind of hash, absolutely.
Sophie Brickman, Associate Editor
Two eggs over easy (or poached, if that's an option), a side of crisp bacon, and buttered rye toast with grape jelly. I never, ever, order rye toast at any other place. I actually hate rye toast unless it comes from a diner. I also hate grape jelly unless it comes from those tiny packets.
Karen Shimizu, Senior Editor
I go for two eggs over easy, home fries, bacon, rye toast with butter, coffee. Hot sauce for the home fries and eggs; milk and sugar for the coffee. If it's after midnight and I'm drunk, I'll also order belgian waffles.
Kellie Evans, Kitchen Director
I go to Michael's restaurant in Astoria, Queens, where my go-to is a grilled chicken, tomato and feta cheese city omelet (as in, one that's cooked on a flat top or griddle), served with french fries, toasted pita bread and their house Italian dressing, which we refer to as "crack" dressing—an addictive mix of chunky garlic, crushed red chili flakes, and red wine vinegar.