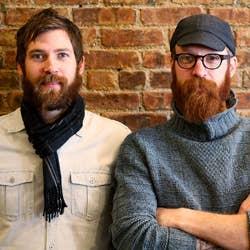 Culture
From Bean to Bar at the Mast Brothers Chocolate Factory
A firsthand look at the makings of artisanal chocolate at the Mast Brothers, Brooklyn.
After thinking, breathing, and eating chocolate in preparation for chocolate week on Saveur.com, we found ourselves wondering what happens before chocolate is delivered to the office. We decided to drop by the Mast Brothers—a small, artisanal chocolate factory—in Williamsburg, Brooklyn to get a firsthand look at the journey from cocoa bean to chocolate bar. Out of an appreciation for quality ingredients, hand processes, and a finished product that is surprising rather than mechanically consistent, the Mast Brothers have developed a craft bean-to-bar operation, which makes them vastly different in spirit and in kind from industrial chocolate manufacturers like Nestle and Hershey—the amount of cocoa that the Mast Brothers might process in a year, Hershey goes through in a day.
Walking into the factory we are greeted by indie-rock tunes and a crowd of young employees looking to be in their twenties or early thirties. A beard is not required to work here, but we have a strong feeling that it is encouraged, or at least fully sympathized with in a way that is not common to the American food industry (when handling the chocolate, however, beard nets must be worn at all times).
The Mast Brothers themselves are striking in an unassuming kind of way. Rick Mast, the elder of the brothers, formerly worked as a chef, while Mike has a background in video. Together, by testing and tasting, they develop the flavors in their chocolate. The combinations are inventive—vanilla and smoke; crown maple syrup—but the impression is more Charlie Bucket than Willy Wonka, with a purity of motive and honesty of character free of novelty or flashy innovations. All bars have a high cocoa content of 70-75%, what longtime employee Derek Herbster calls the "sweet spot" of cocoa nibs-to-cane sugar ratio.
Not being aware of the BYOB (Bring Your Own Beanie) policy of the factory employees, we don the obligatory hair nets and join Derek, our enthusiastic tour guide, around the 500-square-foot space where the entire process of making Mast Brothers chocolate takes place. The cocoa beans, sourced mostly from small farms (to which the chocolate makers pay personal visits each year) in the Dominican Republic, Belize, and Madagascar, are roasted in two small ovens inconspicuously housed in the test kitchen. The roasted beans pass through a machine to remove the husk from the nibs—the cocoa husk, to our surprise, is actually edible, and can be used to flavor beer, for cooking, or for compost; the Brothers donate much of it to the Brooklyn Botanic Gardens. The nibs are then mixed with raw cane sugar and ground in stone grinders for up to 72 hours until the natural grittiness of cocoa disappears into a viscous, silky liquid. This technique of processing cocoa beans is not unlike that of the Mayans and Aztecs, the original cultivators of cacao, and the Mast Brothers give a nod to the history of their craft by incorporating flavors like serrano pepper, vanilla bean, and coffee.
Though the stone-ground paste smells like chocolate ready to eat, at this point it is still far from becoming a finished bar. Just like cheese and wine, the untempered chocolate is binned and aged for at least three months to deepen and strengthen the flavor profiles. Before being molded into bars the chocolate is carefully melted for a final straining process and tempered, which gives the squares their smooth shininess and clean snap. And so what started out as cocoa beans in burlap sacks has transformed into a 2.5 oz. bar of robustly flavored but barely-sweet chocolate. For the crowning touch, each bar is hand-wrapped in paper printed with an elegant house-designed motif, like the tiny anchors decorating the Almonds and Sea Salt bar. Derek breaks us off pieces of his favorite, the limited reserve black truffle bar, which has an earthy-salty edge and a divisive love-it-or-hate-it character (it won us over instantly and for life). We also loved the maritime signal flag-adorned Papua New Guinea bar, a chocolate with so much depth and solidity that a just a small square is a sustaining snack.
While not open to the public for tours, the Mast Brothers Factory—from test kitchen to stone grinding to wrapping—operates in an open room shared with their storefront, where browsers can take a peak at the process (also sketched in pictures of cacao pods and plantain leaves on a chalkboard stretching across one wall) and enjoy samples as well as the enticing scent of melting chocolate.