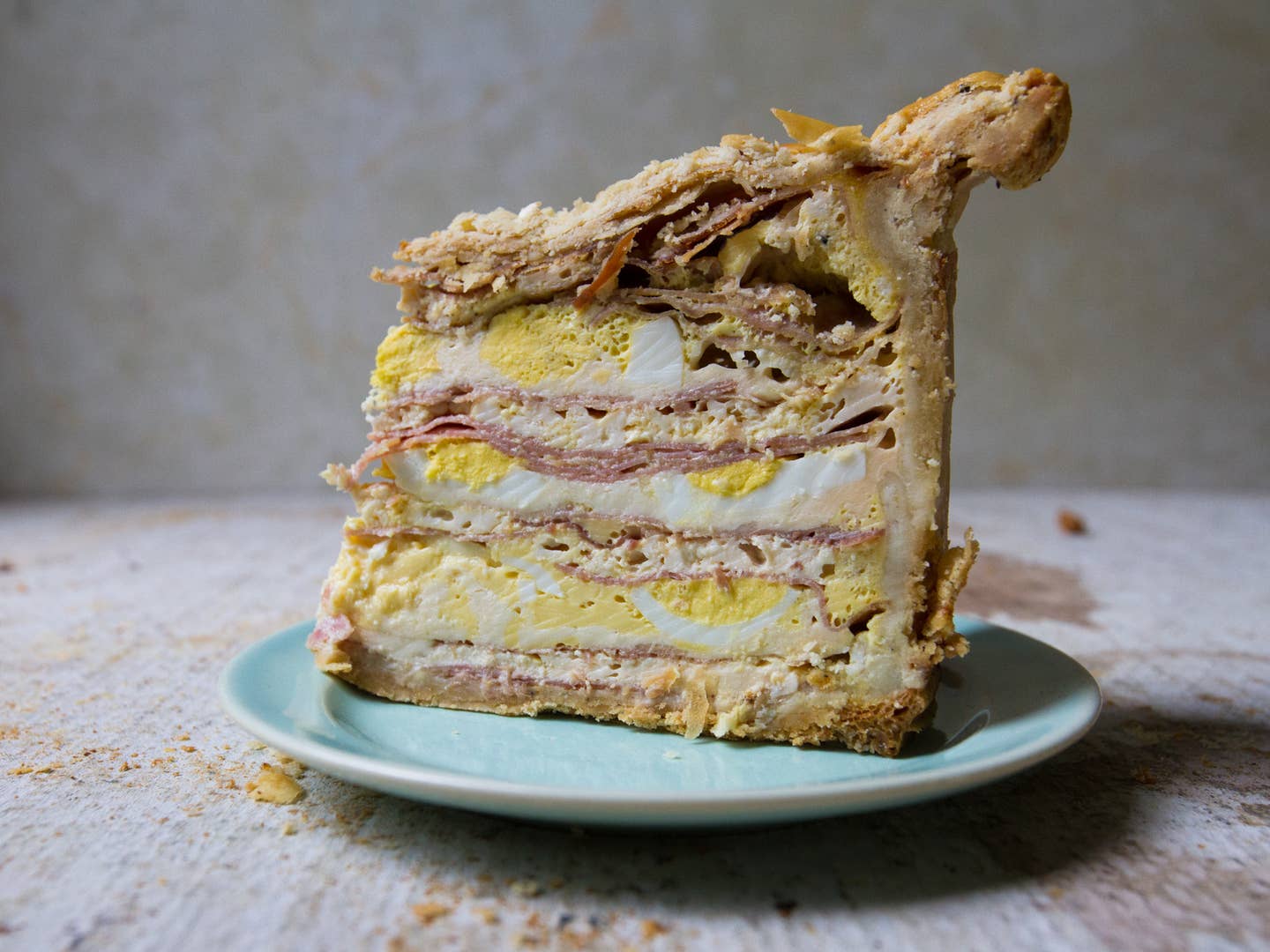 Culture
A Special Kind of Pizza Pie, for Easter
For managing editor Camille Rankin, Easter isn't complete without a pizza gain.
Every year on Easter eve, my husband, Skip, and I drive to his mother's house in Tinton Falls, New Jersey, so that he can prepare the pizza gain, a double-crust savory pie that is traditionally eaten on Easter day to break the Lenten fast. During the rest of the year, Skip spends little time—very little time—cooking. But the pizza gain has become his personal project, his culinary pièce de résistance.
To be fair, he has help. His mother has the pastry dough ready and waiting for us when we arrive in the early evening, and our two grown nephews have stepped in as willing assistants in recent years. But the rolling of the dough, the precise layering of ingredients, the careful watching of the oven into the wee hours of the morning in order to take the pie out at exactly the right moment—this is all my husband's job, and he takes both pride and pleasure in it. I get a kick out of seeing him working away, a dish towel thrown over his shoulder, flour on his nose and shirt, if only because it's so out of character, and he has so much fun doing it.
And of course, the cutting of the pie for our guests the next day, as they gather around the kitchen island for antipasti and a glass of Scotch, is a wonderful moment, with many oohs and ahs and comparisons to years past.
The name "pizza gain" comes from the Neapolitan pronunciation of pizza chiena, the local dialect for pizza piena, or "full pie." My mother-in-law's recipe, like most traditional recipes, is particular to her family; it was passed down to her from her mother, who immigrated to the U.S. from Camposano, in Naples, in the early 1900s. In the old country, the women would bake for days in an outdoor oven, using a sugared dough for sweet breads and a peppered dough, like the one in this recipe, for savory breads and pies. On Easter, there would be a festive exchange of these treats among relatives and friends. The undercurrent of competition between pies was as much a part of the tradition as the baking of them.
While almost all Italians enjoy some combination of cured meat, cheese, and eggs on Easter morning, there are many regional, and familial, versions. I grew up in an Italian-American family, too, and had seen many types of Easter pie—my family's was closer to a quiche—but had never seen one created in layers this way, or quite as tall. And to be honest, I'd never tasted one so delicious. The key to its irresistible texture and taste, I think, is that in addition to the layers of meat, cheese, and hard-boiled eggs, a dozen beaten eggs, flavored with parmesan, are slowly poured into the pie before baking. So the result is a combination of dry and slightly wet, the ingredients distinct yet bound together. And the flaky, peppery pastry, which encases it all so beautifully, is the perfect spicy counterpoint.
Some traditions fade and die, without much fuss. This one only seems to get better and more cherished as the years pass, and I hope my husband will enjoy keeping it up for a long time to come. When he's ready to pass the baton, perhaps our nephews will take it on.