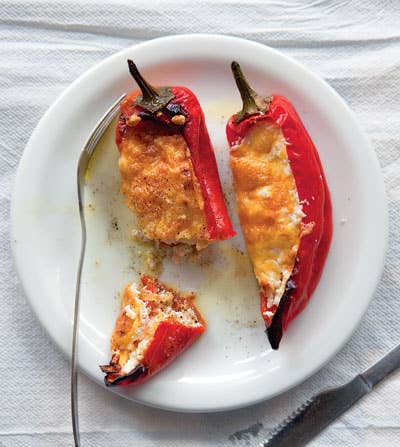 Upgrade any meal with the addition of a flavor-packed stuffed appetizer or side dish. Onions turn into vehicles for fragrant spiced rice, while tomatoes get a boost from fresh herbs and bread crumbs. Try stuffed jalapenos with a twist, or quirky hollowed dill pickles spread with pimiento cheese. Here are more than fifteen globally-inspired stuffed dishes.
This dish is based on the crab-stuffed jalapeños found on menus throughout southeast Texas. We found that chilling the chiles after stuffing them makes them easier to coat with bread crumbs and fry.
Herbs, garlic, and bread crumbs add a savory topping to tomatoes in this simple Tuscan side dish.
Thyme and white wine bring out the sweet flavor of mussels in this classic dish.
Capers, tuna, and anchovies balance the heat in these small, stuffed cherry peppers.
This dish of zucchini stuffed with prosciutto, tomatoes, and cheese is a hearty finger food.
Simple and easy to assemble, these retro-inspired, two-bite hors d'oeuvres can be assembled up to two days ahead of time and baked off before guests arrive.
Pomegranate molasses, coriander, and curry powder perfume the filling for these tender stuffed onion rolls.
Grape leaves are stuffed with a beef, herb, and rice mixture in this slightly-sweet version of Iranian dolmeh.