20 Years of SAVEUR: Peas, Please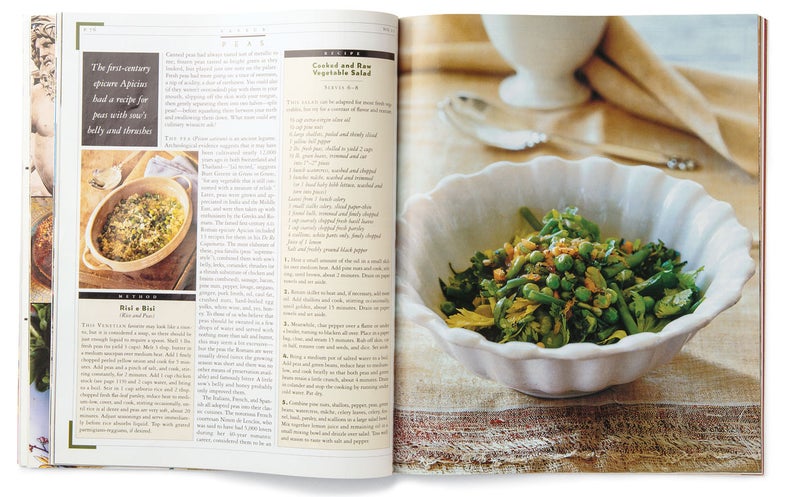 There's a stack of early SAVEURs on a shelf in my kitchen. Recently, I found myself leafing through a few of them. Memories welled up. Twenty years ago, I was part of this magazine's creation. Dorothy Kalins, founding editor-in-chief, along with editor Colman Andrews, were open to all ideas, no matter how humble or lavish. The magazine's stories took you around the world. The March/April 1996 issue—one of my favorites—featured "Easter in Rome," an account of a family's holiday meal in the Eternal City, gorging on artichokes, fettuccine alla romana, and roast suckling lamb. In "The Belly of Soul," I was transported to Gus's Fried Chicken in Memphis, where, with Dr. Feelgood wailing on the jukebox, Gertrude Vanderbilt donned yellow rubber gloves to make the best fried chicken you've ever tasted. A trip to a small ryokan inn on Japan's remote Noto Peninsula explained "The Subtle Art of Soba."
I've cooked that Easter lunch for my family many times, tried to fry chicken like Gus's, and have a deep appreciation for every soba noodle I slurp. But there's one dish I know by heart: Colman's cooked and raw salad from "Peas, Please." It's crunchy and bright with fried shallots and pine nuts. Depending on the season, I add whatever is growing. In winter, I substitute frozen peas and lima beans for fresh and add a little bacon for more flavor. The first forkful always brings back that sweet, happy time.
See the recipe for Cooked and Raw Vegetable Salad »
Christopher Hirsheimer is a writer, photographer, and founder of The Canal House.