20 Years of SAVEUR: The Revolution is a Dinner Party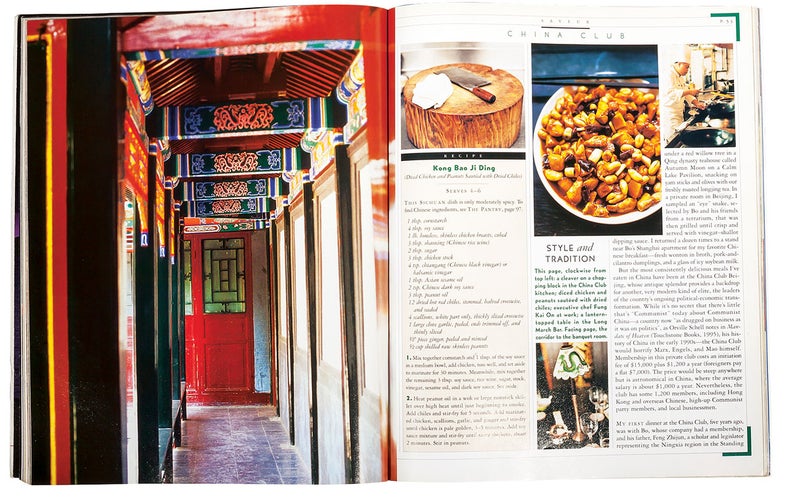 In 1998, I gained the temporary guest membership required to enter the China Club, a very exclusive restaurant in Beijing, where I dined with American friends and Chinese relatives on a wonderful meal of regional Chinese specialties. The décor was straight out of old Beijing: low lighting, romantic, lots of dark woods and lanterns. In my excitement, I rushed inside, failing to notice the entryway. Years later, I came upon a photograph in an article in the July/August 2002 SAVEUR titled "The Revolution Is a Dinner Party," which covered the history and food of the club. It hit me like a thunderbolt that the crimson doors at the threshold to the China Club were exactly like the ones that had graced the entrance to my family's home in Beijing decades—it seemed like a lifetime— before. A si he yuan, or "square house" like the renovated palace of the China Club, ours was a sprawling yet elegant 52-room home where my parents raised 12 children in the 1920s and '30s. I left Beijing for Sichuan Province in 1942 during the Japanese occupation and didn't see our home again until 1975. By then it was in a horrible state of disrepair thanks to the Communists and the Cultural Revolution. But the night I finally dined at the China Club was like a portal to my life before hardship. Plate after plate filled the table, soups and charred meats and heaping piles of vegetables. The dessert, a dish of glacéed apples, was particularly memorable. Tender fruit encased in a golden batter and caramelized sugar, it reminded me of a dessert my mother had made for our family at home. Years later, when I opened my restaurant in San Francisco, the Mandarin, I used to serve a version using bananas. Guests loved the sensation of biting through the crackly, glazed exterior to the creamy, warm fruit within, and it gave me great pleasure to share this part of my past with them. One recent afternoon, after coming across that SAVEUR article, I was filled with nostalgia and pulled out my old photo album. And, just like I'd remembered, there we were, the whole family, photographed during happy times in front of my home's red lacquered doors.
Cecilia Chiang is a restaurateur and cookbook author based in San Francisco.