Lebanese Library
Five great Lebanese cookbooks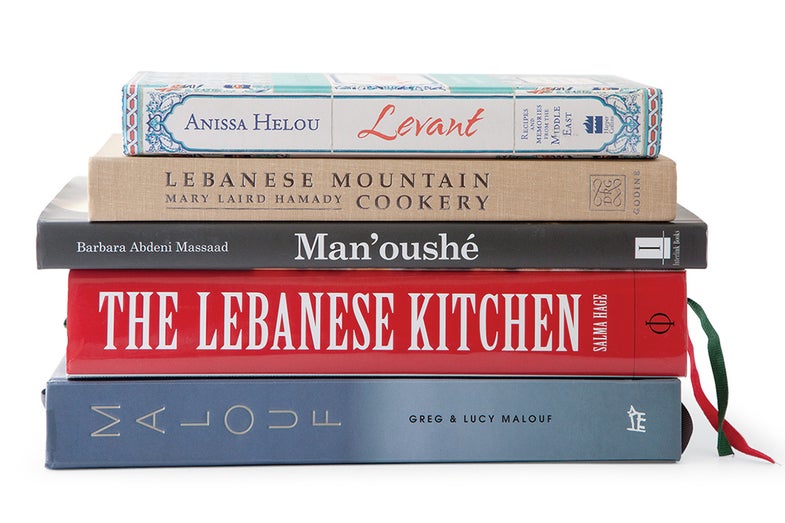 We may earn revenue from the products available on this page and participate in affiliate programs.
Though smaller than Connecticut, Lebanon boasts intensely diverse foodways. As we worked on Home for the Harvest from our October 2014 issue, we found a few cookbooks especially useful in deciphering the country's many cuisines.
Broad in scope, Anissa Helou's Levant (HarperCollins, 2013) explores her Lebanese-Syrian family's background and cuisine, with such tantalizing recipes as bulgur cooked with pork belly and sweet pistachio pie.
Lebanese Mountain Cookery (David R. Godine, 1987), by Mary Laird Hamady, is a compilation of recipes from the mountain town of Baakline. It includes an entire section on variations of fatteh, dishes made with day-old flatbread, which is fried in brown butter and layered with ingredients like chicken and pine nuts or eggplant and goats' milk yogurt.
Man'oushé (Interlink Books, 2014), by Barbara Abdeni Massaad, is the definitive guide to baking the namesake flatbread. It is organized by topping, with chapters on za'atar, wild thyme, as well as ones on sweet renditions like chocolate and halawa.
Salma Hage's stunning, 500-recipe tome, The Lebanese Kitchen (Phaidon, 2012), is a deep dive into the cooking of the author's Maronite village. Beyond hummus and kibbeh (for which there are pages of versions), it highlights lesser-known dishes, such as tender shish barak, spinach and cheese dumplings.
We also love Malouf (Hardie Grant, 2011), co-authored by Lebanese-Australian chef Greg Malouf and his ex-wife, Lucy. Its elegantly photographed, modern Middle Eastern recipes include artichoke-chorizo soup with roasted pistachios and a saffron prawn fricassee.