Hungry Planet: A Food Book That's Really About Food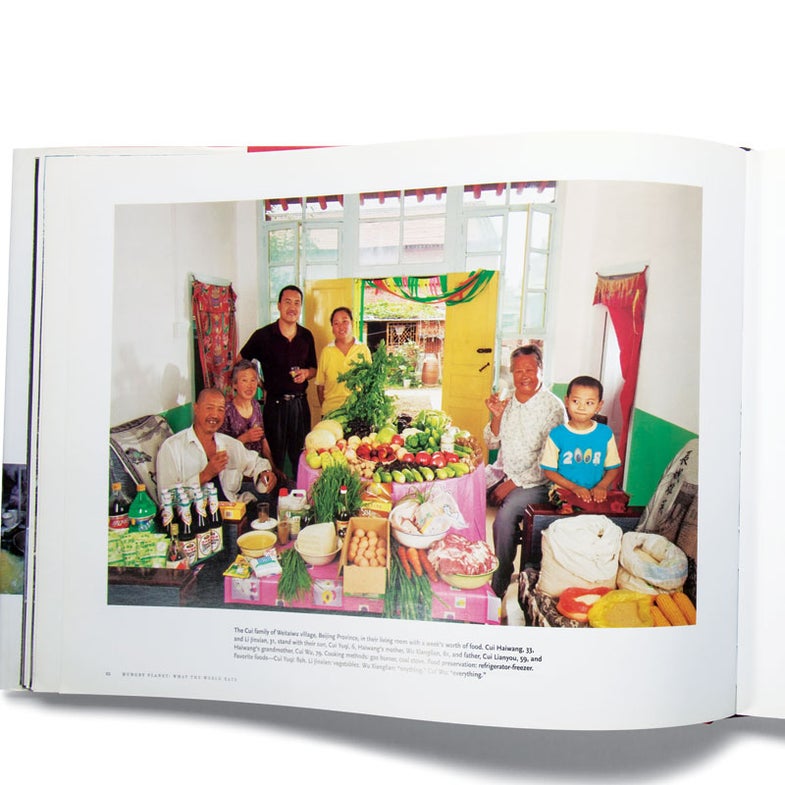 We may earn revenue from the products available on this page and participate in affiliate programs.
On one page, we see the Natomo family (one husband, two wives, one sister-in-law, and 11 children) from Mali surrounded by its weekly diet of millet and corn, dried fish, rice, and water (total cost: $26.39). On another page, the Caven family (mom, dad, two kids) from California poses with its seven-day supply of supermarket bounty, including frozen corn dogs, cereal bars, onion bagels, Chicken McNuggets, and Coca-Cola both regular and diet (total cost: $159.18). They are just two of the 30 families from 24 countries whose hebdomadal fare has been photographed by Peter Menzel and written about by Faith D'Alusio in an illuminating, thought-provoking, and gloriously colorful socio-anthropological study of international eating habits called Hungry Planet: What the World Eats (Material World Books and Ten Speed Press, $40). Menzel and D'Alusio supplement their family portraits with detailed reports on how people all over the world eat, cook, shop, and live. We also get such pertinent information for each country (not necessarily the same facts for every one) as life expectancy, fertility rate, daily available caloric intake per person, unemployment rate, annual per capita meat consumption, percentage of population either overweight or obese, the McDonald's quotient, and so on. Additional photographs depict both family life and surroundings—and there are even recipes, for everything from the Madsen family's Greenlandic seal stew to the Australian Molloy family's barbecued prawns with chiles, cilantro, and lime butter.