One Ingredient, Many Ways: Grapes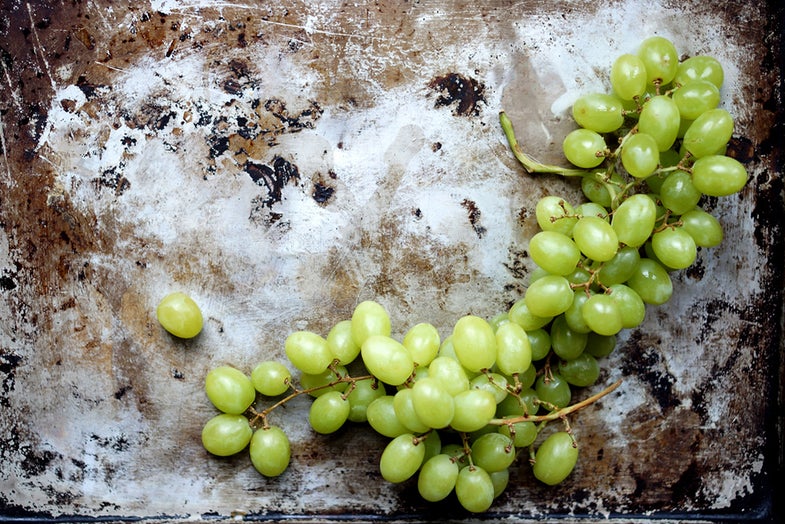 Grapes have an ancient feel about them. Cultivated for thousands of years, they're firmly ensconced in the cuisines of many cultures, from the fresh fruits themselves to the diverse array of delicacies they yield: wine, raisins, subtly-scented oil pressed from the seeds, and the forest-green leaves, which are most often served stuffed with rice.
American supermarkets are typically stocked with only one or two types of grapes, but there are thousands of varieties grown worldwide. Some, like the common green Thompson Seedless or Red Globe, are cultivated specifically as table grapes, while others are grown for pressing into juice, fermenting into wine, or drying for raisins. The grape harvest starts in early summer in parts of California, which grows this country's lion's share of the fruit. But for many varieties, such as the fragrant Concord and sweet Niagara grapes that thrive in the Northeast, late summer and early fall is the perfect time to indulge.
I love to use grapes at this time of year to liven up desserts, appetizers, and main courses alike; their tart juiciness makes them ideal as an addition to cakes and pies, and savory dishes like chicken salad and foie gras get a welcome pop of sweetness from a few fresh grapes. But don't overlook them as a star ingredient: Stirred with chopped fresh cilantro, lime juice, honey, and a little jalapeño for heat, grapes transform into a lightly-sweet fresh salsa that's an ideal early autumn accompaniment to baked fish or chicken, and deliciously refreshing scooped up with tortilla chips.
Sweet Grape Recipes
Concord Grape Pie
This early fall stunner hides a layer of deep purple fruit and juice under a buttery crust.
Green Grapes Sauteed in Honey with Rosemary and Almonds
Peeling grapes can feel tedious, but it allows the fruit to soak in the flavor of honey and rosemary in this luxurious dessert.
Grape Tart
Studded with red or green seedless grapes, this rustic tart is as gorgeous as it is delicious.
Grape Filled Strudel with White Wine Sauce
Flaky layers of pastry and juicy black grapes combine in a classic filled strudel.
Plum Pie
Grape jelly helps amp up the flavor of plums in a buttery pie.
Savory Grape Recipes
Neiman Marcus Chicken Salad
This light, ethereal chicken salad, which comes studded with grapes, was once a must-order dish at the Neiman Marcus department store café.
Smitten Kitchen: Pickled Grapes with Black Pepper and Cinnamon
Pickled grapes are an unexpected sweet-tart delight, especially when they come spiked with copious amounts of pepper and cinnamon.
Sea Bass with Grapes
Use muscat or another white grape in this elegant poached fish dish.
Foie Gras with Green Grapes
Tart green grapes cut through the richness of pan-seared foie gras.
White Gazpacho with Steamed Littleneck Clams and Smoked Paprika
Red grapes garnish chef Wylie Dufresne's upscale take on traditional almond and cucumber gazpacho.
Food Network: Walnut and Blue Cheese Grapes
This miniature hors d'oeuvre covers chilled red grapes in a creamy, crunchy mixture of blue cheese, cream cheese, and chopped walnuts.
Grape Drink Recipes
Stone Fruit Rosé Sangria
Halved grapes and blueberries join juicy summer stone fruits in a rosé-based sangria.
Concord Grape Soda
Make your own sweet, fizzy grape soda with concord grape juice and champagne yeast.
Leah Koenig is a freelance writer and author of_The Hadassah Everyday Cookbook: Daily Meals for the Contemporary Jewish Kitchen. _Her forthcoming cookbook, Modern Jewish Cooking_, will be published by Chronicle in 2015._