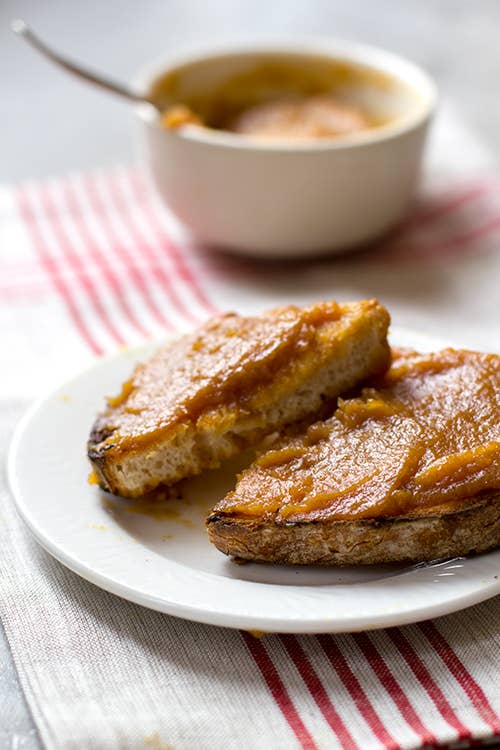 Techniques
Preserve the Season: Caramel Apple Butter
Caramel apples are one of the most fun foods I can imagine. The bright, sweet, autumnal bite of my favorite seasonal fruit is wrapped in a decadent robe of creamy caramel, unctuous and deep. Now imagine an apple butter created with that taste in mind: Apples roasted until they are soft and caramelized, combined with a dairy-rich caramel sauce to distill the same flavor into a jar, ready to top a crusty baguette, fill homemade toaster tarts, or eat by the delicious spoonful—without the sticky faces or fingers you might remember from childhood carnivals or trick-or-treating.
The apples are certainly easy enough to prepare; simply peel, core, and roast. (If you're into canning, save those skins and cores and boil them for about an hour to craft homemade apple pectin—simply strain and reduce the liquid by about two-thirds.) Making the caramel is equally simple; just allow the sugary solution turn the dark brown color it wants to be. Note, however, that the caramel can get too dark very quickly, so it's best to have the cream measured out and ready to pour before you begin.
The end result is a smooth, rich, spoonable spread—a welcome addition to ice cream, toast, pancakes, and more, and one of my favorite ways to preserve crisp fall apples.