What to Buy for a Swedish Midsummer Feast
In addition to home-cooked dishes, at any given Midsummer celebration in Sweden you'll find many of the country's signature products—caviar, cheese, and baked goods—rounding out the spread. We were happy to discover many Swedish staples available in the U.S.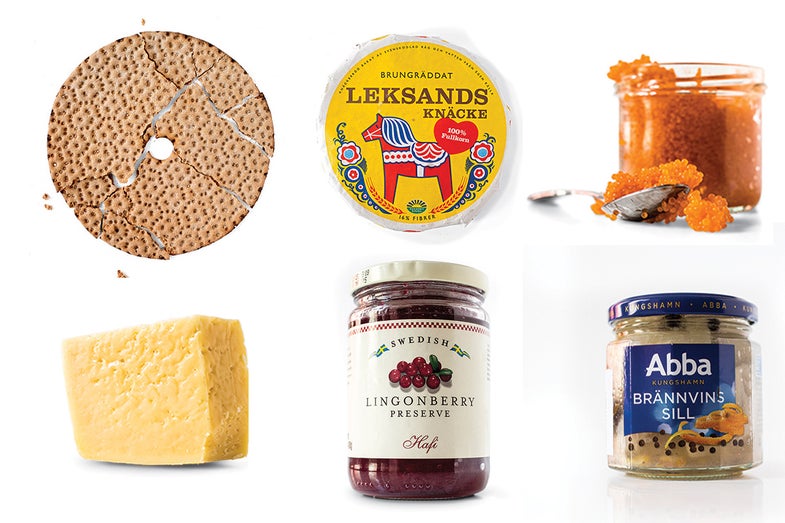 (1) Knäckebröd, Sweden's crackerlike rye crispbreads, come in disk-shaped rounds the size of an LP; they are broken into jagged pieces before being piled high with all kinds of toppings. We love the crispbreads from Sweden's Roslagsbrod bakery, which are extra thin and super crispy with a mild, malty flavor ($9 for a packet of 7 rounds; igourmet.com).
We're also partial to (2) Leksands Brungräddat (brown bread), a darker version that's baked for an extended time so that it develops a rich, toasty flavor and a wonderfully crispy, chewy texture ($9 for 8 rounds; marinamarket.com).
(3) Caviar, especially the roe from north Atlantic lumpfish, is popular in Sweden, where it's enjoyed as a topping for crispbread and a filling for deviled eggs. The mustard-seed-size orange roe pops in the mouth; it's salty with a pronounced, pleasantly fishy taste ($9 for a 3.5-ounce jar; igourmet.com).
Sweden's most famous cheese, (4) Västerbotten, is a hard cows' milk cheese from the northeast of Stockholm. It's mild and slightly nutty tasting with a dry, granular texture—a good table cheese for nibbling between shots of aquavit ($11 for an 8-ounce wedge; igourmet.com).
For pairing with cheese or for garnishing kroppkakor, Swedish potato dumplings stuffed with bacon and onion, try (5) Hafi lingonberry preserves, whole wild lingonberries cooked in sugar ($6 for a 14-ounce jar; marinamarket.com).
While pickled herring is easy to make at home, Sweden exports excellent jarred versions as well, such as (6) Abba herring in an aquavit marinade flavored with orange peel. The fish is tender and perfectly balanced between sweet and sour, with a zesty, citrusy dimension ($4 for an 8.5-ounce jar; marinamarket.com).
Learn more about Sweden's Midsummer »
See recipes for a Swedish Midsummer celebration »