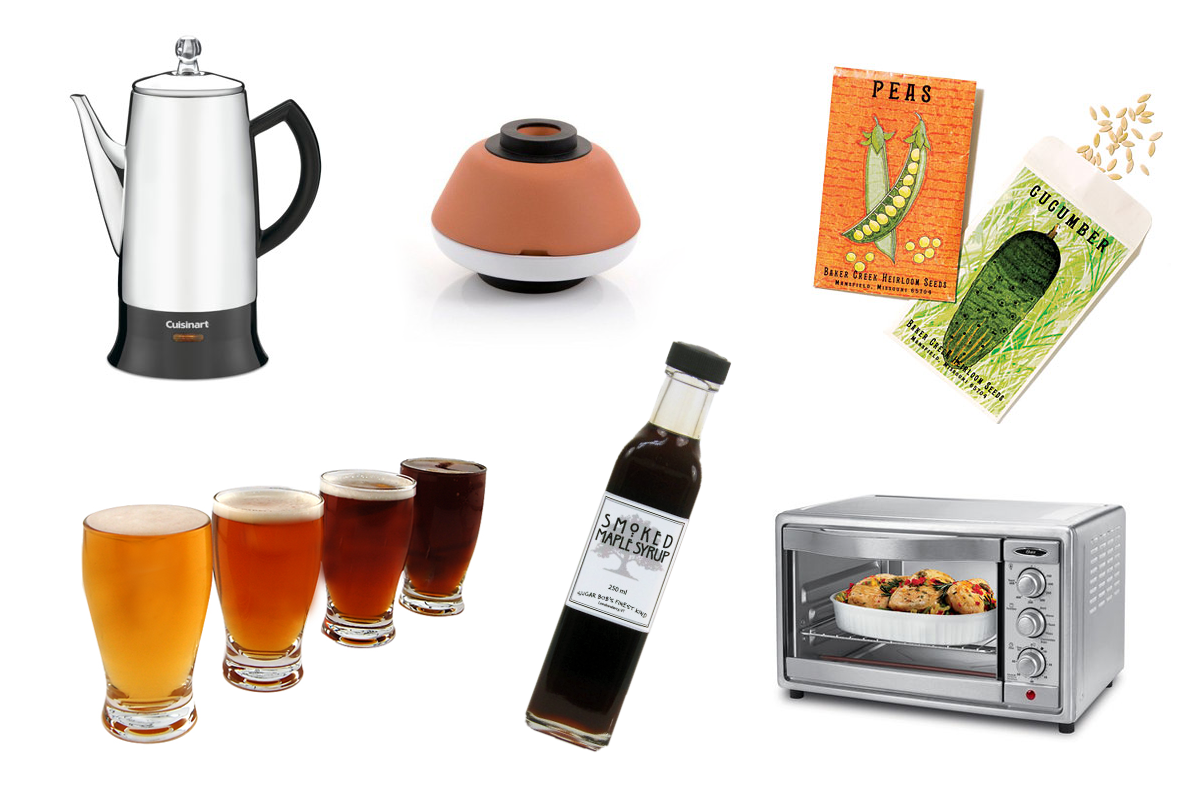 Shopping & Reviews
SAVEUR Selects: March 2014
We come across all sorts of great products in the SAVEUR office. Check out our favorites this month: heirloom vegetable seeds, a stylish slow cooker, and more selected by senior editor Keith Pandolfi. Sign up for the monthly SAVEUR SELECTS e-mail newsletter »
Turn your backyard garden into a culinary history lesson with heirloom seeds in varieties like German Red Strawberry Tomatoes—the kinds of things you'll never find at your local supermarket—from Baker Seed Company.
Baker Creek Heirloom Seeds, prices vary at rareseeds.com
I'm a sucker for anything smoked, and this Vermont maple syrup from Sugar Bob's Finest Kind, infused with real smoke from burning logs of maple and beech wood, has become a kitchen staple.
Smoked maple syrup, $12 at sugarbobsfinestkind.com
If you're the type of person who likes to sample several beers at once, invite some friends over and hand everyone a Kegworks tasting glass. If someone doesn't like a certain IPA, there's no commitment to drink a whole bottle.
Beer tasting shot glass, $4.50 at kegworks.com
I'm can get as pretentious about coffee as most people are these days. I own a $100 coffee grinder. I belong to a coffee of the month club. I use a French press. But that doesn't stop me from loving my Cuisinart percolator.
Cuisinart 12-cup percolator, $69.95 at cuisinart.com
I married a slow-cooker genius. From short ribs to red beans & rice, there's nothing she can't make—and make perfectly—in one of these things. This terra-cotta version from Royal VBK lets us do our slow-cooking in style.
Royal VBK Slowcooker, $73.60 at houseandhold.com
From morning bagels to reheated leftovers, this toaster oven from Oster is the most used appliance in my kitchen, especially in warmer months when it's too dang hot to fire up the oven.
Oster 6-slice convection toaster oven, $79.99 at oster.com
KEITH PANDOLFI, senior editor
The spring ingredient you're looking forward to using most: Sugar snap peas. I roast them; stir-fry them, turn them into soups, put them in salads; or eat them straight out of the bag on the walk home from the farmer's market.
Your favorite drink as of late: Irish whiskey. On the rocks.
Your favorite city to visit: New Orleans. Best city in the world. I only lived there five years, but it will always feel like a second home.