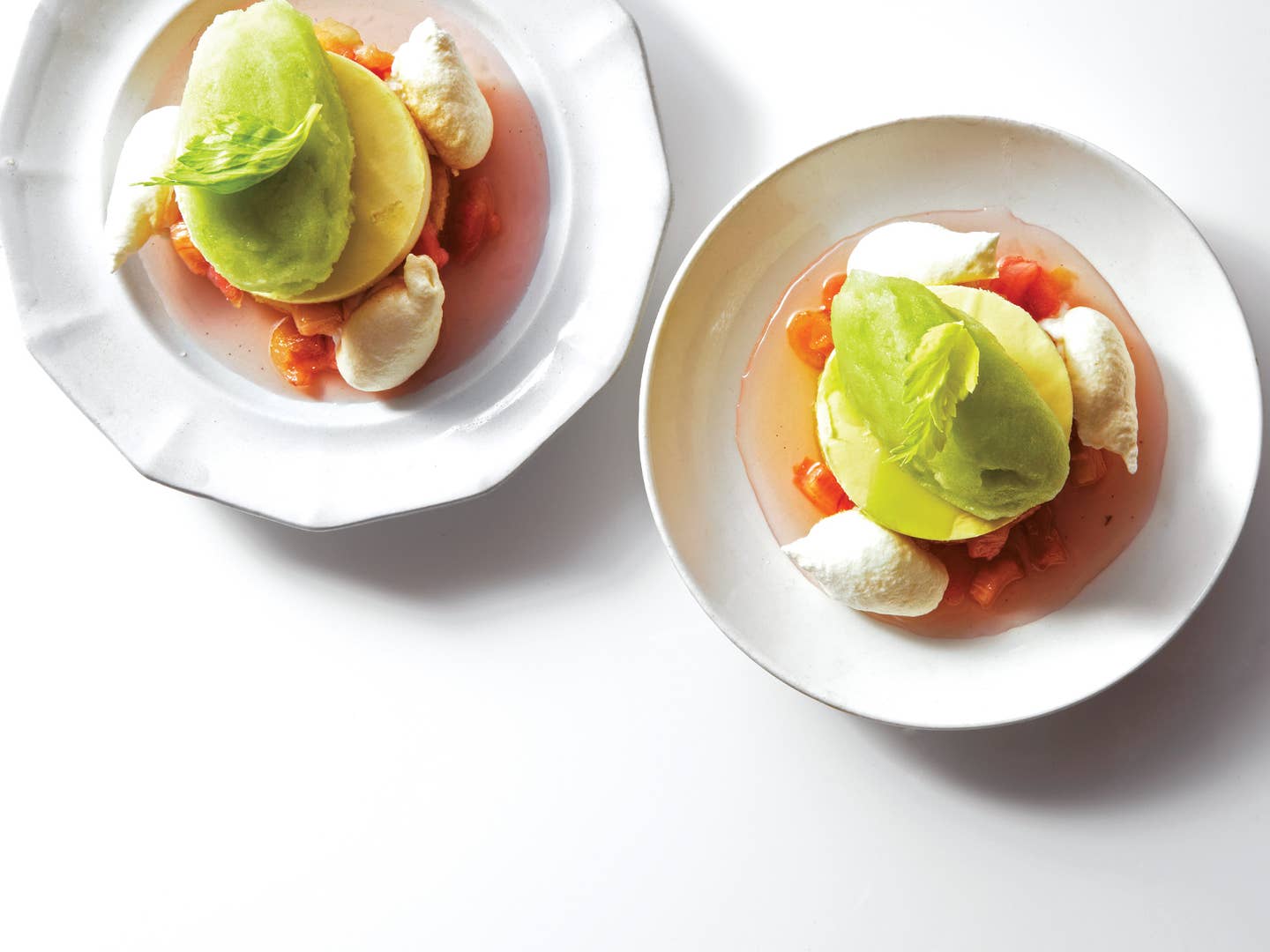 This pastel-hued dessert, from Kristen Murray of Portland, Oregon's Måurice, consists of a simple sponge cake layered with stewed rhubarb, celery semifreddo and sorbet, and crisp meringues, all surrounded by sugary rhubarb soup.
FOR THE CELERY SORBET:
2 bunches young celery with leaves
1½ cups sugar
Pinch kosher salt
FOR THE MERINGUES:
4 egg whites, room temperature
⅓ cup granulated sugar
⅓ cup confectioners' sugar, sifted
1 drop Aftelier celery oil, optional
¼ cup heavy cream, whipped into stiff peaks
FOR THE CELERY SEMIFREDDO:
3 tbsp. gin, preferably Hendrick's
3 tbsp. granulated sugar
4 egg yolks
4 inner stalks celery, juiced (about ¼ cup)
½ cup heavy cream
½ cup crème fraîche
¼ cup mascarpone
FOR THE VANILLA SPONGE CAKE:
9 tbsp. unsalted soft butter, plus more for greasing
1¾ cups almond flour
1 cup confectioners' sugar
¼ tsp. kosher salt
1 vanilla bean, split lengthwise, seeds scraped and reserved
1 tsp. granulated sugar
4 eggs, separated
FOR THE STEWED RHUBARB AND SOUP:
4 lb. rhubarb, peeled if tough, sliced ¼" thick
4 cups granulated sugar
½ tsp. kosher salt
1. Make the celery sorbet: Transfer 12 nice leaves of celery to a bowl of ice water; chill until ready to serve. Juice celery using a juicer or purée celery in a blender until smooth and strain through a cheesecloth-lined sieve into a measuring cup. You should have 4 cups of juice. Boil sugar and 1 cup water in a 1-qt. saucepan until sugar dissolves, 2–3 minutes; let cool and stir in celery juice and salt. Process in an ice cream maker according to manufacturer's instructions; freeze until ready to serve.
2. Make the meringues: Heat oven to 200°. Using an electric hand mixer, beat egg whites in a bowl into medium peaks, about 5 minutes. Sprinkle in granulated sugar and beat until stiff peaks form, 3–4 minutes. While beating, slowly sprinkle in confectioners' sugar and, if using, celery oil until combined; transfer meringue to a piping bag fitted with a plain ½" tip. Pipe silver dollar—sized teardrop shapes onto parchment paper—lined baking sheets; bake, rotating once halfway through, until meringues are dry, about 2 hours, and let cool completely.
3. Make the celery semifreddo: Whisk gin, sugar, yolks, and celery juice in a heatproof bowl; set bowl over a saucepan of simmering water. Using a heatproof rubber spatula, stir mixture until an instant-read thermometer registers 140° to make a sabayon, about 5 minutes. Remove bowl and place a layer of plastic wrap directly on the surface of sabayon; let cool. Once cool, whip heavy cream in another bowl until stiff peaks form. Fold crème fraîche, mascarpone, and then whipped cream into sabayon. Spread sabayon evenly onto a 9" x 13" baking dish; freeze until set, about 1 hour.
4. Make the vanilla sponge cake: Increase oven to 350°. Grease a 9" x 13" baking dish with butter and line with parchment paper. Whisk almond flour, confectioners' sugar, salt, and vanilla seeds in a bowl until combined; set aside. In a separate bowl and using an electric hand mixer, beat butter and granulated sugar until fluffy, about 3 minutes. Add yolks, one at a time, and mix well after each addition. With the motor running, slowly add dry ingredients into wet until batter forms. In a separate bowl and using clean beaters, beat whites into medium peaks; fold into batter and spread evenly into prepared baking dish. Bake until golden brown, 18–20 minutes. Let cake cool and invert onto a cutting board; peel and discard parchment paper. Using a 2½" round cutter, cut out 12 circles.
5. Make the stewed rhubarb and soup: Toss vanilla bean left over from sponge cake, the rhubarb, sugar, and salt in a heatproof bowl and cover with plastic wrap; set over a saucepan of simmering water until rhubarb juices are released, about 45 minutes. Set bowl over an ice bath until cooled. Strain, reserving rhubarb and soup; chill.
6. Assemble the vacherin: Place cake circles in shallow serving bowls. Spoon the reserved rhubarb over cakes. Using a 2½" round cutter, cut semifreddo into 12 pucks and place over rhubarb. Using whipped cream, glue 3–5 meringues around the sides of each vacherin. Top each with a scoop of celery sorbet; pour rhubarb soup around vacherin and garnish with reserved celery leaves. Serve immediately.