Recipes
Charlotte d'Asperges au Crabe (Crab and Asparagus Terrine)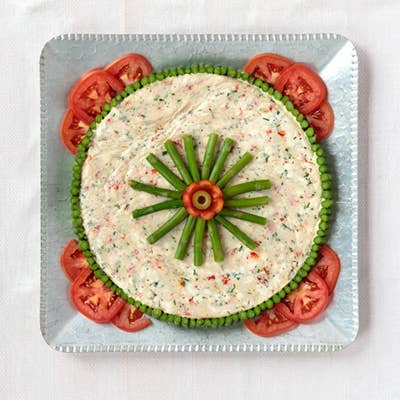 Cooked, chopped shrimp or scallops can be substituted for crab in this asparagus-adorned terrine.
Ingredients
Kosher salt and freshly ground black pepper, to taste
1⁄2 lb. pencil asparagus, trimmed and cut into 1″ pieces
1⁄2 cup homemade fish stock or store-bought, chilled
1 tbsp. powdered gelatin
4 oz. goat cheese, softened
2 cups small curd cottage cheese, drained overnight
2 tbsp. minced parsley
1 tbsp. minced chives
1 tbsp. minced dill
1 small red bell pepper, roasted, peeled, seeded, and minced
10 oz. cooked snow crabmeat, finely shredded
Sliced tomato, for garnish (optional)
Instructions
Step 1
Bring a 4–qt. saucepan of salted water to a boil; cook asparagus until tender, 1–2 minutes. Transfer to a bowl of ice water until cold; drain. Line a 10″ cake pan with plastic wrap, leaving 4″ hanging over edges; set aside.
Step 2
Place half the stock in a large bowl; sprinkle in gelatin and let sit 10 minutes. Bring remaining stock to a simmer in a 1-qt. saucepan; whisk into gelatin mixture. Stir in cheeses, parsley, chives, dill, bell pepper, salt, and pepper; fold in crab. Spoon mixture into prepared pan; fold edges of plastic wrap over top and chill until firm, at least 1 hour. To serve, unmold onto a serving platter and discard plastic wrap; arrange asparagus over top and sides and garnish with sliced tomato, if you like.