Charred Asparagus and Egg Salad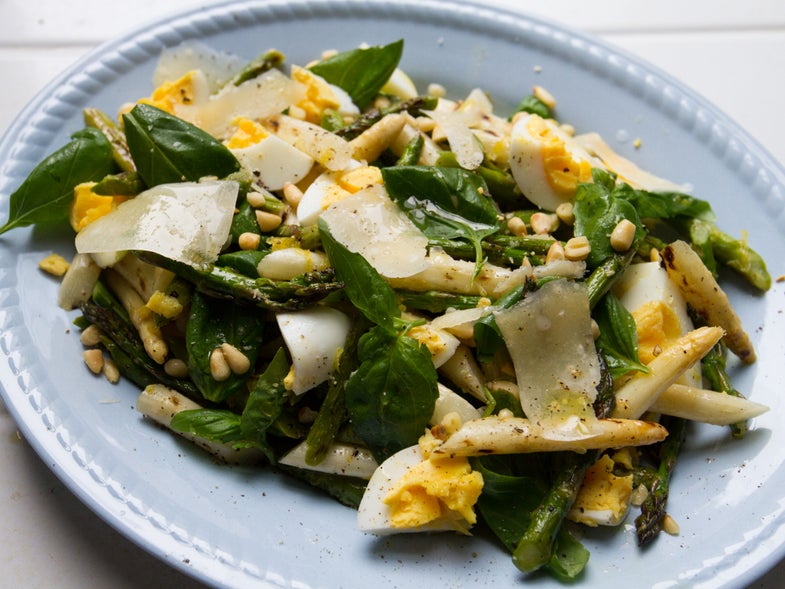 Sometimes you have a meal all planned out—or you're not planning on cooking at all—and then you spy an ingredient at the market that looks so good you can't leave without it. So it was with this asparagus salad, which I put together after coming across some gorgeous white and green asparagus at my local bodega. Super easy and fresh, it's a perfect dish for spring, but also translates well to outdoor cooking in the summer. Serve it on its own or with grilled fish. —Farideh Sadeghin, test kitchen director
Charred Asparagus and Egg Salad
Toss grilled asparagus with lemon, basil, parmesan, and hard boiled eggs for a quick and satisfying spring dinner.
Ingredients
1 bunch green asparagus, trimmed
1 bunch white asparagus, trimmed
1⁄4 cup olive oil, plus more for drizzling
Kosher salt and freshly ground black pepper, to taste
1⁄2 cup basil leaves
2 tbsp. pine nuts, toasted and roughly chopped
2 hard boiled eggs, cut into 1″ pieces
Parmesan shavings, for serving
Zest and juice of 1 lemon
Instructions
Build a medium-hot fire in a charcoal grill, or heat a gas grill to medium. (Alternatively, heat a cast-iron grill pan over medium-high heat.). Toss asparagus with 2 tbsp. olive oil, salt, and pepper; grill, flipping once, until charred and cooked, 5-7 minutes. Transfer to a cutting board and cool slightly; cut into 2″ pieces on the bias. Transfer to a bowl and toss with remaining olive oil and the lemon zest and juice; add basil, pine nuts, and eggs and gently toss. Transfer to a platter and top with parmesan shavings.