Broth with Crêpes (Crespelle en Brodo)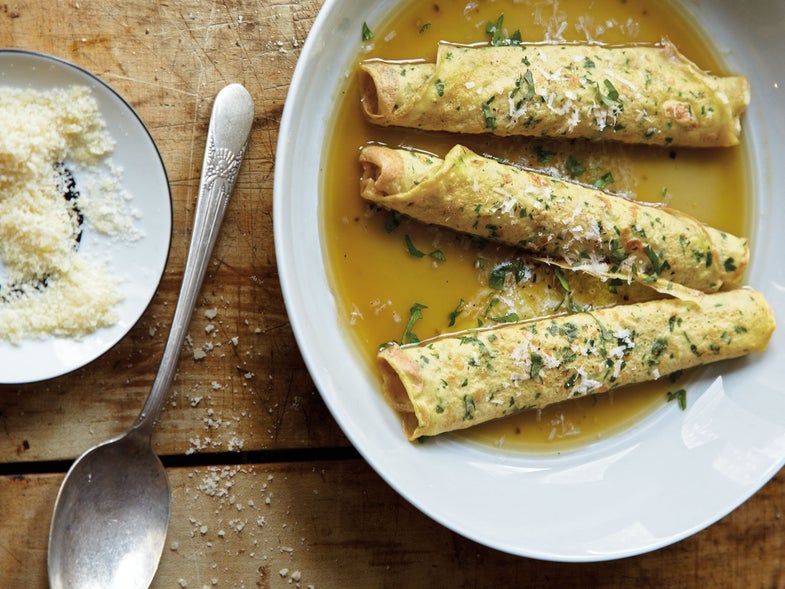 Abruzzo winemaker Emidio Pepe's wife, Rosa, gave us the recipe for these Italian crêpes; the key to producing their robust, deeply golden-hued broth is taking the time to properly brown the chicken wings and beef bones. The rendered fat develops sucs, or fond, the browned bits of meat left in the pan that increase the broth's flavor. Featured in: The Road to Abruzzo
Find this recipe in our cookbook, SAVEUR: Soups and Stews
Crespelle en Brodo (Broth with Crêpes)
Parmesan-laced crêpes soak in a pool of deeply-rich beef broth in this recipe from the Italian countryside.
Time: 5 hours
For the Brodo
2 tbsp. olive oil
3 lb. chicken wings
1 lb. beef bones, cut into 2″ pieces (ask your butcher to do this)
2 carrots, roughly chopped
2 large yellow onions, roughly chopped
2 stalks celery, roughly chopped
1 clove garlic
3 sprigs parsley
1 bay leaf
1 plum tomato, cored and halved
For the Crespelle and Serving
1⁄4 cup minced parsley, plus more
5 tbsp. flour
1 tbsp. grated parmesan, plus more
1 tbsp. olive oil
1⁄4 tsp. freshly grated nutmeg
5 eggs
Freshly ground black pepper, for serving
Instructions
Make the brodo: Heat oil in a large saucepan over medium-high. Working in batches, cook chicken wings and beef bones until browned, 35–40 minutes; transfer to a bowl. Add carrots, onions, celery, and garlic to pan; cook until golden, 6–8 minutes. Return wings and bones to pan. Add parsley, bay leaf, tomato, and 20 cups water; simmer, skimming as needed, for 4 hours. Strain through a fine-mesh sieve into a clean saucepan; keep warm.
Make the crespelle: Whisk parsley, flour, parmesan, oil, nutmeg, eggs, and 1 cup water in a bowl until smooth. Heat an 8″ nonstick skillet over medium-high. Working in batches, pour 2 tbsp. batter into skillet while tilting skillet to let batter cover bottom completely. Cook until crespelle is golden on the bottom, 1–2 minutes. Flip and cook 1 minute more; transfer to a plate. Roll each crespelle into a cigar shape. To serve, divide crespelle cigars between shallow bowls and ladle reserved brodo over top; garnish with parsley, parmesan, and pepper.