Recipes
Grilled Yogurt-Marinated Lamb Shoulder Chops
Serves

serves 4-6

Cook

4 hours 25 minutes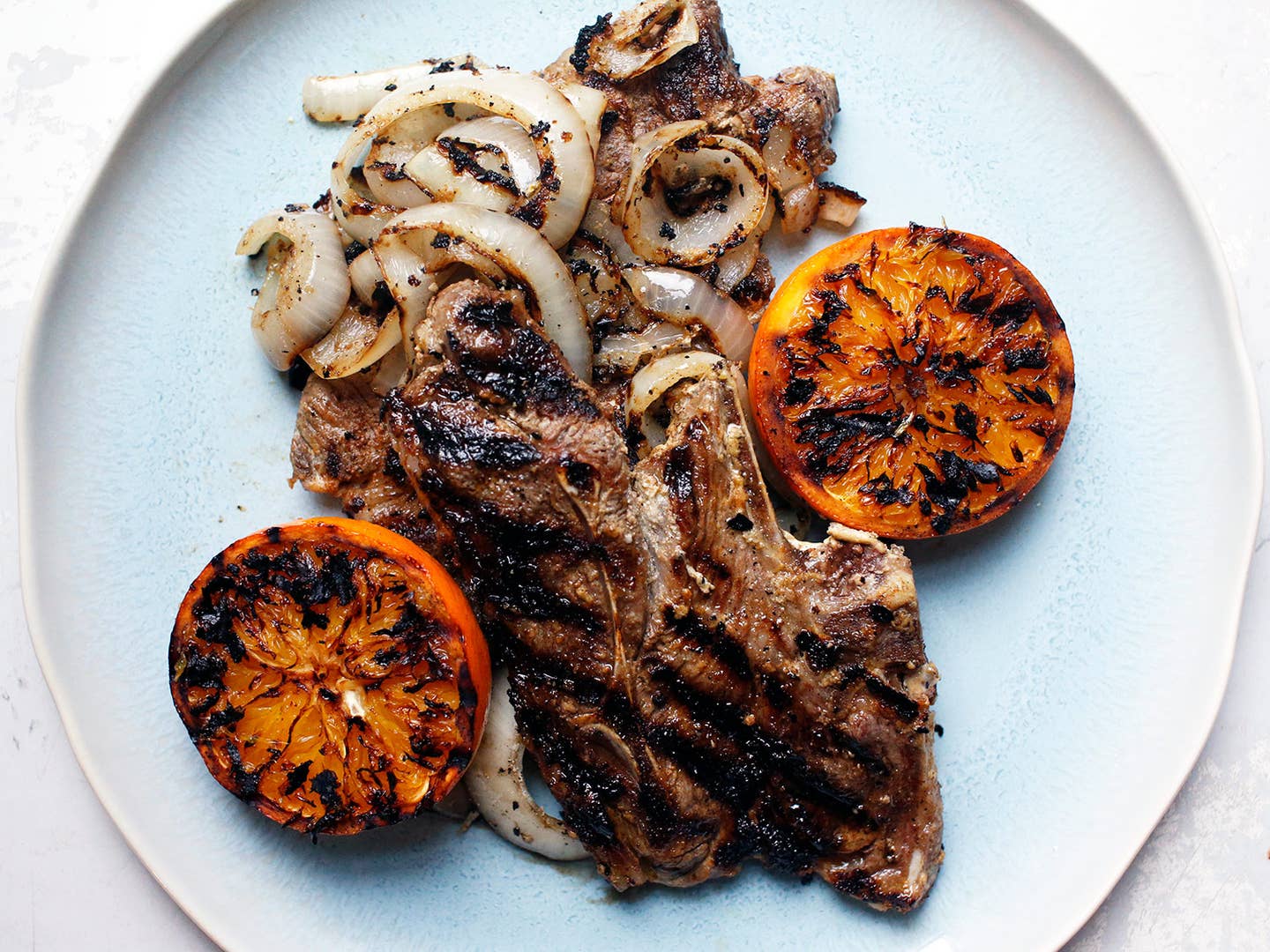 Full-fat yogurt is the secret to getting these hefty lamb shoulder chops nice and tender. Laced with cumin, cardamom, garlic, and lemon, the marinade also infuses the meat with tons of flavor.
Ingredients
6 lamb shoulder chops (about 8 oz. each), trimmed
1 large yellow onion, sliced crosswise into 1/2-inch-thick rings
Kosher salt and freshly ground black pepper
1 cup plain, whole-milk yogurt
3 Tbsp. extra-virgin olive oil
2 1⁄2 tsp. ground cumin
2 tsp. ground green cardamom
8 cloves garlic, mashed into a paste
Zest and juice of 1 lemon
6 medium seedless oranges, ends trimmed, halved crosswise
Instructions
Step 1
Place the lamb chops and onion in a 9-by-13-inch baking dish; season with salt and pepper. Stir together the yogurt, oil, cumin, cardamom, garlic paste, lemon zest and juice; rub the marinade over the lamb. Cover with plastic wrap and refrigerate for 4 hours.
Step 2
Heat a charcoal or gas grill to medium-high. (Alternatively, heat a grill pan over medium-high.) Remove the lamb from the marinade and grill, flipping once, until slightly caramelized and cooked to desired doneness, 10–12 minutes for medium; transfer to a serving platter. Grill onion and oranges until slightly charred and tender, 5–7 minutes; serve alongside the lamb.