Don Pepe's Chiles de Árbol Salsa and Guacamole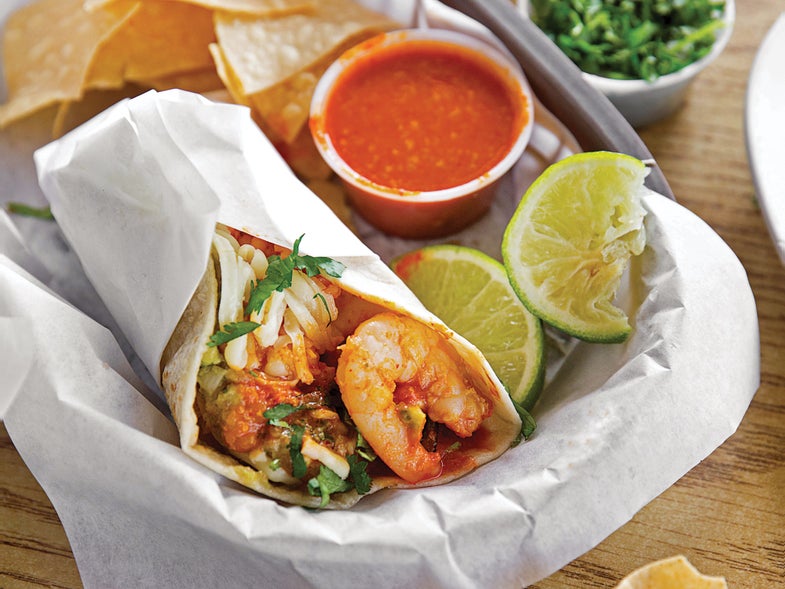 Inspired by Don Pepe Taqueria in Fresno, this fiery salsa and cooling guacamole accompany hearty shrimp tacos; but you can use the two sauces to add dimension to any taco night. This recipe was featured in Sara Deseran's story On the California Taco Trail
Don Pepe's Chiles de Árbol Salsa and Guacamole
Fiery salsa and cooling guacamole make for a perfect pair. Use the two sauces to add dimension to any taco night.
Time: 25 minutes
Ingredients
5 chiles de árbol, stemmed and seeded
1⁄4 cup boiliing water
5 plum tomatoes (4 cored, 1 minced)
4 cloves garlic (half peeled, half minced)
2 serrano chiles (half stemmed, half minced)
1⁄3 cup cilantro, roughly chopped
1⁄4 tsp. sugar
1 small white onion, minced
Kosher salt, to taste
2 tbsp. fresh lime juice
1 ripe avocado, peeled, pitted, and mashed
Instructions
Make the salsa: Heat a 12″ skillet over medium-high. Cook chiles de árbol until lightly toasted, 1–2 minutes, and transfer to a blender; add water and let sit 10 minutes. Meanwhile, cook 4 cored tomatoes, unpeeled garlic, and stemmed serrano, turning as needed, until charred all over, 8–10 minutes; transfer to a plate and let cool. Peel garlic and seed serrano; transfer to blender with charred tomatoes. Add half the cilantro, the sugar, half the onion, and salt; purée until smooth and set salsa aside.
Make the guacamole: Stir minced garlic, tomato, and serrano, the remaining cilantro and onion, the lime juice, avocado, and salt in another bowl; cover guacamole and chill.