Recipes
Tom Yum Goong (Thai Hot and Sour Shrimp Soup)
Redolent with aromatics and spice, this Southeast Asian favorite is faster to make than you might think.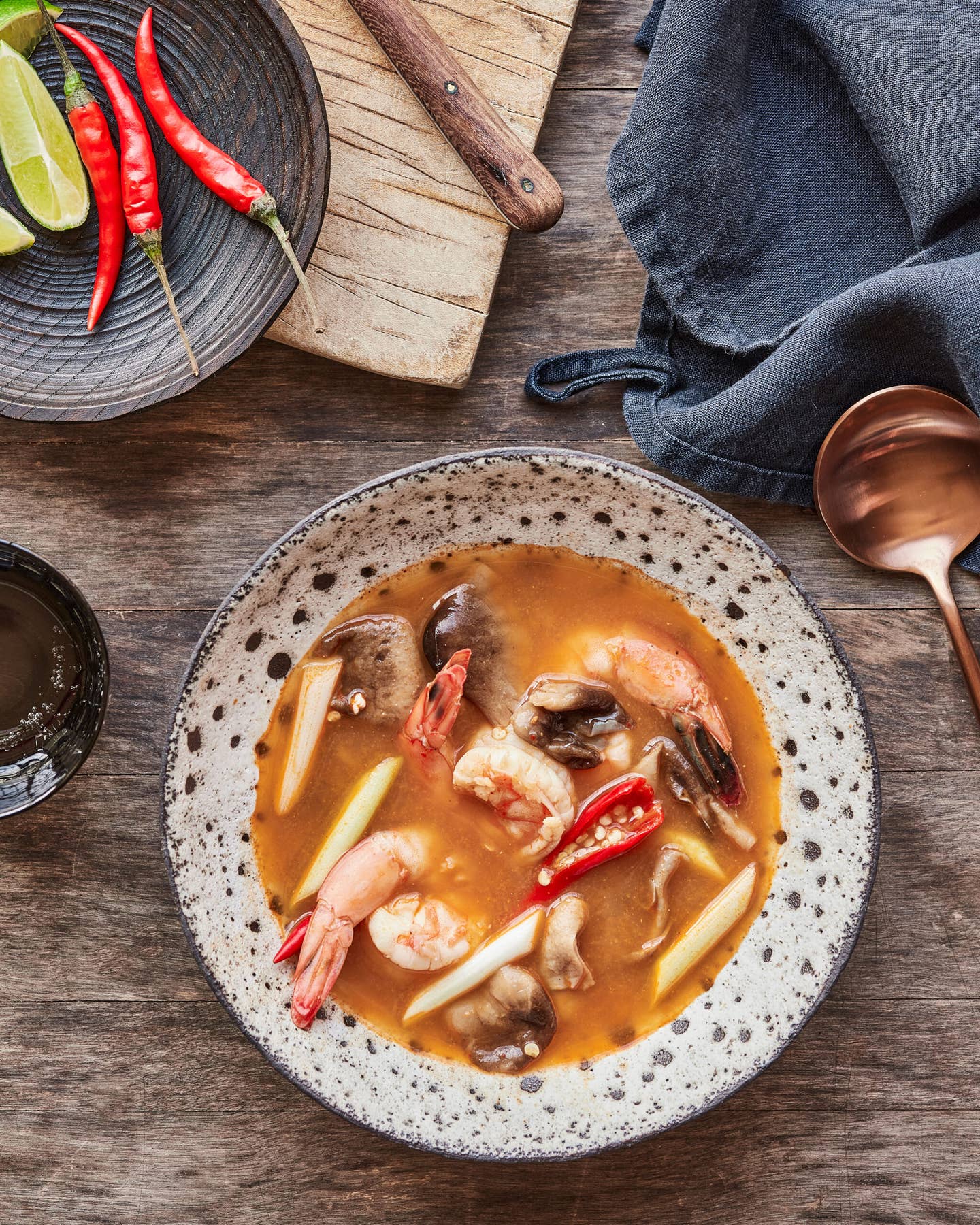 Tom yum goong belongs to the family of Thai soups with the prefix "tom yum," meaning, "boiled together," with the suffix "goong" translating as prawns or shrimp. Fragrant with lime juice, makrut lime leaves, and lemongrass, this tom yum soup recipe is based on one from Nancie McDermott, author of Real Thai. Find nam prik pao—roasted Thai chile paste—from your local Asian grocery store or order it online from Umamicart.
Ingredients
3 large fresh lemongrass stalks
4 cups chicken stock
12 fresh or frozen makrut lime leaves, divided
1 cup canned straw mushrooms, drained
2–4 Tbsp. nam prik pao (roasted Thai chile paste)
8 oz. medium shrimp, peeled and deveined
1 Tbsp. plus 1½ tsp. fish sauce
4–6 bird's eye chiles, stemmed and smashed with the side of a knife
3 scallions, cut into 1-in. lengths
1 Tbsp. fresh lime juice
Steamed rice, for serving (optional)
Instructions
Step 1
Trim the tip and root ends of lemongrass stalks and remove and discard their tough outer layers. Using a meat mallet or the side of a large knife, smash the stalks to flatten them, then tie each stalk into a knot and set aside.
Step 2
To a small pot, add the stock and bring to a boil over high heat. Add the lemongrass and half the lime leaves. Turn down the heat to medium-low, and cook until the broth is fragrant, about 5 minutes.
Step 3
Remove and discard lemongrass and lime leaves, and turn up the heat to high. Stir in the mushrooms and nam prik pao, to taste, bring to a boil, and cook for 1 minute. Add the shrimp and fish sauce and cook until the shrimp are just cooked through, about 45 seconds. To a serving bowl or soup tureen, add the remaining lime leaves and the chiles, scallions, and lime juice. Just before serving, pour the soup into the serving bowl and stir to combine. Serve hot, with steamed rice, if you like.