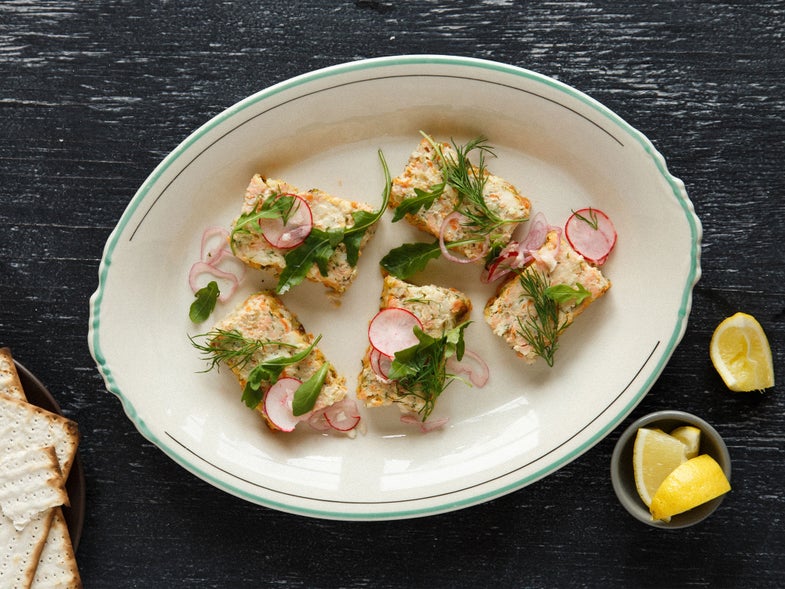 Traditional gefilte fish recipes call for fish balls poached in stock, but New York City chefs, authors, and brothers Eli and Max Sussman like to bake their gefilte fish in a loaf pan with a water bath. They also add salmon for a richer, fuller flavor. Adapted from their new cookbook, Classic Recipes for Modern People (Weldon Owen). Featured in: A Gefilte Fishing Expedition
Gefilte Fish Terrine
Chefs Eli and Max Sussman make a rich, modern gefilte fish terrine by baking salmon in a loaf pan, instead of poaching the traditional pike-perch blend.
Ingredients
3 tbsp. olive oil
1 medium white onion, minced
12 oz. boneless, skinless carp or pike fillet, roughly chopped
12 oz. boneless, skinless salmon fillet, roughly chopped
1 cup heavy cream
2 tbsp. matzo meal
1 tbsp. minced dill, plus sprigs for garnish
2 tsp. kosher salt, plus more to taste
1 tsp. freshly ground pepper, plus more to taste
2 eggs, beaten
1 carrot, coarsely shredded
Zest of 2 lemons, plus 3 tbsp. juice, and wedges for serving
2 cups baby arugula
4 red radishes, thinly sliced
1 (1″) piece horseradish, peeled and finely shredded
1 shallot, thinly sliced
Matzos, for serving
Instructions
Heat oven to 325°. Line a 9″x 5″ loaf pan with plastic wrap, letting at least 4″ hang over the edges. Heat 1 tbsp. oil in an 8″ skillet over medium; cook onion until soft, 8–10 minutes, and transfer to a bowl. Combine carp and salmon in a food processor; pulse until coarsely ground and transfer to bowl with onion. Add cream, matzo meal, minced dill, salt, pepper, eggs, carrot, lemon zest plus 1 tsp. juice, and 3⁄4 cup cold water; stir to combine and spread into prepared pan. Wrap plastic wrap over top and cover with parchment paper. Place loaf pan in a 9″x 13″ baking dish; pour boiling water into pan to come halfway up outside of loaf pan. Bake until an instant-read thermometer inserted into the center reads 160° or a knife inserted into the center comes out clean, about 1 hour 15 minutes. Transfer loaf pan to a wire rack; let cool. Remove paper and invert terrine onto a platter; discard plastic wrap. Chill terrine until cold and then cut into slices. Toss remaining olive oil and lemon juice, the dill sprigs, arugula, radishes, horseradish, shallot, salt, and pepper in a bowl; sprinkle over terrine. Serve with lemon wedges and matzos.