Lentil Salad with Beets and Pomegranate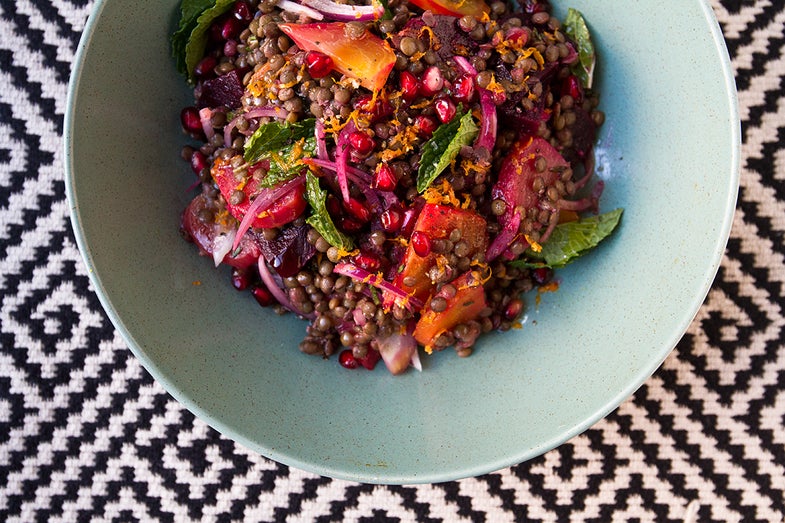 Packed full of glowing winter produce—sweet roasted beets, tart pomegranate seeds—this lentil salad makes a colorful addition to the winter table. Pair it with chicken, beef, lamb, or fish, or serve it as a vegetarian main; it's hearty enough to stand on its own. —Farideh Sadeghin, test kitchen director
Lentil Salad with Beets and Pomegranate
Packed full of glowing winter produce—sweet roasted beets, tart pomegranate seeds—this lentil salad makes a colorful addition to the winter table.
Ingredients
3 tbsp. champagne vinegar
3 tbsp. olive oil
2 1⁄2 tbsp. prepared horseradish
2 tbsp. Dijon mustard
Zest of 1 orange, plus 2 tbsp. juice
11 oz. French lentils, rinsed
1⁄2 cup torn mint leaves, plus 1/4 cup finely chopped
1⁄3 cup pomegranate seeds
8 roasted baby red and golden beets, halved and sliced 1/4″ thick
1 small red onion, thinly sliced
Kosher salt and freshly ground black pepper, to taste
Instructions
Mix vinegar, oil, horseradish, Dijon, and orange juice together in a bowl. Bring lentils and 8 cups water to a boil in a 6-qt. saucepan; cook, uncovered, about 20 minutes, or until tender, and strain. Add to bowl with vinaigrette; toss with mint, pomegranate seeds, beets, onion, salt, and pepper. Transfer to a serving platter and garnish with orange zest.