Recipes
Open-Faced Rye, Poached Red Snapper, Pickled Radish, and Salsa Verde Sandwich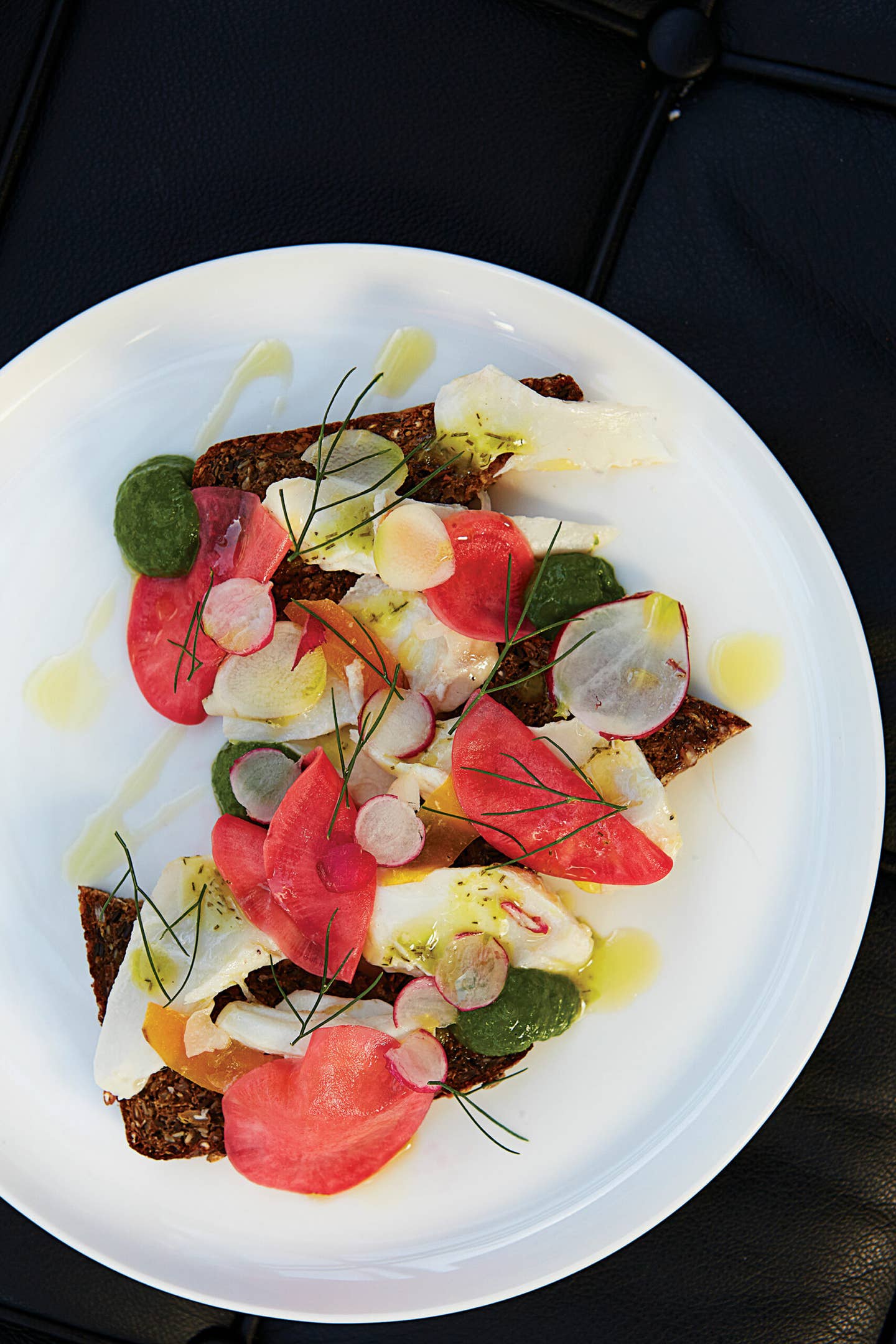 For this open-faced sandwich at Tasmania's Betsey Cafe, chef David Moyle uses the fish bones to make a flavorful stock, which is then used for poaching the fillets.
Ingredients
1 carrot, peeled
1 tbsp. kosher salt, plus more
6 bay leaves
1 large watermelon radish, peeled and thinly sliced
1 1⁄4 cups white wine vinegar
1⁄4 cup sugar
1 cup olive oil, plus more
1 cup packed basil leaves
1 cup packed dill fronds
1 cup packed parsley leaves
5 salt-packed anchovy fillets, rinsed
1 avocado, halved, pitted, and peeled
1 clove garlic, peeled
1 shallot, peeled
10 whole black peppercorns, plus freshly ground to taste
1 (2-lb.) red snapper, cleaned
1 1⁄2 cups dry white wine
Zest of 1 lemon
6 slices (¼"-thick) dark, seeded rye bread, halved and toasted
8 red radishes, thinly sliced
1⁄4 cup picked fennel fronds
1 1⁄2 oz. stale country bread
Instructions
Step 1
Using a vegetable peeler, peel carrot into ribbons; place in a bowl. Toss with salt, bay leaves, and watermelon radish. Boil 1 cup vinegar, the sugar, and ⅓ cup water in a 1-qt. saucepan; let cool and pour over carrot mixture. Cover; chill 2 hours. Purée remaining vinegar, the country bread, oil, basil, dill, parsley, anchovies, avocado, garlic, shallot, salt, and ground pepper in a blender until smooth; set salsa aside.
Step 2
Fillet fish, reserving bones, head, and tail; set fillets aside. Rinse bones, head, and tail and place in a 6-qt. saucepan. Add peppercorns, the wine, lemon zest, and 2½ cups water; boil. Reduce heat to medium; simmer, skimming as needed, for 8 minutes. Let stock cool, strain through a fine-mesh sieve, and return to saucepan; bring to a simmer. Poach fillets until cooked through, 6–8 minutes. Transfer fillets to a plate and discard skin; flake fish into 2" pieces. To serve, arrange rye bread on plates. Top with snapper; garnish with reserved pickled carrot and radish, salsa verde, the fresh radishes, fennel fronds, and olive oil.