Recipes
Pakistani Slow-Cooked Lamb Stew (Dumbay ki Nihari)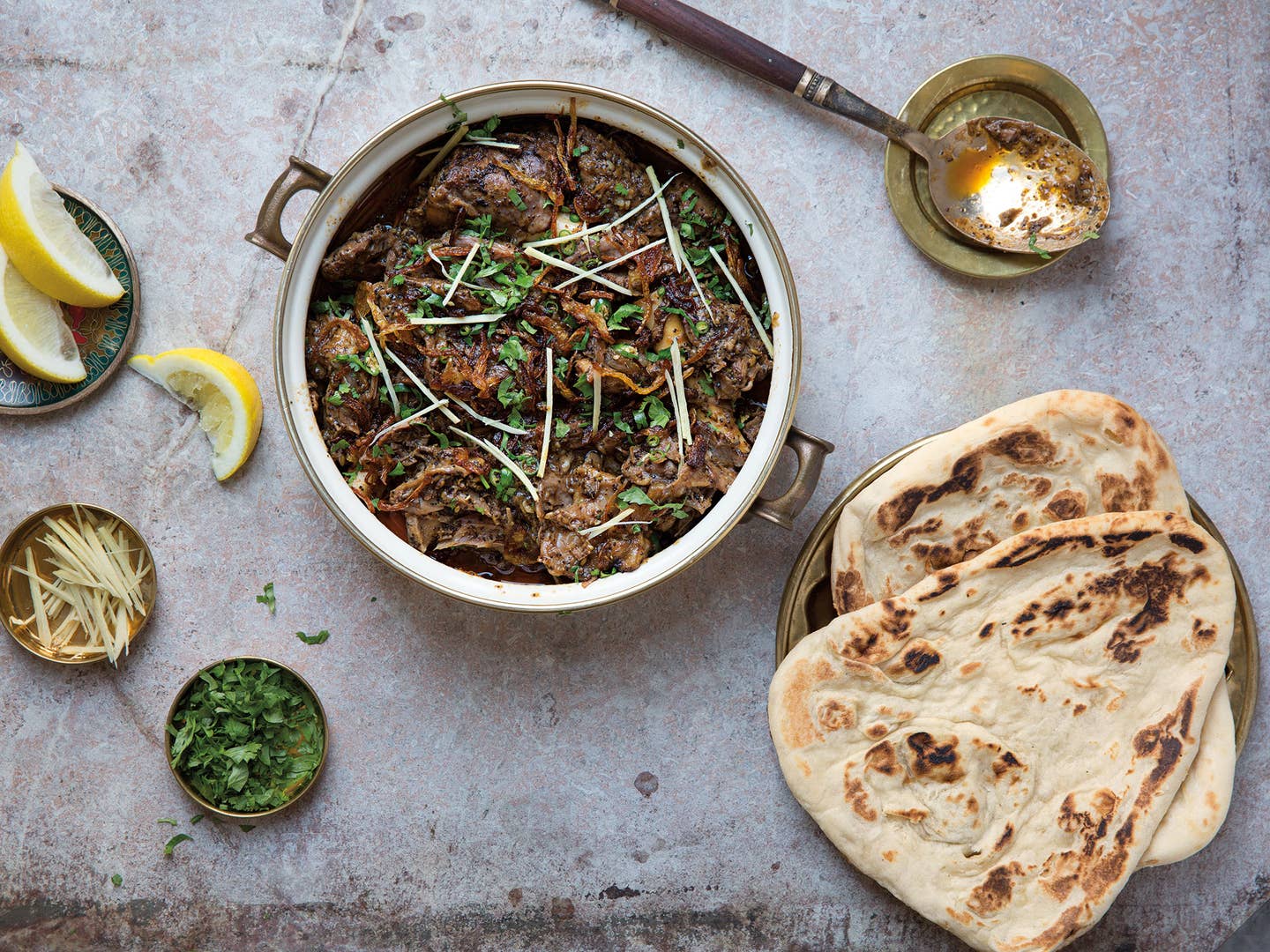 A rich, spicy stew topped with bright cilantro leaves, a squeeze of citrus, and thin-sliced hot chiles, nihari is the ultimate comfort food for home cook and Lahore native Zainab Shah, whose mother makes this dish for her and her family. The dish's name is derived from the Arabic word nahaar, or "day", which makes sense considering the long, slow cooking required to coax the rich marrow out of the lamb bones. This recipe first appeared in our November 2014 issue with the story Loving Spoonful.
Ingredients
For the Garam Masala
2 tbsp. poppy seeds
1 tbsp. coriander seeds
1 tsp. cumin seeds
1 tsp. fennel seeds
1⁄2 tsp. whole black peppercorns
1⁄4 tsp. freshly grated nutmeg
5 whole cloves
3 green cardamom pods
1 black cardamom pod
1 whole star anise
1 stick cinnamon, halved
For the Nihari
1 cup canola oil
1 medium yellow onion, very thinly sliced
3 lamb shanks, halved crosswise
1 tbsp. cayenne
2 cloves garlic, mashed into a paste
1 (3") piece of ginger, peeled (1" mashed into a paste, 2" julienned, for serving)
1⁄4 cup flour
2 tbsp. ghee, melted
Chopped cilantro, lemon or lime wedges, minced Thai chiles, and naan bread, for serving (optional)
Kosher salt, to taste
Instructions
Step 1
Make the garam masala: Purée poppy seeds and 1 tbsp. water in a spice grinder into a paste; transfer to a bowl. Grind remaining spices into a powder; stir into paste.
Step 2
Make the nihari: Heat oil and onion in a 6-qt. saucepan over medium. Cook until onion is caramelized, about 25 minutes; using a slotted spoon, transfer onion to a bowl. Discard all but 1⁄4 cup oil from the pan. Cook lamb, turning as needed, until browned, 8–10 minutes. Stir in reserved garam masala, the cayenne, garlic and ginger pastes, and salt; cook 1–2 minutes. Add 3 cups water; boil. Reduce heat to medium-low; cook, covered, until lamb has fallen off the bone, 5 1⁄2–6 hours. Using tongs, transfer lamb to a bowl; keep warm. Stir flour, ghee, and 1⁄4 cup water in a bowl and add to pan; cook until thickened, about 15 minutes. Return lamb to pan. Serve with the reserved onion, julienned ginger, and, if you like, the cilantro, lemon or lime wedges, chiles, and naan.