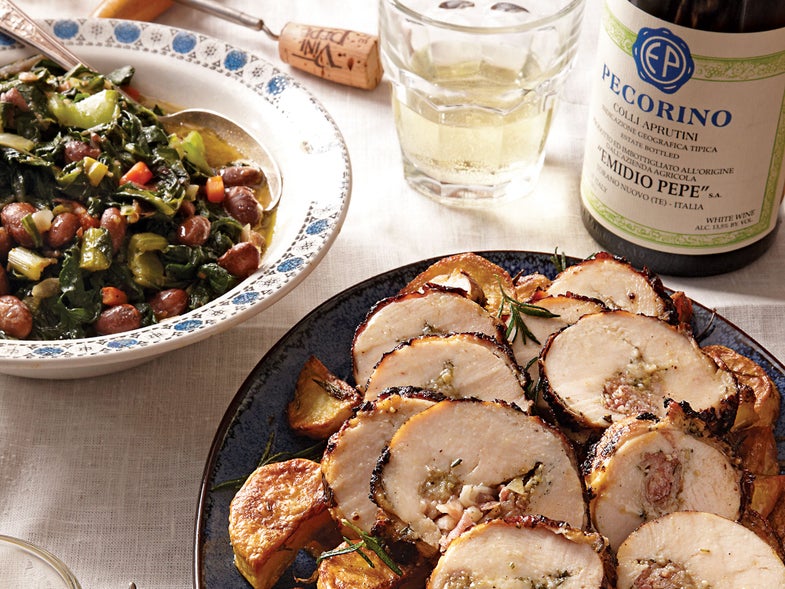 Inspired by the traditional pork classic, tender marinated chicken breasts are spread with garlic paste, herbs, and salty pancetta before being rolled and grilled in this recipe adapted from one used at Taverna 58, a restaurant in the seaside town of Pescara. Featured in: The Road to Abruzzo
Porchetta-Style Chicken
Chicken breast gets the porchetta treatment, spread with garlic-fennel paste and a layer of pancetta, before being grilled to crisp-edged perfection.
Time: 2 hours
Ingredients
2 (1-1 1/2 lb.) boneless, skin-on double (attached) chicken breasts
1 cup dry white wine
1⁄2 cup olive oil
1⁄3 cup honey
3 tbsp. kosher salt, plus more to taste
2 tbsp. minced rosemary, plus 1/4 cup packed leaves
1⁄2 tsp. freshly ground black pepper, plus more to taste
3 lb. Yukon Gold potatoes, peeled and cut into 1″ pieces
12 cloves garlic (half peeled and smashed, half mashed into a paste)
1 tbsp. ground fennel
3 oz. (about 12 slices) thinly sliced pancetta
Butcher's string, for tying
Instructions
Using the flat side of a mallet, pound flesh side of chicken until 1⁄4″ thick; set aside. Whisk wine, 1⁄3 cup oil, the honey, 3 tbsp. salt, the minced rosemary, and 1⁄2 tsp. pepper in a bowl. Add chicken and toss to coat; cover with plastic wrap and chill 1 hour.
Heat oven to 400°. Toss remaining oil, the rosemary leaves, potatoes, smashed garlic, salt, and pepper on a baking sheet. Roast, stirring as needed, until golden and just cooked, about 1 hour; keep warm.
Meanwhile, heat a charcoal grill or set a gas grill to medium-high. (Alternatively, heat a cast-iron grill pan over medium-high.) Remove chicken from marinade and pat dry. Place 1 piece chicken skin side down on a work surface. Rub flesh side of chicken with half the garlic paste and fennel, salt, and pepper. Lay half the pancetta, overlapping slightly, over top. Working from one long side, roll chicken into a tight package and secure using butcher's string. Repeat with remaining piece of chicken, garlic paste, fennel, salt, pepper, and pancetta. Season outsides of chicken with salt and pepper; grill, turning as needed, until skin is slightly charred and crisp, 8–10 minutes. Place chicken on potatoes; roast until potatoes are tender and chicken is cooked through, or an instant-read thermometer inserted into the thickest part of the chicken reads 165°, 30–35 minutes. Let chicken rest 5 minutes, then remove string and slice 1⁄4″ thick crosswise; serve over potatoes.