Roast Beef Sandwich with Walnut Romesco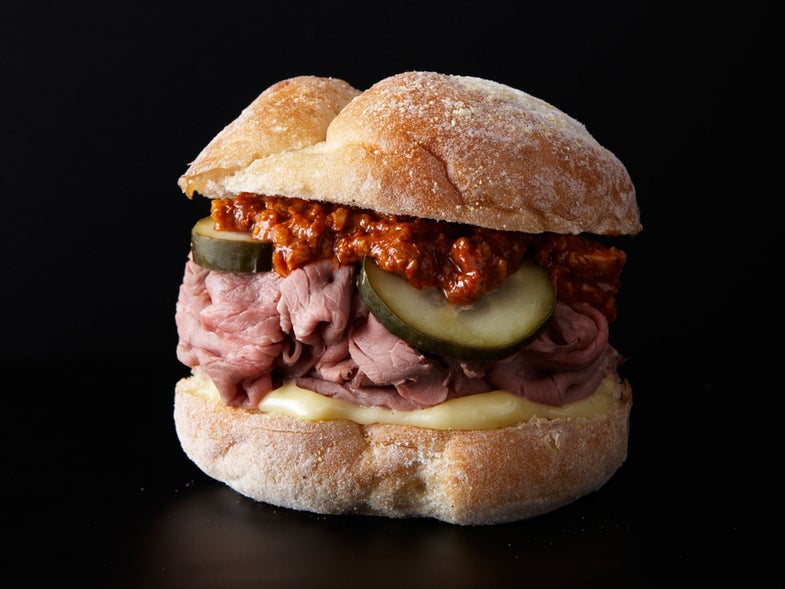 "You usually think of roast beef with horseradish," says Fundamental LA's Philip Pretty, who created this newfangled, soon-to-be-classic combination. "But this walnut romesco has elements that bring out the beefiness, without overpowering it." Keep the romesco chunky for textural contrast.
Roast Beef Sandwich with Walnut Romesco
A thick spread of roasted red peppers blended with walnuts and spice adds earthy funk to an otherwise classic roast beef sandwich.
Yield:
makes 2 sandwiches
Time: 15 minutes
Ingredients
1⁄2 cup walnuts, toasted
1⁄4 cup olive oil
2 tsp. smoked paprika
1⁄2 tsp. ancho chile powder
1 clove garlic, peeled
1 roasted bell pepper, peeled and seeded
Kosher salt and freshly ground black pepper, to taste
Garlic aïoli, for serving
2 ciabatta rolls, halved lengthwise
1⁄2 lb. thinly sliced deli roast beef
Homemade pickles, for serving
Instructions
Combine toasted walnuts, oil, paprika, ancho chile powder, garlic, roasted bell pepper, salt, and pepper in the bowl of a food processor; purée until coarsely ground and set romesco aside. To assemble the sandwiches, spread garlic aïoli on bottoms of rolls; top with roast beef, homemade pickles, reserved romesco, and tops of rolls.