Roti with Black Truffle–Sunchoke Ranch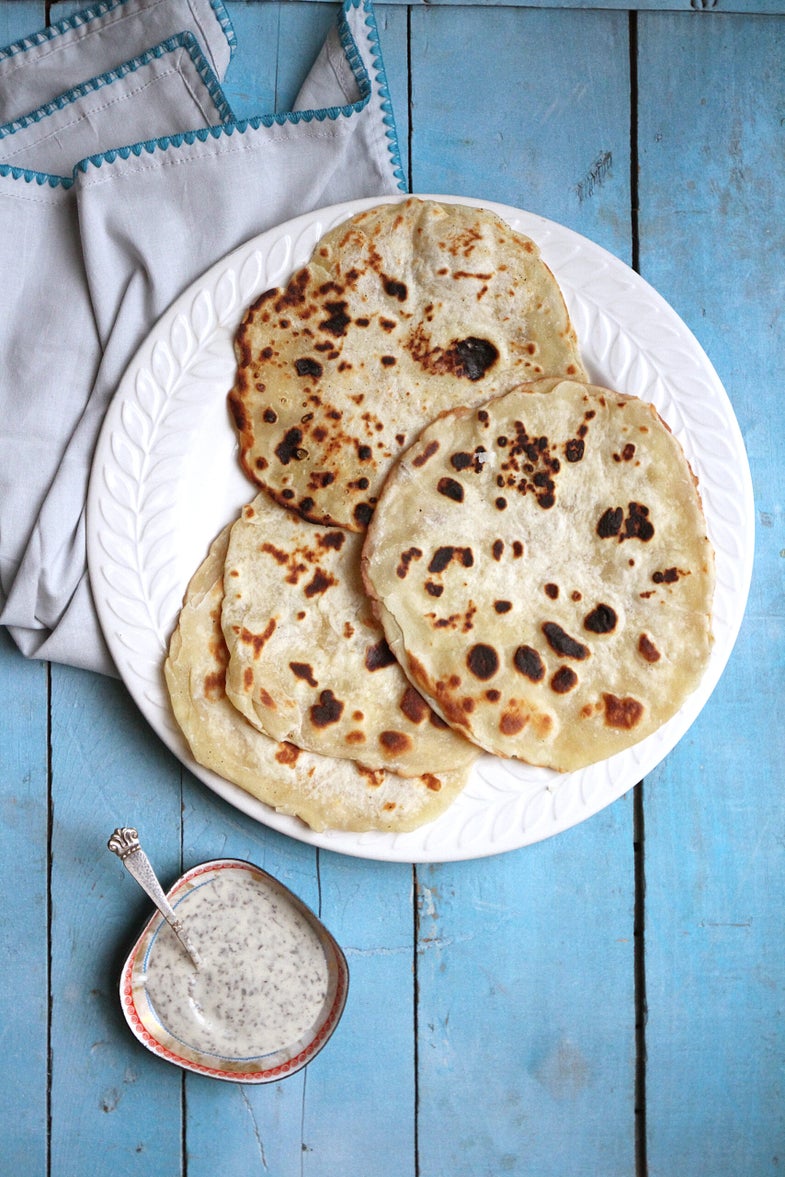 This recipe comes from The Progress, Stuart Brioza and Nicole Krasinski's San Francisco restaurant where family style is the only style, and every dish comes out with the same number of portions as diners in your group. It's a brilliant concept, and so are these roti: flaky and charred, all the best qualities of pizza dough without the heft. The Progress serves them with a tangy buttermilk ranch infused with grated truffle and sunchoke oil, but even if you can't spring for truffles, you should still make them. Read more about The Progress »
Roti with Black Truffle–Sunchoke Ranch
This recipe comes from The Progress, Stuart Brioza and Nicole Krasinski's San Francisco restaurant where family style is the only style, and every dish comes out with the same number of portions as diners in your group.
Ingredients
1 cup all-purpose flour, plus more for dusting
1 cup pastry flour
1 tsp. granulated sugar
1⁄2 tsp. baking powder
2 tsp. kosher salt, plus more to taste
1⁄2 cup crème fraiche
1⁄2 cup plain full-fat yogurt
1 cup olive oil
1 lb. sunchokes, grated
2 cups grapeseed oil
2 oz. red wine vinegar
1 tbsp. Dijon mustard
1 black truffle, 1/2 grated, 1/2 thinly sliced for garnish (optional)
1 egg yolk
1⁄4 cup buttermilk
Freshly ground black pepper, to taste
Hot sauce, preferably Tabasco, to taste
1⁄2 cup ghee or clarified butter
Grated pecorino cheese, for serving (optional)
Instructions
Combine flours, sugar, baking powder, and 1 tsp. salt in a bowl. In a separate bowl, combine crème fraiche and yogurt; add dry ingredients and knead until combined. Transfer to a lightly floured work surface and knead until smooth. Divide dough into 12 balls and place on a lightly oiled parchment paper-lined baking sheet. Brush each ball of dough with oil and cover with plastic wrap; refrigerate overnight.
Combine grapeseed oil and sunchokes in a 4 qt. saucepan over low; simmer for 1 hour. Allow sunchokes to cool in oil; strain, discarding solids. Combine vinegar, Dijon, 1 tsp. salt, grated truffle, and yolks in a bowl; while constantly whisking, slowly drizzle in reserved sunchoke oil until emulsified. Stir in buttermilk, black pepper, and Tabasco. Refrigerate until ready to use.
Take out roti dough 30 minutes before using. On an oiled piece of parchment paper and working with 1 ball of dough at a time, cover roti with an oiled piece of parchment paper. Roll dough out into an 8" circle and set aside. Take a second ball of dough and repeat. Remove parchment paper from first roti and Place second roti round on top. Repeat with remaining balls of dough until you have 6 roti. Heat 1 tbsp. ghee in a 12" cast iron skillet over high. Working with 1 roti at a time, cook, flipping once, until lightly charred on each side, 2 minutes. Transfer to serving platter and garnish with sliced truffle and pecorino, if you like; serve with ranch dressing.