Rye Crackers with Figs and Seeds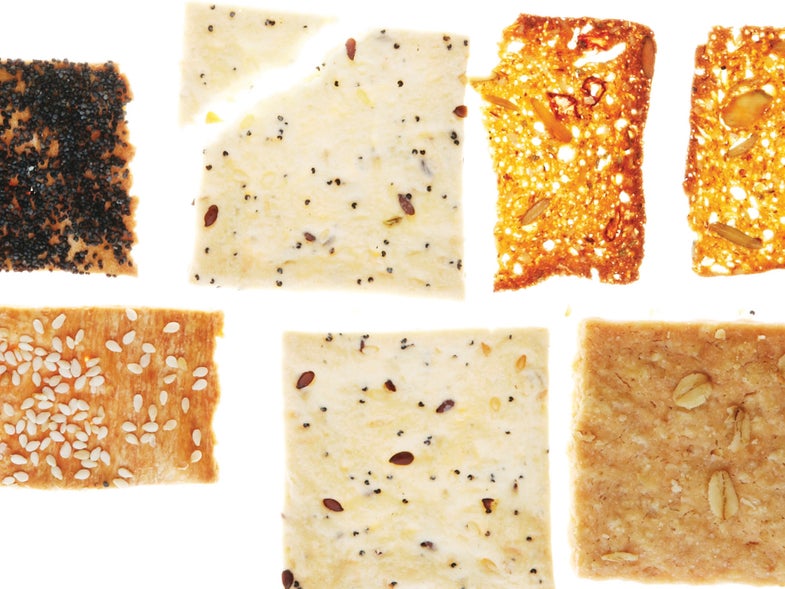 Freezing simple, no-knead rye bread, which is chockful of nuts, seeds, and dried figs, makes it easier to slice before baking into crispy yet chewy crackers. We love to smear them with Harbison, a creamy, earthy brie from the Cellars at Jasper Hill. Featured in: Crackers, Jacked
Rye Crackers with Figs and Seeds
We love to smear these seedy rye crackers with a creamy, earthy brie
Yield:
makes About 8 Dozen
Ingredients
Unsalted butter, for greasing
2 cups whole wheat flour, plus more for dusting
2 cups buttermilk
1⁄2 cup honey
2 cups rye flour
1 cup minced black mission figs
1⁄3 cup sliced almonds
1⁄4 cup flaxseeds
1⁄4 cup sunflower seeds
1⁄4 cup pumpkin seeds
2 tbsp. white sesame seeds
1 tbsp. black sesame seeds
1 tbsp. kosher salt
1 tsp. baking soda
Instructions
Heat oven to 350°. Grease a standard loaf pan with butter and dust with flour; set aside. Stir buttermilk and honey in a large bowl until combined. Add remaining ingredients; mix until dough forms and transfer to prepared pan. Spread dough evenly and bake until a toothpick inserted in the center of the bread comes out clean, about 1 hour. Let bread cool completely. Run a paring knife along edges of bread and invert bread onto a cutting board. Slice bread in half lengthwise; wrap each half in plastic wrap and freeze until solid.
Heat oven to 300°. Using a serrated knife, slice frozen bread 1⁄6" thick crosswise. Arrange slices in a single layer on baking sheets lined with racks; bake until crisp, 45 minutes to an hour. Let cool. Store in an airtight container up to 1 week.