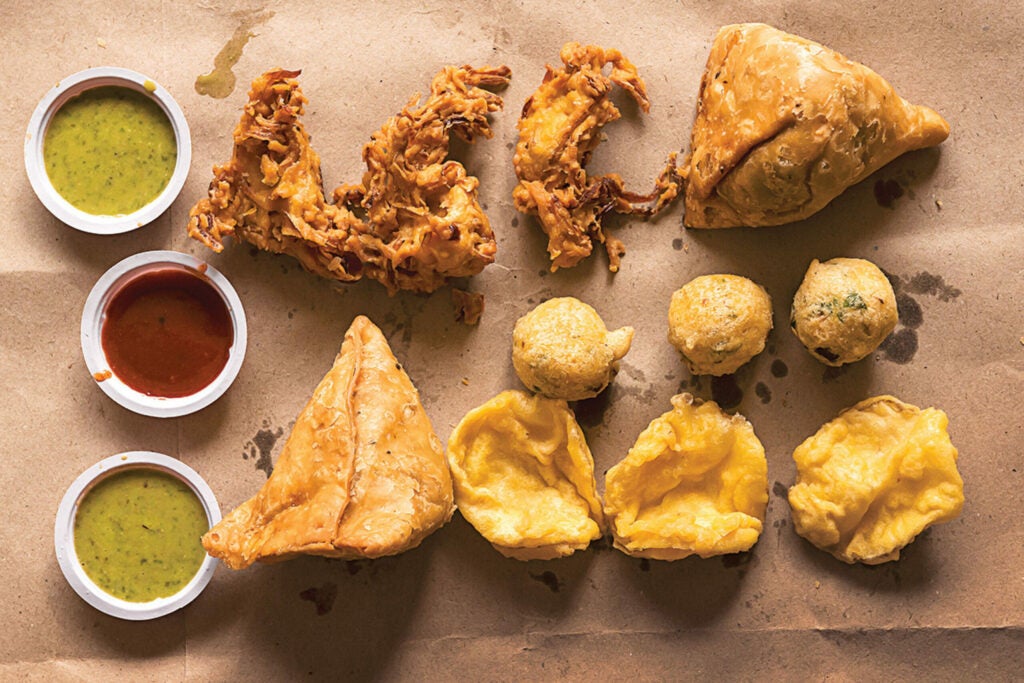 Triangular deep-fried pastries stuffed with spiced potatoes and peas are an iconic Indian snack. Pair them with tangy tamarind chutney or herbaceous coconut-cilantro chutney for dipping. This recipe, from cookbook author Raghavan Iyer, first appeared in our August/September 2014 special India issue with Indrani Sen's story The School of Small Bites.
Samosas (Fried Potato-Filled Pastries)
These triangular deep-fried pastries stuffed with spiced potatoes and peas are an iconic Indian snack.
Ingredients
3 cups flour
8 tbsp. unsalted butter, cubed and chilled
Kosher salt, to taste
3⁄4 cup ice-cold water
1⁄2 lb. russet potatoes, peeled and roughly chopped
2 carrots, roughly chopped
2 tbsp. canola oil, plus more
1 tsp. cumin seeds
1 small yellow onion, minced
3⁄4 cup frozen peas, defrosted
1⁄4 cup minced cilantro
1⁄4 cup minced mint
1⁄2 tsp. garam masala
2 small green Thai chiles or 1 serrano, minced
1 (1″) piece of ginger, peeled and minced
Tamarind and coconut-cilantro chutneys, for serving (optional)
Instructions
Make the dough: Pulse flour, butter, and salt in a food processor into pea-size crumbles. Add water; pulse until dough forms. Divide into 12 balls; chill 1 hour.
Make the filling: Boil potatoes and carrots in a 4-qt. saucepan of salted water until tender, 8–10 minutes. Drain; coarsely mash. Add 2 tbsp. oil to pan; heat over medium-high. Cook cumin seeds until they pop, 1–2 minutes. Add onion and ginger; cook until golden, 4–6 minutes. Let cool; stir into potato mixture with peas, cilantro, mint, garam masala, chiles, and salt.
Form and fry samosas: Working with 1 ball at a time, roll dough into a 6″ round; cut in half. Gather straight edges of 1 half-round together, overlapping by 1⁄4" to form a cone. Moisten seam with water; press to seal. Spoon 1 tbsp. filling into cone. Moisten edges of cone with water; pinch to seal. Heat 2″ oil in a 6-qt. saucepan until a deep-fry thermometer reads 350°. Fry samosas until crisp, 8–10 minutes. Drain on paper towels; serve with chutneys if you like.