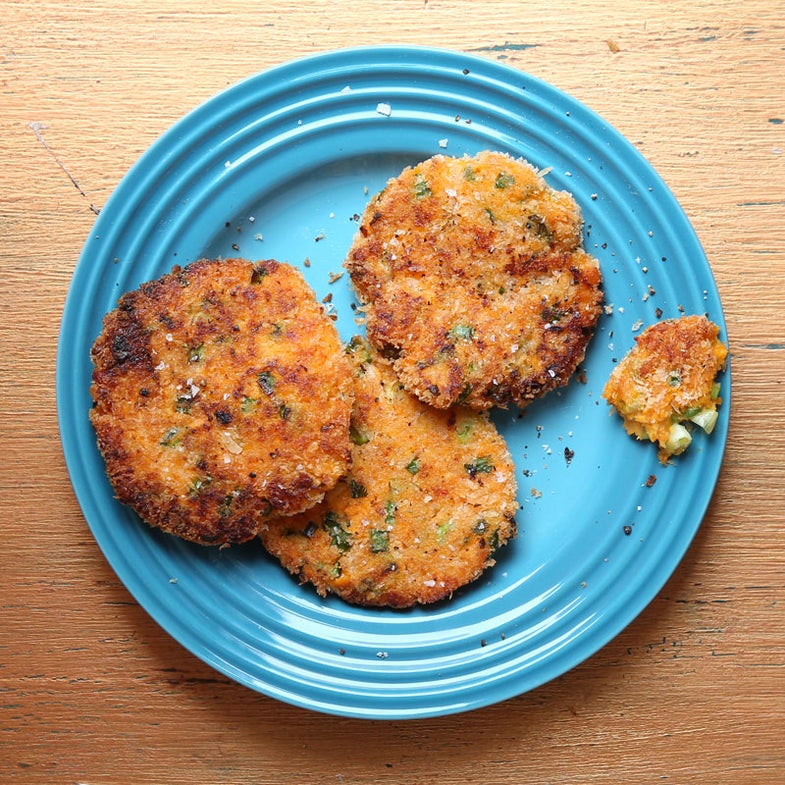 In desolate northern Nevada, the massive festival Burning Man conjures a weeklong city from thin air, bringing pop-up restaurants, bakeries, and bars. Marketing consultant Victoria Davies created these easy pancakes for her tropical-inspired pop-up at the festival; made from a mash of roasted sweet potatoes, they get a fiery kick from Thai chiles and a crispy crust from a coating of panko. This recipe first appeared in our June/July 2014 issue with Kevin Farrell's story "Fire in the Desert."
Spicy Sweet Potato Cakes
Made from a mash of roasted sweet potatoes, these potato cakes get a fiery kick from Thai chiles and a crispy crust from a coating of panko.
Ingredients
2 lb. sweet potatoes, roasted, peeled, and mashed
2 cups panko
1⁄2 cup flour
1⁄3 cup roughly chopped cilantro, plus leaves for serving
4 scallions, roughly chopped
2 small red Thai chiles or 1/2 serrano chile, minced
1 egg
Kosher salt and freshly ground black pepper, to taste
1⁄3 cup canola oil, plus more
Instructions
Mix potatoes, 1 cup panko, the flour, chopped cilantro, scallions, chiles, egg, salt, and pepper in a bowl. Heat oil in a 12″ skillet over medium heat. Using oiled hands, divide potato mixture into eight 4-oz. patties about 1⁄2" thick; coat in remaining panko. Working in batches, fry, flipping once, until golden and crisp, 2–3 minutes. Drain on paper towels and season with salt and pepper; garnish with cilantro leaves.