Recipes
Ravioli Nudi
Delicate fresh greens brighten these rich and tender ricotta dumplings.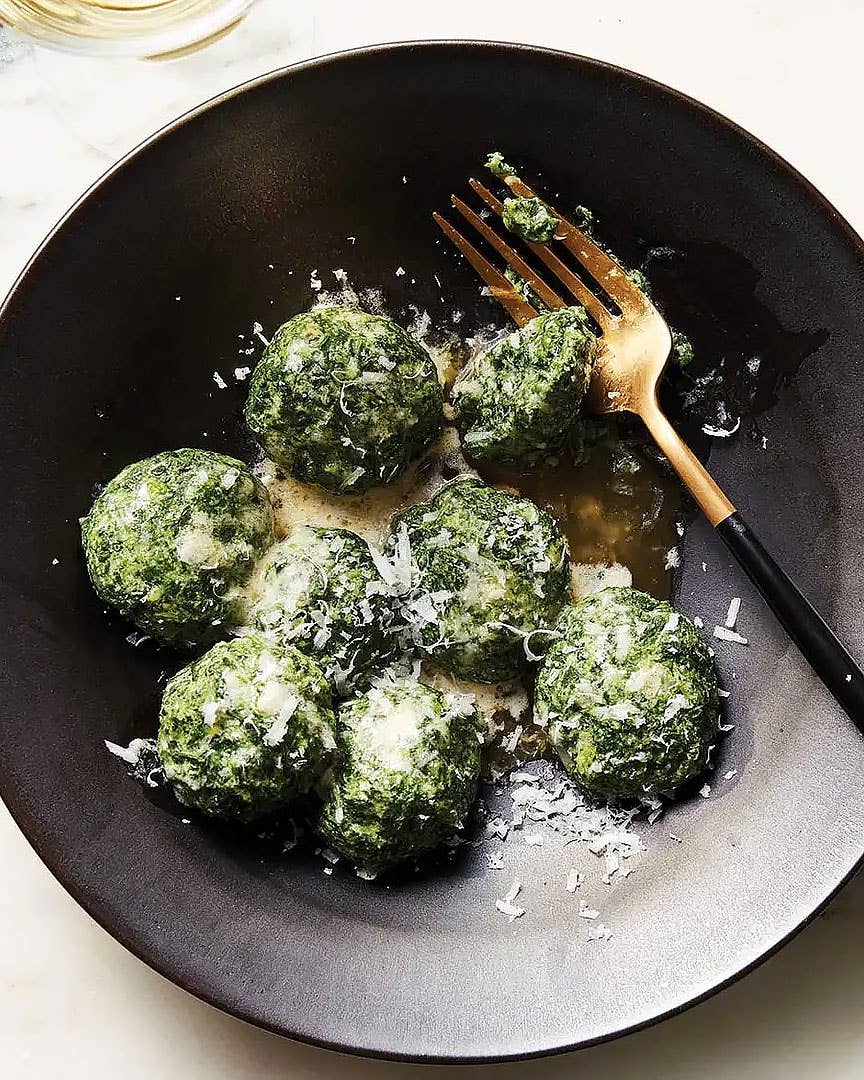 Ravioli nudi are an unexpected surprise: stripped-down ravioli, hence "naked" by name. The only tricky part to this simple recipe is using the least amount of flour needed to keep the dumplings intact as they cook. Avoid using pre-grated parmesan cheese which often contains added starches and preservatives.
Ingredients
Kosher salt
1 lb. fresh baby spinach
½ lb. whole-milk ricotta, drained
4 large egg yolks
1 cup finely grated Parmigiano-Reggiano, plus more, for sprinkling
½ tsp. finely grated lemon zest
Cayenne pepper
Freshly grated nutmeg
Freshly ground black pepper
1 Tbsp. all-purpose flour, plus more as needed
¼ cup unsalted butter, melted
Instructions
Step 1
Bring a large pot of generously salted water to a boil over medium-high heat. Add the spinach and cook until wilted and very tender but still bright green, 8–10 minutes. Drain the spinach, discarding the cooking liquid, then transfer to a clean kitchen towel; squeeze to extract as much liquid as possible. (If there is too much moisture on the leaves, the ravioli will fall apart during cooking.) Finely chop the spinach and and set aside.
Step 2
In a large bowl, stir together the ricotta, egg yolks, Parmigiano-Reggiano, and lemon zest. Add the reserved spinach and toss to combine, then season to taste with cayenne, nutmeg, salt, and black pepper. Add the flour and stir gently just until incorporated.
Step 3
Bring a large pot of generously salted water to a simmer over medium heat. With wet hands or a 1-tablespoon scoop, shape the spinach mixture into 1-inch balls. Drop one ball into the simmering water and cook until it floats to the top; if it holds its shape, continue with the remaining mixture. If the ball falls apart, add additional flour to the mixture, 1–2 teaspoons at a time, until it holds together in the water. Cook the dumplings in batches. As they float to the top, use a slotted spoon to transfer them to a large plate and tent with aluminum foil to keep them warm as you continue cooking the rest. To serve, drizzle with melted butter, top with additional Parmigiano, and serve warm.