Strawberry Rhubarb Pâte de Fruit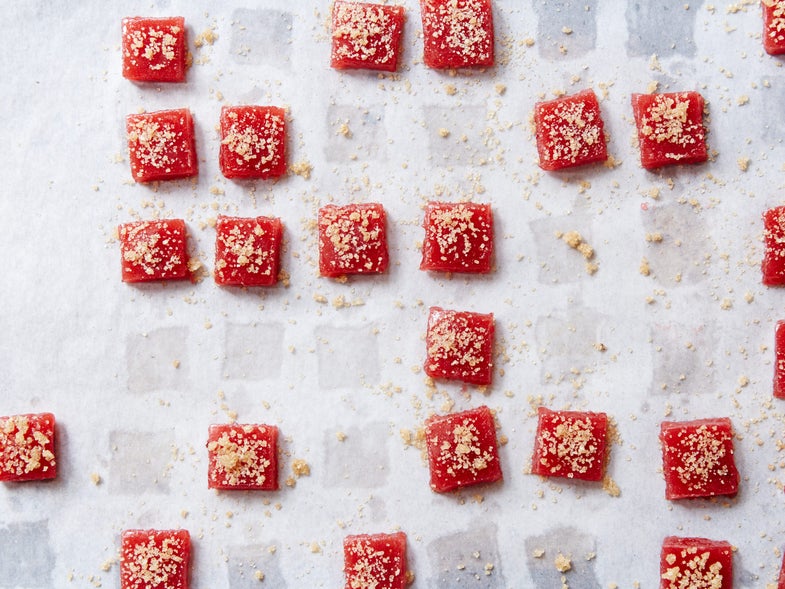 Instead of coating his pâte de fruit with plain sugar, William Werner of San Francisco's Craftsman and Wolves flavors Demerara sugar with Clément Créole Shrubb, a spiced liqueur made of aged and white Agricole rums and bitter orange peels. It adds a clean, bright flavor to the glittering topping.
Strawberry Rhubarb Pâte de Fruit
These sweet-tart, chewy strawberry-rhubarb candies come from William Werner of San Francisco's Craftsman and Wolves.
Yield:
makes 8 dozen pieces
Time: 5 hours, 30 minutes
Ingredients
3⁄4 cup Demerara sugar
1 vanilla bean, spit lengthwise, seeds scraped and reserved
1 oz. Clément Créole Shrubb or Cointreau
1 tbsp. canola oil, for greasing
12 oz. rhubarb, trimmed and roughly chopped
3 cups granulated sugar
7 oz. strawberries, hulled
1 1⁄2 tbsp. light corn syrup
2 1⁄2 tbsp. yellow (apple) pectin (lepicerie.com)
1 tbsp. fresh lemon juice
Instructions
Heat oven to 200°. Stir Demerara sugar and vanilla seeds in a bowl; sprinkle with Shrubb and toss to combine. Spread sugar evenly on a parchment paper-lined baking sheet; bake with the oven door ajar until dried, about 30 minutes. Let sugar cool and then crumble.
Grease a 9″x13″ parchment paper-lined baking dish with oil; set aside. Cook vanilla bean, rhubarb, and 1 cup granulated sugar in a 4-qt. saucepan over medium-high until rhubarb has broken down, 8–10 minutes. Let cool and discard vanilla bean; transfer mixture to a blender. Add strawberries and corn syrup and purée until smooth; return mixture to pan and boil. Whisk 3 tbsp. granulated sugar and the pectin in a bowl; sprinkle over fruit mixture and stir until sugar has dissolved, 1–2 minutes. Add remaining granulated sugar in three batches; cook, stirring well after each addition, until sugar has dissolved and mixture has thickened, about 5 minutes, or until an instant-read thermometer reads 175°. Stir in lemon juice and pour mixture into prepared pan; let sit at room temperature until set, about 4 hours. Cut pâte de fruit into 1″ squares; coat in reserved Demerara-Shrubb sugar. Store in an airtight container at room temperature for up to 1 month.