Recipes
Sweet Corn and Blueberry Trifles
Serves

makes about 12 individual trifles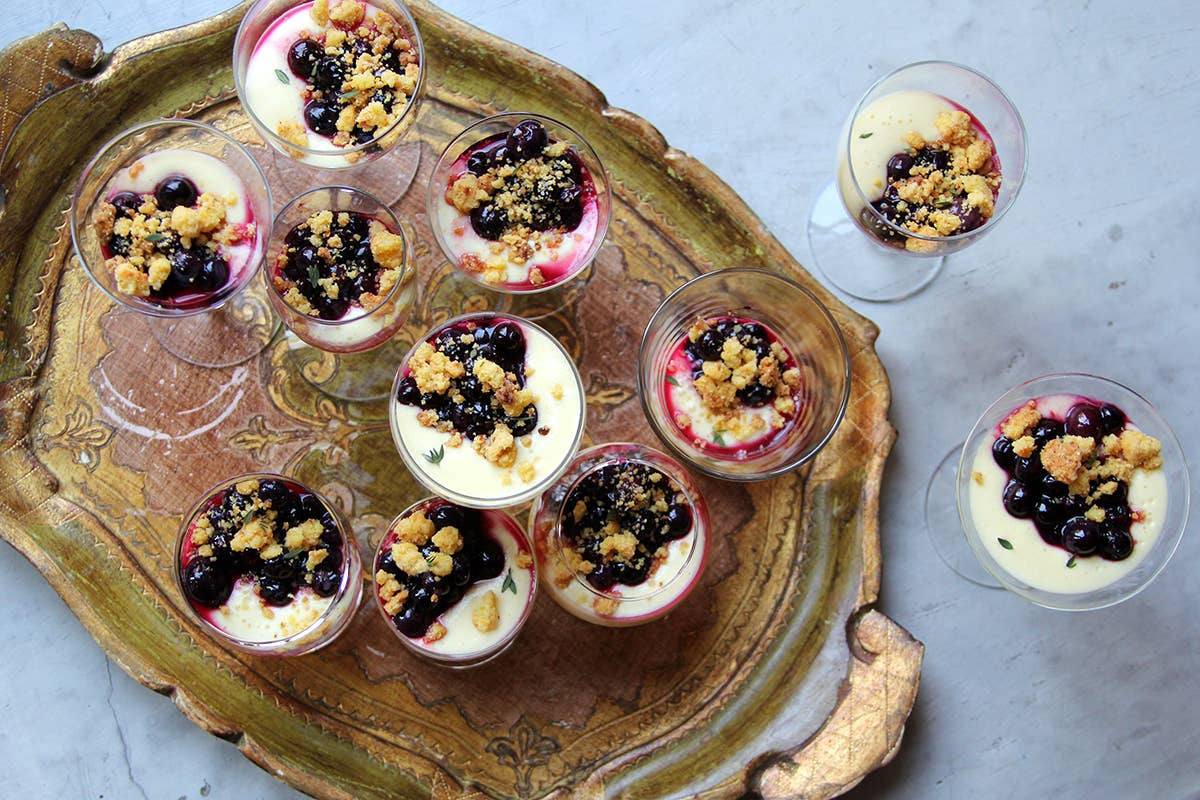 Layers of sweet corn pastry cream alternate with an herb-infused blueberry compote and a buttery shortbread crumble in a summery spin on the classic trifle, developed by Yewande Komolafe for her story Summer, Concentrated. Any other berry at its peak, such as blackberries, makes a delicious substitution; try layering the ingredients into mason jars for an easy-to-transport picnic dessert.
Ingredients
For the Corn Pastry Cream
1⁄4 cup freeze-dried corn kernels, preferably Just Corn
1 tbsp. powdered gelatin
2 cups milk
2 ears sweet corn, husks and kernels removed and reserved
1 tsp. kosher salt
1⁄3 cup sugar
6 egg yolks
1 cup heavy cream
For the Corn Shortbread Crumble and to Assemble
1⁄4 cup flour
3 tbsp. freeze-dried corn kernels
2 tbsp. corn flour
2 tbsp. sugar
1⁄4 tsp. kosher salt
1⁄8 tsp. baking powder
1⁄4 cup unsalted butter, cut into 1" cubes and chilled
Blueberry Compote, for serving
Instructions
Step 1
Make the pastry cream: Pulse dried corn kernels in a mini food processor until coarsely ground; set aside. Combine gelatin and ¼ cup cold water in a bowl and let sit until softened, about 5 minutes; set aside. Combine milk with corn husks and kernels in a 4-qt saucepan. Bring to a simmer over medium heat; remove from heat and steep 30 minutes. Remove and discard husks. Transfer milk mixture to a blender and puree until smooth. Strain milk mixture, discarding solids, and return to saucepan along with the dried corn kernels, and salt. Return to a simmer over medium heat. Whisk sugar and egg yolks in a bowl. Slowly whisk ½ cup hot milk mixture into egg mixture until smooth, then transfer egg mixture to saucepan. Cook, stirring constantly with a wooden spoon, until mixture is thick enough to coat the back of the spoon, 5-7 minutes. Remove from heat and add gelatin mixture, whisking until gelatin is dissolved. Strain custard through a fine strainer into a bowl, set over a larger bowl of ice water. Cover surface of custard directly with plastic wrap; refrigerate until cold. Beat cream to soft peaks and gently fold into custard; set aside.
Step 2
Make the shortbread crumble: Heat oven to 325°. Pulse flour, corn kernels, corn flour, sugar, salt, and baking powder in a food processor until finely ground. Add butter and pulse into pea-size crumbles. Add egg yolk; pulse until shortbread mixture comes together. Spread on a parchment paper-lined baking sheet. Bake until golden brown, about 10 minutes. Let cool completely and break into bite-size pieces; set aside.
Step 3
Assemble the trifles: Layer pastry cream and blueberry compote in small glasses or ramekins; top with shortbread crumble.