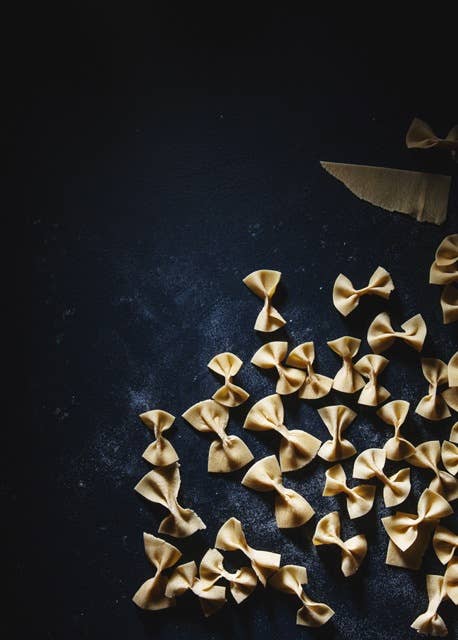 Culture
Sites We Love: The Tart Tart
Gorgeous photos? Check. Engaging writing? Check. Seriously inspiring recipes, tips, and culinary curiosity? Check, check, and check. The best food blogs all seem to have a lot in common—but what separates them out are the strong personalities behind them. In our Sites We Love series, we sit down with some of our favorite bloggers to find out how they do it—and why it's as much fun for them as it is for us.
Brooklyn-based Linda Xiao writes playfully irreverent prose at her blog The Tart Tart, which features unique recipes featuring garden-fresh ingredients. But the true star of the show, and the reason her blog is a Site We Love, are her rich and tactile photographs. Here's what Linda has to say about her site:
Posting rate: About once a week
Geographic location: Brooklyn, NY
Why is the site called The Tart Tart? I try not to take myself too seriously, so I wanted to call my blog something that was a bit silly and a bit tongue-in-cheek. I realize 'tart' can mean a loose woman (which is the interpretation my mother-in-law first leapt to), but it also refers to one of the five basic tastes, the baked good, and a whole slew of adjectives connoting sarcasm and spunk. I think that's what I like about the word. It functions in quite a number of ways, many that I relate to (well, except for the lady of the night bit).
What's been your most popular post? By far, my most popular post has been a recipe for roasted tomato soup, which is awesome since it's one of those make-it-in-huge-batches-and-finish-it-off-during-the-week type recipes that I think a lot of us could use more of in our arsenal. It goes great with grilled cheese sandwiches—cuts right through all that dairy.
What's your favorite post? I'd say my favorite post is probably the one in which I made farfalle by hand. There's something pretty magical about rolling out your own sheets of pasta (with a rolling pin, no less!) and forming each shape individually. Plus, I had a great time shooting the photos. When I'm working on a post, I don't always have a clear idea of how I want my photos to come out, but in this case, I knew exactly what I was going for and carried it off just like I envisioned. I like that.
What's something great that you've learned or that's happened to you since starting your blog? I would say the greatest lesson this blogging experience has taught me is to be patient! I know, isn't that so incredibly fundamental or what? I used to be pretty slapdash in the kitchen, cutting short rise times, raising oven temperatures, basically always trying to find shortcuts to cook and bake faster. I guess I didn't really enjoy the process, just the results. Now, as you might guess, cooking has become something I make time for. And it's something I've become better at as a result. As an added bonus, I feel like it's radiated to other parts of my life too.
What's the usual process for developing one of your posts? Inspiration comes from a lot of places, but I would say I usually develop what I'm going to make around an ingredient, maybe something beautiful I picked up at the farmer's market, or something in the pantry I haven't used in awhile. From there, I might consult the Flavor Bible. I also love browsing through magazines, cookbooks, other blogs, and the never-ending lookbook that is Pinterest.
What are your favorite ingredients and tools? My favorite tool is probably my chef's knife. It's one of those sleek Japanese knives that's whisper thin and lethal at close quarters. It's probably the one tool I most consistently reach for—well, along with a heavy-duty cutting board of course. I also love my Oxo scale, Imperia pasta roller, and mortar and pestle (despite buying most of my spices pre-ground, haha). My favorite ingredients are: any and all fruit, tomatoes, cilantro, black and white pepper, and semolina.
What are your favorite food and cooking resources? My favorite place to shop for nearly all pantry items is Sahadi's in Brooklyn. It's got an amazing array of grains and nuts that you buy in bulk, a literal wall of spices, lots and lots of imported specialty items, and just about anything else the heart desires. I also love the Greenmarket at Union Square. It's a bit of an extravagance, since all the produce is quite pricy, but I make the effort to shop there every week.
What photography equipment do you use? I shoot with a Canon 5D, a 28-70 lens, and occasionally a tripod, occasionally because sometimes it cramps my style more than helps. Depending on the light (which is so fleeting in the winter months!), I'll shoot with or without strobes, always with lots of black and fill cards handy. And I edit mostly in Photoshop.
What food blogs do you follow? So many! I'm amazed at the amount of talent out there that's funneled into blogs. Some of my favorite blogs are: Rachel Eats, Dash and Bella, and Remedial Eating, whose posts I greedily read from beginning to end. I also love Hungry Ghost, Herriott Grace, Top with Cinnamon, and Suvi Sur Le Vif, whose photos consistently blow me away. And for their genius recipes, my favorites are Sprouted Kitchen, Reclaiming Provincial, and Lady and Pups. I know I'm probably forgetting many.