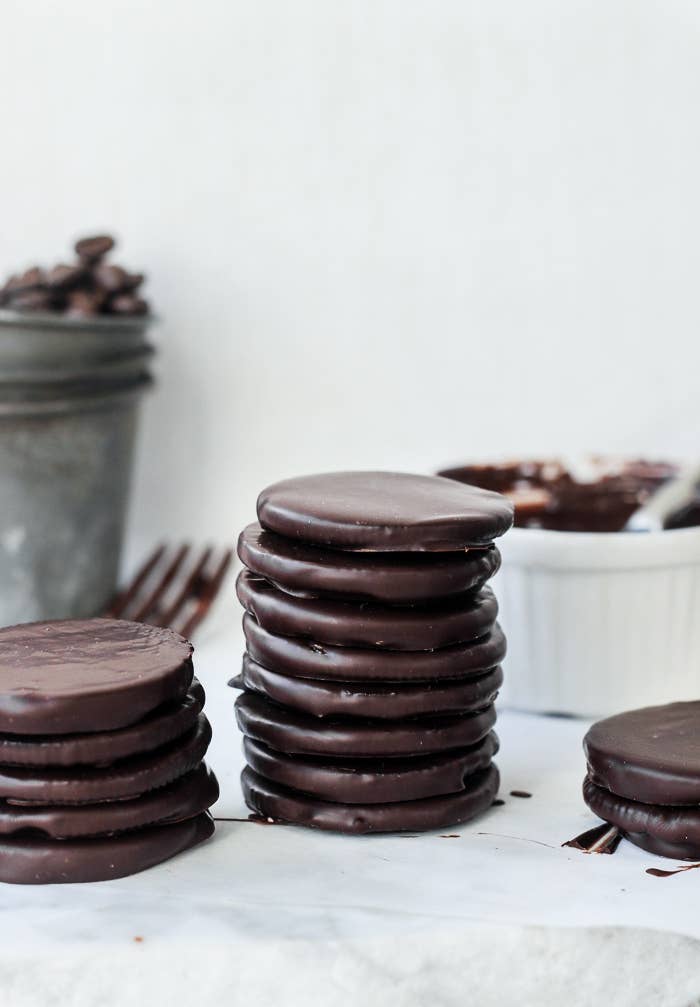 Culture
Sites We Love: Top With Cinnamon
Gorgeous photos? Check. Engaging writing? Check. Seriously inspiring recipes, tips, and culinary curiosity? Check, check, and check. The best food blogs all seem to have a lot in common—but what separates them out are the strong personalities behind them. In our Sites We Love series, we sit down with some of our favorite bloggers to find out how they do it—and why it's as much fun for them as it is for us.
There's a reason British blogger Izy Hossack and her site, Top With Cinnamon, were once nominated for Saveur's Best Food Blog Awards in the baking category. For today's Site We Love, we're revisiting the teenage baking whiz to learn about her fresh takes on classic desserts and her innovative way of presenting them: In addition to modern, airy photographs, Izy frequently creates GIFs that bring readers and bakers even closer to the process. Here's what Izy has to say about her site:
Posting rate: Once a week-ish
Geographic location: London, United Kingdom
Why is the site called Top With Cinnamon? I've often been the person to introduce my best friend to new foods. One day, I gave her a blueberry muffin topped with cinnamon-sugar. She fell in love with it immediately, just like I had when I first tried one. Ever since then, I've been sure that anything sweet topped with cinnamon would be 100% better than the plain version. When I was trying to think of a blog name, I went with "Top With Cinnamon" because it's an instruction you'd find in a recipe, especially my recipes, where a cinnamon-sugar crust is something I always want to include!
What's been your most popular post? My recipe for 15-minute Thin Mints which uses only Oreos, dark chocolate, and mint extract has been super popular. I think it's purely because nobody can say no to a minty chocolate cookie, especially when they're this easy to make.
What's your favorite post? The Best Ever Chocolate Chip Cookies post has to be my favourite. I can't tell you how long I spent trying to make cookies from the Nestlé Tollhouse recipe only to get flat, greasy cookies that tasted of baking soda—they just didn't work. So I spent a while developing my own chocolate chip cookies. I reduced the moisture content (less egg, less butter). I also used bittersweet chocolate and salt to cut through the sweetness of the cookie, and infused the butter (which I also browned) to give it more flavour. The result was a thick, gooey cookie with crispy edges, a chewy center and buckets of flavour. They're my no.1 dessert choice.
What's something great that you've learned or that's happened to you since starting your blog? I've learned how to use a DSLR! (And I could probably make a sentence full of fancy camera words that would make you think I know more than I do about photography.) Before 2011, I'd barely even touched a camera, nor did I care about photography, really. It wasn't even something I thought I'd like until a few months after I started my blog. Now I'm obsessed with collecting kitchenware for photographs and lugging my DSLR around with me.
What's the usual process for developing one of your posts? I have a recipe idea list on my phone that I use to write down random thoughts for inspiration. Usually there's something that I'll get particularly excited by and I'll spend the week thinking about it—what ingredients I'll use, how I'll style it, special twists, variations or secret tips to make it the best. On Friday, Saturday or Sunday I'll make the food and spend an hour photographing it. On Sunday night, I spend the evening catching up on TV shows as I edit the photos and write the post. Then I finally get to hit publish on Sunday night or Monday.
What are your favorite ingredients and tools? I always have 70% bittersweet chocolate, Maldon salt, maple syrup and pecans around for baking. Cilantro, garlic and any seasonal vegetables or fruits that my parents bring from their garden plot are also favourites. I feel like a garlic crusher is an essential life tool (I hate having garlic-y hands!!!), as is a microplane grater for zesting, and an incredibly sharp knife because cutting tomatoes with a blunt knife is the worst thing ever.
What photography equipment do you use? I've always used a 50mm f/1.8 lens and I just got a Canon 5D mark III. Occasionally I'll pull out a tripod if I'm making a GIF or if the light is fading and I need to use a slower shutter speed.
What food blogs do you follow? Like most other food bloggers I follow a seemingly never-ending list of food blogs! There is so much talent out there, but my favourites (not only because of their brilliant recipes, but their photography and writing) are Reclaiming Provincial, Adventures in Cooking, The Vanilla Bean Blog, London Bakes, Wit & Vinegar, The Tart Tart, Take a Megabite, Hungry Girl Por Vida, The Edible Perspective, The First Mess, How Sweet It Is, The Sophisticated Gourmet, Flourishing Foodie, Raspberri Cupcakes and Citrus & Candy.
What is one thing that sets your site apart from others? I'm British and a teenager so I think the tone of my writing is quite different from other blogs. Hopefully a tone that'll make you laugh! I'm overzealous with my use of exclamation marks and caps lock, too. Occasionally I'll slip a few GIFs into my posts, to make them a bit more special.