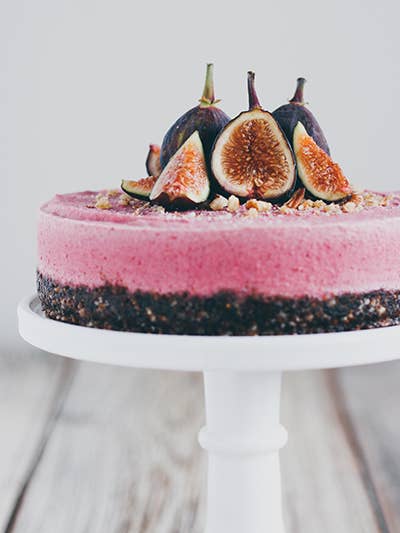 Culture
Sites We Love: Oh, Ladycakes
Gorgeous photos? Check. Engaging writing? Check. Seriously inspiring recipes, tips, and culinary curiosity? Check, check, and check. The best food blogs all seem to have a lot in common—but what separates them out are the strong personalities behind them. In our Sites We Love series, we sit down with some of our favorite bloggers to find out how they do it—and why it's as much fun for them as it is for us._
Today's site we love is Oh, Ladycakes, where Denver-based vegan baker Ashlae Warner shares recipes for classic, indulgent desserts—without the eggs or dairy. Here's what Ashlae has to say about her site.
Live since: September 2011
Posting rate: About once a week
Geographic location: Denver, CO
Why is the site called Oh, Ladycakes? My main squeeze, Thom, has been calling me "ladycakes" since we first got together half a decade ago. He's also the reason I started baking—so when I decided to create a baking blog, incorporating ladycakes was a no-brainer.
What's been your most popular post? My lazy girl peanut butter cookies and raw fig cheesecake have been in serious competition for the past couple of months. If I had to pick a winner, I'd choose the cheesecake—it's delicious and a total stunner. But the cookies are good, too!
What's your favorite post? My most recent post for strawberry coconut cream cakes--the recipe is a favorite, but it's the accompanying narrative that I love so much.
What's something great that you've learned or that's happened to you since starting your blog? For years I would scrap recipes (regardless of how delicious they were) because I didn't like the appearance of the final product. It wasn't until I received positive feedback from a tart that looked like a total train wreck, that I realized people couldn't care less about a perfectly level cake or round cookies—as long as the recipe stimulates their taste buds, that's all that matters.
What's the usual process for developing one of your posts? I used to sit down and plan my posts meticulously: the recipe, the day I was going to shoot, etc. But I can't be bothered with that anymore. Posts are completely spontaneous and whichever day of the week I wake up with an idea, that's when the magic happens. I enjoy posting a lot more now that it's less fussy.
What are your favorite ingredients and tools? I'm a sucker for muscovado sugar and Madagascar vanilla beans, and lately I can't leave the grocery without a pint of berries in my bag. As for tools, it's my belief that every baker needs a good whisk, a heavy set of mixing bowls, and a Vic Firth rolling pin. Oh, and a hand mixer. People go on and on about stand mixers but completely overlook the humble hand mixer. I can't imagine my kitchen without it.
What are your favorite food and cooking resources? Surprisingly, Wikipedia is my favorite resource for researching recipes. I'm able to gather information in regard to the history, various cultural styles, and other things I wouldn't get from a cookbook. But my favorite tool for recipe development is my Great Oma's (great-grandmother's) recipe book filled with notes and wisdom from her 60-plus years of baking. I'm lucky to live half a mile away from the Savory Spice Shop and could spend hours in there just playing with sugars and spices and vanilla beans.
What photography equipment do you use? Nothing too fancy. I shoot with a Canon 600D and a 50mm 1.8 lens.
Where else can we find your work? You can find my one year aged, organic vanilla extract in my shop (come late 2013), but other than that my work is pretty much confined to Oh, Ladycakes and various social networking sites.
What is one thing that sets your site apart from others? Well, how many places can you find yellow cake and pretty sprinkles and 15 f-bombs all in the same visit? My dear friend Kelsey (yup, we're pals in real life) pointed this out to me recently, and I was like, Yeah, she's got a point. Maybe I should take it easy on the f-bombs.