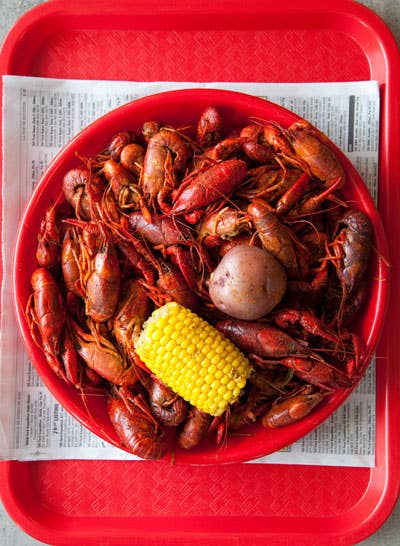 Culture
Sites We Love: Appetite
Gorgeous photos? Check. Engaging writing? Check. Seriously inspiring recipes, tips, and culinary curiosity? Check, check, and check. The best food blogs all seem to have a lot in common — but what separates them out are the strong personalities behind them. In our Sites We Love series, we sit down with some of our favorite bloggers to find out how they do it — and why it's as much fun for them as it is for us.
This week's Sites We Love is Appetite, whose proprietor Penny de Los Santos is a senior contributing photographer for SAVEUR. Penny has been telling visual stories around food, travelling to over 30 countries on assignment in her six years with the magazine. (She's hosting a free online photo course May 13 on CreativeLive.com, featuring cameos from our editor-in-chief James Oseland and photo editor Larry Nighswander, too!) On her blog, Penny shares her passion for food through striking photographs from her travels, her kitchen, and cooks around the world. Here's what she had to say about her site:
Live since:** February 2009
Posting rate: once a week
**Geographic location: **Austin, Texas but my blog is not relegated to that one city, my post vary in geographical locations every week.
Why is the site called Appetite? The blog is about a constant pursuit for the things that inspire me: photography, travel, people, food. It is like an insatiable curiosity for all those things. Appetite seemed to just make sense.
What's been your most popular post? I did a personal project for the blog on Asian Cajun Crawfish in Houston. It was a look at the evolution of this seasonal food, how it evolved in Houston and how it's spreading across the country. I also did a visual essay as part of the piece.
What's your favorite post? I have a few favorites; the ones that are my most have to do with my own personal stories. I did a post for Mother's Day in which I wrote about one of my favorite childhood meals, my mom's famous crispy tacos, and how those tacos held my family together.
What's something great that you've learned or that's happened to you since starting your blog? I have a degree in journalism but never really worked on my writing beyond my degree. As a photographer I'm more of a visual storyteller. However since I started my blog I've rediscovered writing and to my surprise enjoy the process.
What's the usual process for developing one of your posts? All my posts have a strong visual component and that usually sets the tone for all my posts. I'm a professional photographer so most of what I post revolves around my work in photography: projects I've done, travel stories I just had published or book projects and self assigned personal projects.
What are your favorite ingredients and tools? The camera, natural light, integrity, an open heart, an insatiable curiosity, and enthusiasm.
What are your favorite food and cooking resources? I love anything homemade and I'm obsessed with tacos and barbecue.
What photography equipment do you use? Canon 5D Mark II, Canon 25-105, iPphone, Instagram
What other food blogs do you follow LightBox.Time, Lens.Blog.nytimes, BurnMagazine, Civil Eats, Pioneer Woman, Cannelle et Vanille, 101 Cookbooks, Gluten Free Girl and The Chef, Politics of the Plate, Matt Bites, Chase Jarvis, Simply Recipes, Steamy Kitchen, Homesick Texan
Do you know a blog or blogger who deserves to be featured in this space? Email a nomination — including a link to the site and a few sentences on why they're worthy of love — to siteswelove@saveur.com.