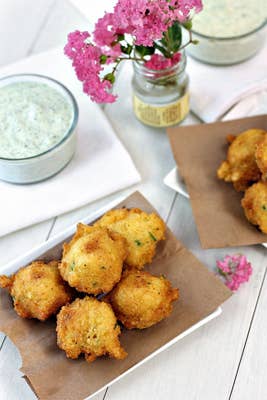 Culture
Sites We Love: Ezra Pound Cake
Gorgeous photos? Check. Engaging writing? Check. Seriously inspiring recipes, tips, and culinary curiosity? Check, check, and check. The best food blogs all seem to have a lot in common — but what separates them out are the strong personalities behind them. In our Sites We Love series, we sit down with some of our favorite bloggers to find out how they do it — and why it's as much fun for them as it is for us.
This week's site we love is Ezra Pound Cake, where Nashville-based writer Rebecca Crump shares her passion for cooking with mouth-watering recipes with a Southern flair. Rebecca wore many hats before starting her blog— she's been a newspaper editor, horoscope writer, and professional baker — and her passion for baking shines through in her inspiring desserts. Here's what Rebecca has to say about her site:
Blog name: Ezra Pound Cake
Posting rate: I dream of five posts per week, but it's usually three.
Geographic location: Nashville, Tennessee
Why is the site called Ezra Pound Cake? I was thinking about those Wheel of Fortune-style "Before & After" phrases, like "Whitney Houston Texas," where each half of the phrase means something different, and "Ezra Pound Cake" popped into my head. Since I'm a writer and a baker, I thought it really fit me, and there was great rejoicing in my house when I found out it was still free.
What's been your most popular post? My Marshmallow 101 post! It's a photo tutorial showing step-by-step how to make marshmallows, and every few months, a new wave of people find it. It was a tricky process to make and shoot everything by myself, so I'm thrilled that people are still using it.
What's your favorite post? The last one I've done! When I read over old posts, I have to tinker with them. It's like hearing a recording of your voice. Old posts drive me crazy. But I do love it when I get to tell stories about my family, like the one about my grandmother in the Cherry Fried Pies post or the one where I try to make Carrot-Ginger Cupcakes with my 2-year-old niece. And I love writing about Nashville favorites, like Prince's Hot Chicken.
What's something great that you've learned or that's happened to you since starting your blog? When I started my blog, I couldn't imagine anyone reading beyond my mom, my sister and a handful of friends, so last fall, when Kendall-Jackson Winery invited me to fly to California to learn about wine and have dinner with Ruth Reichl, that completely blew my mind. I actually called before the trip to make sure it was real.
What's the usual process for developing one of your posts? First, I have to get really excited about a recipe and want to share it, so I'm always looking for inspiration in what's seasonal, what I'm craving, what I'm seeing in cookbooks and restaurants. I think a lot about what problem a certain recipe could solve for my readers. For example, when I tried Virginia Willis' Overnight French Toast Casserole, I thought it was a great recipe for working parents who wanted to make their kids a special hot breakfast every once in a while. And it's amazingly delicious.
Once I'm excited about a recipe, it doesn't take long for me to make it, shoot it and write about it. When I love a recipe, I want to share it immediately.
What are your favorite ingredients and tools? Let's start with the food. I love cooking with butter, sugar, flour, cream, vanilla beans, chocolate, nuts, fresh herbs, cheese, San Marzano tomatoes, lemon zest, bourbon and bacon. As for tools, I use my cast-iron skillet for just about everything — from roast chicken to deep-dish pizzas and skillet pies. I'm also crazy about my grill pan, Santoku knife, digital scale, instant-read thermometers, Silpat® and OXO silicone spatulas (they're heat-resistant up to 600 degrees).
What are your favorite food and cooking resources? One of my favorite food resources is the Nashville Farmers' Market. I love to see what's in season and check out what other people are buying. Purple hull peas! Green tomatoes!