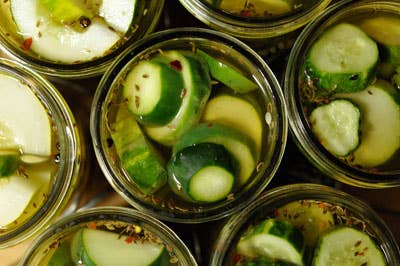 Culture
Sites We Love: Food In Jars
Gorgeous photos? Check. Engaging writing? Check. Seriously inspiring recipes, tips, and culinary curiosity? Check, check, and check. The best food blogs all seem to have a lot in common — but what separates them out are the strong personalities behind them. In our Sites We Love series, we sit down with some of our favorite bloggers to find out how they do it — and why it's as much fun for them as it is for us.
This week's Site We Love is Food in Jars, which proprietor Marisa McClellan (a former editor of Slashfood) describes on the site as "a canning blog." But in truth, this Best Food Blog Awards finalist is so much more: yes, Marisa delivers easy-to-follow instructions for canning and preserving everything from whole clementines to ham stock, but she also delivers smart ways to make use of your homemade pantry, with recipes, ideas, and advice galore. Here's what Marisa has to say about her site:
Live since: February 2009
Posting rate: 3-4 times a week
Geographic location: Philadelphia, PA
Why is the site called Food in Jars? I have always loved canning jars. There's something about the feeling they have in the hand and their utilitarian nature that appeals to me. Several years ago, when I was still the editor of Slashfood, I wrote a post called "Nothing makes my day like food in jars." I bought the URL soon after that because it just felt like the right sentiment and turn of phrase for me. I also liked it because it was at once open and specific. My site isn't just about canning (though that makes up a large part of my content history), it's also about all manner of homemade foods that just happen to fit nicely in jars.
What's been your most popular post? According to Google Analytics, my post about Garlic Dill Pickles is the most trafficked. The one that people bring up to me most often is the post about Tomato Jam.
What's your favorite post? I really like the one I wrote about making unfancy pickled jalapenos. I get a whole lot of satisfaction when I have a chance to emphasize that canning doesn't have to be a daylong undertaking. Those pickles are quick, easy and provide a useful ingredient that is used all year long.
What's something great that you've learned or that's happened to you since starting your blog? The biggest and best thing is that in the spring of 2010 I sold a cookbook based on the blog. I've been writing it for the last year and turned the draft in just a few days ago. It will be called Food in Jars as well and will be published by Running Press next spring.
What's the usual process for developing one of your posts? My posts are based on what's currently in season and what I feel like making from the available fruits and vegetables. This summer I plan on doing more small batches and whole preserved fruit (as opposed to jams and fruit butters).
What are your favorite ingredients and tools? I'm a sucker for sour cherries and apricots. As far as tools go, I'm a sucker for a well worn wooden spoon.
What photography equipment do you use? I have a two-year-old Nikon D90. Most the time I shoot with a 35mm 1.8 lens in my no-natural-light kitchen.
Where else can we find your work? For my day job, I run a site called Philly Homegrown for the Greater Philadelphia Tourism Marketing Corporation, all about eating local in the Philly region. I freelance for Grid Philly and occasionally contribute to Culinate. I'm also writing a column for the Mrs. Wages newsletter throughout the summer.
All photos: Marisa McClellan/FoodinJars.com
Do you know a blog or blogger who deserves to be featured in this space? Email a nomination — including a link to the site and a few sentences on why they're worthy of love — to siteswelove@saveur.com.