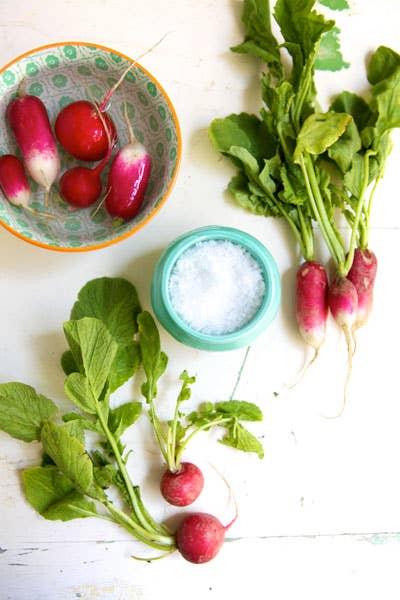 Culture
Sites We Love: La Buena Vida
Gorgeous photos? Check. Engaging writing? Check. Seriously inspiring recipes, tips, and culinary curiosity? Check, check, and check. The best food blogs all seem to have a lot in common — but what separates them out are the strong personalities behind them. In our Sites We Love series, we sit down with some of our favorite bloggers to find out how they do it — and why it's as much fun for them as it is for us.
This week's site we love is La Buena Vida, where photographer Nicole Franzen shares her food-centric adventures. Not only does Nicole create amazing recipes, but she also documents the journey that the items take from root to table. As a vegetarian, she focuses on healthy, local, and seasonal ingredients, displayed beautifully through vibrant photographs. Here's what Nicole had to say about her site:
Posting rate: 2-3 times a week
Geographic location: Brooklyn, New York
Why is the site called La Buena Vida? "La Buena Vida" means the good life in Spanish. My blog and photography reflect the finest things in life. Fabulous food prepared with love and the process along the way. Where it's grown and the people who care for it. I like to grasp the whole process from root to table. I also share some of my professional work and different projects I'm working on. All while incorporating my loves for design, green living, and travel. I lived in Argentina and grew up in New Mexico, so Spanish culture has always been a big part of my life.
What's been your most popular post? A recent visit I took to Eagle Street Rooftop Farm. A gorgeous 6,000 square foot vegetable farm placed a top a rooftop, with the Manhattan Skyline as a backdrop. It's one of my favorite places in the city and on this particular day it was truly majestic. The lighting was amazing, it was pouring rain in the distance and the dark clouds were laying low over the city; while the farm was bright green and abundant. It was a special day for everyone that was there and hopefully for those who enjoyed the photos. I feel that more and more people are becoming interested in farming and learning about where there food is coming from. Also with all the cool ways food can be grown, like on old factory rooftops.
What's your favorite post? My favorite post at the moment is a recent one I did of iced chamomile sun tea. I bought fresh chamomile and steeped it in the sun. Made a chamomile syrup and combined both over ice. I love the photos I took and it captured a perfect warm Summer day. The post has a glow about it and the delicate beauty of the flowers. I also love some the posts I put up of a recent trip to Tulum, Mexico. We had a really fabulous time and I think it showed through the photos.
What's something great that you've learned or that's happened to you since starting your blog? My blog has been a fantastic creative outlet. It inspires me daily and keeps me passionate. I can look back at posts from a year ago and even just a few months to see my growth. Seeing how far I have come and what I have learned along the way has been very rewarding. I also love sharing my world with other people. My blog has opened many doors and I've had some fantastic things come my way. Lot's of positive feedback, photography jobs and photos published.
What's the usual process for developing one of your posts? When I am preparing a recipe for the blog, I am inspired by the season and what's available at the local Farmer's Market. I visit the market a few times a week and love interacting with the farmers and seeing all the fantastic produce and flowers. It's my happy place. I buy food which is always eaten. I photograph ingredients, make the dish, photograph the dish, and make any edits on the computer. I then play with the images creating some form of a layout, it's kind of like a puzzle. Then I include some text, maybe a story and the recipe. It's quite a bit of work but I love doing it.
What are your favorite ingredients and tools? I have a 8 inch Wusthoff [knife] which is my baby. I also use everything from microplanes, to zesters, to peelers, to graters. I love my new pasta maker, fresh pasta is a new obsession. I keep things pretty simple: a good olive oil, Maldon sea salt, and let the food speak for itself. I like to keep things fresh and easy. I usually have a ton of vegetables in the fridge, every type of green I can get my hands on. I always have some good cheeses and maybe a fabulous ice cream.
What are your favorite food and cooking resources? Jamie Oliver, whom I admire immensely. I love everything he does. I follow "Food Revolution" religiously and he inspires me. I love Eric Ripert's show "Avec Eric," it's very well put together and he has such an amazing outlook on food. He treats everything respectfully and I appreciate that. I've watched every single "No Reservations" episode. I love the way the show has developed over the years. I enjoy seeing all the exotic places he travels to. We may not have the same outlook and desires from food, but Anthony Bourdain makes me laugh. I also should mention all the fabulous food photographers and food bloggers which inspire me daily.
What photography equipment do you use? Canon 5D Mark II
Where else can we find your work? On my photography website nicolefranzen.com. I am also tapped into all of the social media, which you can find on my blog.
What food blogs do you follow? A very long running list but I will name some of my favorites and friends. What Katie Ate, Cook your Dream, a la mode, Beyond the Plate, The Year in Food, Lingered Upon, Canelle et Vanille,Scandi Foodie, Sprouted Kitchen, Forty Sixth at Grace, Green Kitchen Stories, Running with Tweezers, Seven Spoons, Desserts for Breakfast. And many more.
Do you know a blog or blogger who deserves to be featured in this space? Email a nomination — including a link to the site and a few sentences on why they're worthy of love — to siteswelove@saveur.com.