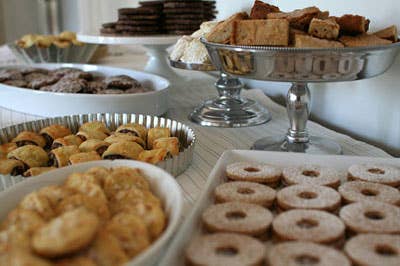 Culture
Sites We Love: Lottie + Doof
Gorgeous photos? Check. Engaging writing? Check. Seriously inspiring recipes, tips, and culinary curiosity? Check, check, and check. The best food blogs all seem to have a lot in common — but what separates them out are the strong personalities behind them. In our Sites We Love series, we sit down with some of our favorite bloggers to find out how they do it — and why it's as much fun for them as it is for us.
The food blog landscape is an overwhelmingly beautiful one: lush photos are par for the course; you could scroll through most blogs and have an entirely fulfilling experience never even reading the words. But at Lottie + Doof, Tim Mazurek's cooking and food blog, the pictures (lovely, of course) and the words are often intermingled. With a keen eye for design, Tim incorporates text into his photos; for us, an unexpectedly compelling twist on the act of reading a recipe. Of course, that can only go so far without the recipes themselves bringing something to the table — fortunately they do, with Tim cherrypicking the best savories and sweets from cookbooks, magazines, and online, adding candid notes and observations and producing final results that are often better than the dishes in their original forms.
We love Lottie + Doof because it's one of the most design-savvy food blogs out there, but also because, okay, Lottie + Doof loves us. Tim makes, bakes, and blogs about SAVEUR recipes more than almost anyone we know, often adding his own twist. Take for example the Maple Squares with Walnuts which he adapted from our March issue, or his vivid take on our Focaccia with tomatoes and olives. Here's what Tim had to say about his site:
Live since: September 2008
Posting rate: I try to post at least once a week, sometimes twice. Occasionally I do something crazy like The 12 Days of Cookies and you have to hear from me on a daily basis.
Geographic location: Oak Park, Illinois (a beautiful town at the edge of Chicago)
Why is the site called Lottie + Doof? My grandma's name was Lottie. She didn't like cooking, but she loved food.She was my favorite and I wanted to name the site after her (more on her here). Doof is food spelled backwards. I just wanted the name of the site to be longer, and more mysterious. I've since learned that doof means "dumb" in German, which satisfies.
What's been your most popular post? I think in terms of hits, it is the Marlow & Sons/Claudia Fleming chocolate and caramel tart that graced the cover of SAVEUR! Which is funny, because I don't really like chocolate and it is one of only two chocolate recipes I have posted. My mac & cheese is probably the most well-loved. I still get comments from people who agree that cheese and carbs are the perfect combination.
What's your favorite post? I love collaborating, so I like when guests stop by the site.Two of my earliest and favorite guests were my very talented friend Sophie Buhai, who designs a line of clothing called Vena Cava and makes a mean guacamole, and our friend Ed Droste, from the band Grizzly Bear, who shared a favorite recipe for chicken salad. More recently, Kim Boyce shared her mom's mondel bread recipe.
What's something great that you've learned or that's happened to you since starting your blog? I had lunch with Dorie Greenspan. We ate hot dogs. It was awesome. She is a really special person and I am a huge fan, so it made my day. Nobody writes a recipe like Dorie does, they inspire such confidence. Really, the greatest thing about the blog is all of the people it has brought me in contact with. From Dorie to my fellow bloggers and all of the wonderful folks who read what I write and contribute to the site on a regular basis. It is a great community that I am fortunate to be a part of.
What's the usual process for developing one of your posts? There isn't a usual one. Sometimes it is very deliberate and I treat it like editing a magazine. I think about upcoming holidays and things I haven't done before, food trends, new ingredients, etc. Sometimes I just really want a donut, so I make one. I do not take process photos, which readers have complained about. I understand, I'd probably complain, too. But the cooking process is what I love and I don't want it interrupted with a camera (which also explains why I don't have photos of the important events in my life). I don't post recipes I don't like. So what you see on Lottie + Doof is only the most successful of the recipes I have tried. There are a lot of mediocre recipes out there.
What are your favorite ingredients and tools? I love my ice cream maker. Anyone who says they don't have room for one is crazy. Make room. Throw out your toaster. Good eggs are important. We have a farmer we meet on a street corner in Chicago to buy eggs from, they are wonderful and the pick-up always feels illicit. And I've never met an offset spatula I didn't like.
What are your favorite food and cooking resources? My apartment is overflowing with cookbooks. I have a handful that I find myself returning to again and again: The Last Course by Claudia Fleming, Pure Dessert by Alice Medrich, anything by Carole Walter. The Breakfast Book by Marion Cunningham is pure genius, and should be owned by everyone. Recently I have been cooking a lot of Simon Hopkinson recipes, The Vegetarian Option is one of the best books published in recent years.
E. Dehillerin in Paris is my fantasy shop. I want to buy everything there, even the things I don't recognize. It is so rad! I also really love Les Touilleurs in Montreal, which looks more like a gallery than a kitchen store. Why do all of my favorite kitchen shops all speak French? I also like ordering from restaurant supply stores, you can find some really great things for your home kitchen. In Chicago, I frequent Green City Market and the Oak Park Farmers Market. You'll find me at one or the other every Saturday morning.
What photography equipment do you use? The first year I used a little point and shoot camera. I didn't want to get too invested in photography and I thought it would be cool if I could take decent looking pictures with inexpensive equipment. I eventually transitioned over to a Canon digital SLR, and the photos have definitely improved. I now shoot everything in daylight, which in our apartment is best in the morning. It isn't uncommon for my partner and me to have cocktailsbefore breakfast.
Where else can we find your work? I contribute to the lovely ReadyMade magazine, occasionally. I have a lot of fun taking photos of things like Frito Pies for the good folks at Bon Appetit. Additionally, I have been featured on (or contributed to) Design*Sponge, Real Simple, the Kitchn, TimeOut Chicago, Smithsonian.com, Paste Magazine, Refinery29, and the Chicago Sun-Times. I am also collaborating with Floriole Bakery in Chicago on a series of seasonal dinners. It is an opportunity to actually meet people and share food in the real world. Sandra Holl, who is the chef/owner and a friend, is a huge inspiration to me. I'm so lucky to get to play in her kitchen!
What food blogs do you follow? There are so many wonderful blogs out there that is seems really sad to pickonly a few. Luisa Weiss at The Wednesday Chef was one of the first bloggers I followed,and she remains one of my favorites. She proved to me that a blog could be beautiful, useful and have a heart—and she does it all so elegantly. (I would also include 101 Cookbooks, the Homesick Texan, and Orangette on my list of all-time favorites.) David Lebovitz's blog is one of the smartest and most useful food sites on the web. I learn something new with almost every post. Food culture can take itself too seriously, and the talented Amelia Morris's site, Bon Appetempt, is a great antidote for that. Brandi Henderson, who is the pastry chef at Delancey in Seattle, has a great blog called I Made That! that I thank for bringing homemade Nutter Butters into my kitchen (they are incredible).Almost every day I come across a new blog that is exceptionally well done; it is hard to keep up.
Photos and by Tim Mazurek
Do you know a blog or blogger who deserves to be featured in this space? Email a nomination — including a link to the site and a few sentences on why they're worthy of love — to siteswelove@saveur.com.