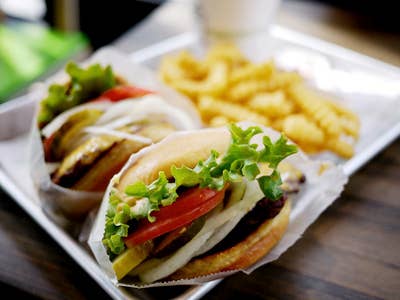 Culture
Sites We Love: Lunch Studio
Gorgeous photos? Check. Engaging writing? Check. Seriously inspiring recipes, tips, and culinary curiosity? Check, check, and check. The best food blogs all seem to have a lot in common — but what separates them out are the strong personalities behind them. In our Sites We Love series, we sit down with some of our favorite bloggers to find out how they do it — and why it's as much fun for them as it is for us.
Today's site we love is Lunch Studio, Michi and Yen's comprehensive lunch diary. Architects by profession, they moonlight as ladies who lunch, literally. Twice a day, every week day, they post their spoils, making the rest of us inspired, jealous, and very hungry. Here's what they have to say about their site:
Posting rate: We post twice a day, every working day. The first is a post about where and what we had for lunch, the second is what we had for afternoon dessert. We pretty much stick to that schedule unless we're on vacation.
Geographic location: New York, NY
Why is the site called Lunch Studio? Lunch Studio is an extension of our architectural practice, Front Studio. We're avid proponents of taking the time to have lunch during the workday and long before we started blogging, we had developed the daily practice of taking a break for lunch. Lunch, along with a short break for afternoon coffee and dessert, is vital to our productivity and creativity as architects. In a way, Lunch Studio is a personal expression of our daily habits while Front Studio is our place for professional creations.
What's been your most popular post? The most popular posts are always the dessert posts. People love an attractive looking chocolate cupcake or a gorgeous strawberry tart. No matter how delicious wiener schnitzel is, it just doesn't seem to induce the same kind of fervor.
What's your favorite post? We just started writing end-of-the-year posts this past December, and are really liking the results. We make up titles like "Wish you were here" for delicious places not in our neighborhood or "Fancy Pants" for fine dining experiences worth splurging on. My favorite though, is "Auld acquaintances, but not forgotten" where we take a moment to mourn and remember those meals we loved which have departed this world.
What's something great that you've learned or that's happened to you since starting your blog? I think, like many people who start blogs, the best thing about blogging is discovering the community that surrounds your interests. We've made many new friends, even met our current office mates, all because Lunch Studio gives us a plausible excuse to contact someone out of the blue to have lunch with.
What's the usual process for developing one of your posts? Michi starts by taking a photo of whatever looks most attractive or maybe a new dish we haven't had before. I'm the writing half of our blog so I use the image as inspiration for the post. Sometimes I have an idea of what I want to write as we're leaving the restaurant, but sometimes when I'm uninspired, we talk about the meal out loud to trigger a relevant idea.
What are your favorite ingredients and tools? Kitchen tongs and kitchen shears are not to be underestimated! I also realized recently I should start traveling with chopsticks if I'm going to be cooking. How else do scrambled eggs get made? And speaking of scrambled eggs, neither one of us could have a kitchen without butter. Butter makes everything better.
**What are your favorite food and cooking resources? **Cook's Illustrated is our most reliable source of recipes, we love the nerdiness of how they test and report on recipes. Sometimes when we need inspiration that can't be found on the internet, we'll go to our local indie bookstore, McNally Jackson, and look through cook books. Other places we like to wander are the NY Cake & Baking Distributer or Broadway Panhandler.
What photography equipment do you use? We're not fancy with our equipment, a Panasonic Lumix GF1 does the trick.
Where else can we find your work? What we consider our work is on our architectural website, Front Studio, and blogs like Remodelista and Architizer but the fun stuff for Lunch Studio appears on Serious Eats with regularity. We wrote a Lunch Manifesto for Good magazine, we were featured in the Gastroporn issue of Theme Magazine and most recently on a national Tasting Table newsletter. We're taking steps to include more guide related information on the blog, including ratings and recommendations.
Do you know a blog or blogger who deserves to be featured in this space? Email a nomination — including a link to the site and a few sentences on why they're worthy of love — to siteswelove@saveur.com. >