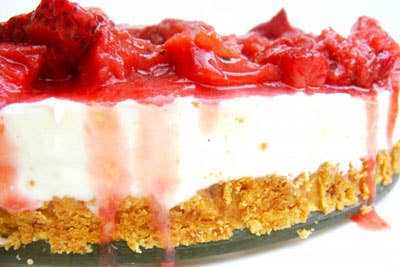 Culture
Sites We Love: Make it Naked
Gorgeous photos? Check. Engaging writing? Check. Seriously inspiring recipes, tips, and culinary curiosity? Check, check, and check. The best food blogs all seem to have a lot in common — but what separates them out are the strong personalities behind them. In our Sites We Love series, we sit down with some of our favorite bloggers to find out how they do it — and why it's as much fun for them as it is for us.
Today's site we love is Make it Naked, where Virginia-based Krissy Fulton shares a wealth of organic, gluten-free recipes, served with wit and humor. Here's what Krissy has to say about her site:
Posting rate: I try to post at least once a week. I'd love to post everyday but haven't figured out how to make that happen with a full-time job yet. It's quality not quantity, right?
Geographic location: Northern Virginia (about 25 miles west of DC)
Why is the site called Make it Naked? I like my food naked, without chemicals, dyes and pesticides. Have you ever looked at the list of ingredients on a container of breadcrumbs? That blows my mind. I created Make it Naked to share my love and knowledge for home cooking. I want people to know they can go into their kitchen and make their own breadcrumbs pretty easily. I'm here to cheer them on. I should probably post a recipe for breadcrumbs soon.
**What's your favorite post? **Probably my Philly Fluff post about my Grandpa. It took a lot of trial and error to create a Grandpa-approved cake. He loved it. And yes, he'd totally tell me if he didn't. Once I made him cookies, and he said "Kris. Don't send those again."
What's something great that you've learned or that's happened to you since starting your blog? How about I give one of each? Something great that I've learned: Food really brings people together. Even strangers. It's quite a powerful thing. I've made great friends through blogging. I've had family that I didn't know I had contact me. I've had old friends from middle school who I haven't talked to in years leave comments. That's just really awesome. Something great that's happened: A mother emailed me to say thanks for the gluten free oatmeal cookie recipe. Her son can't eat gluten and had never had oatmeal cookies. That made me smile. I gave some kid a cookie, virtually.
What's the usual process for developing one of your posts? I really don't have a set process. Sometimes it's an urge to recreate something I've recently enjoyed. Sometimes I just want to share a great dinner I made on the fly. Sometimes I'm determined to make something healthier. But no matter the origin, every recipe has a story and that's what I tell at Make it Naked. I love that about food.
What are your favorite ingredients and tools? Garlic. I love garlic. And when baking, hands down, Mexican vanilla. My favorite tools: a good knife. I will actually do dishes in order to use a good knife. That's a big deal. I hate dishes. Oh, and I have to mention my Cuisinart food processor. We go way back. It's been with me for quite some time now. It faked me out this Christmas and died for a day. We had a ceremony, but it came back to life.
What are your favorite food and cooking resources? I actually order a lot of kitchen supplies on Amazon.com. I find the reviews to be quite helpful. I also love HomeGoods. I can't get out of there without something kitchen related. As for books, How to Cook Everything by Mark Bittman is a really great resource. I would recommend it to anyone, the seasoned chef or someone just starting out. I love Martha Stewart. She inspires me often. Also Gluten-free Girl and Edible Perspective now that I'm learning how to bake gluten free. And of course Smitten Kitchen. This was the first food blog I ever read, and I still drop everything and go there when I see she's posted something new. Her posts and reader comments are wonderful resources.
What photography equipment do you use? I use a DLSR Canon EOS 60D with a 50mm f1.8 lens. I started out with a Sony Cybershot point and shoot. I just recently made the switch and am still getting used to the change. I am often overwhelmed but love learning as I go. I've taken one class to learn about my new camera and feel like I could use about 1000 more. I also just started using a tripod. It's a hand-me-down from a friend, so I really have no clue about it. I use Adobe Lightroom to edit photos.
What food blogs do you follow? We don't have time or space for this. Seriously there are 164 blogs in my reader. I just counted. I'll share the ones I visit most frequently for recipes (other than those listed above).
Annie's Eats: Go to her recipe index and click on ice cream. You're welcome.
With Style: Gorgeous pictures and a wonderful gluten free blog.
Bella Eats: Andrea lives my dream life in Charlottesville, VA and shares it with all of us through her beautiful blog and recipes.
Bev Cooks: I feel like we'd be friends in real life. I also have a "Bev folder" on my computer of recipes to try stat. Not kidding.
Brown Eyed Baker: You need dessert? This is where you should go. Michelle's got everything. Even dog treats.
How Sweet Eats: Jessica is totally fun. I want to meet her and eat cupcakes together.
Joy The Baker: Her recipe index starts with "booze." cheers!
Macheesmo: Nick's intelligence and creativity always lead to wonderful solid recipes. I've made a lot of Macheesmo recipes and they never disappoint. He also just published his own cookbook! It's awesome!
My New Roots: So healthy and gorgeous. I want to eat everything on this blog.
Shutterbean: Tracy is awesomely fun and her food is amazing. I know, I've made a lot of it.
The Novice Chef: Another fun Jessica with great recipes!
Daily Garnish: Emily has wonderfully creative salad recipes and is a great vegan/vegetarian resource.
Do you know a blog or blogger who deserves to be featured in this space? Email a nomination — including a link to the site and a few sentences on why they're worthy of love — to siteswelove@saveur.com.