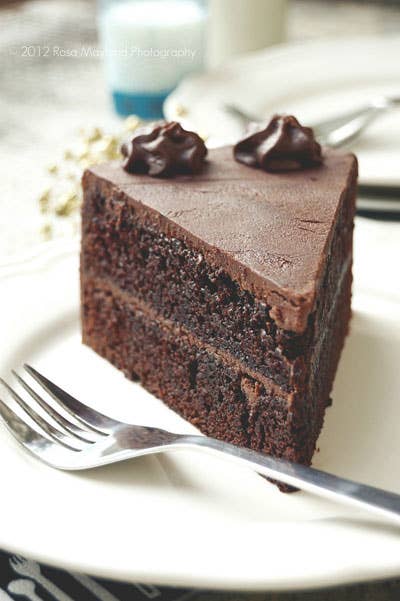 Culture
Sites We Love: Rosa's Yummy Yums
Gorgeous photos? Check. Engaging writing? Check. Seriously inspiring recipes, tips, and culinary curiosity? Check, check, and check. The best food blogs all seem to have a lot in common—but what separates them out are the strong personalities behind them. In our Sites We Love series, we sit down with some of our favorite bloggers to find out how they do it — and why it's as much fun for them as it is for us.
Today's site we love is Rosa's Yummy Yums, where Switzerland native Rosa Mayland shares recipes and musings influenced by the distinct culinary traditions of the surrounding European regions, and delivers evocative photographs of mouthwatering dishes and the scenic Geneva countryside she calls home. Here's what Rosa has to say about her site:
Posting rate: Usually I publish two posts a week. On Wednesdays they are wordless and artistic (food and nature photography), and on Fridays I always share a recipe accompanied by an article, as well as a few nature and culinary shots.
Geographic location: The Geneva countryside (a few meters away from the French border), in Switzerland.
Why is the site called Rosa's Yummy Yums? It's the first name that popped into my mind when I started blogging six and a half years ago. "Rosa's Yummy Yums" is catchy, unpretentious, merry, playful, quirky and a little rock 'n' roll. It sums up my attitude towards food and describes my personality perfectly. Besides, I really love the word "yummy," so I had to use it in the title of my blog!
What's your favorite post? As a rule, I only speak about dishes that hold a special meaning for me and ponder on a subject close to my heart, so it is very difficult to say which post(s) I cherish the most—all of them are my "babies." Nonetheless, I am particularly proud of certain writeups like Drop Dead Chocolate Cake, Sauerkraut, Potato & Cheddar Pasties, Deluxe Traditional English Trifle, Sachertorte, A Viennese Delicacy, Beet Salad With Cottage Cheese & A Runny Egg and Creamy Fusilli Pasta Salad, each of which showcases some of my favorite pictures, creations, and pieces of writing.
What's something great that you've learned or that's happened to you since starting your blog? I've learned that it is important to stay true to yourself and to be honest with your readers. People want authenticity, diversity and originality. Understanding that has helped me to open up and feel comfortable differentiating myself from others, instead of trying to blend in.
Blogging is hard work and rarely brings income, so it is essential to enjoy what you are doing if you want to stay the course. You have to truly love this time- and energy-consuming activity and be passionate about food in order to last.
It's extremely rewarding, too. My blog is a great creative outlet and has brought me a lot of satisfaction, happiness, and recognition. I've grown up a lot in the past 6 years, developed my cooking, baking, photography, language, and writing skills (there's much more to learn, though). I have also been able to meet (physically and virtually) numerous lovely people and wonderful fellow bloggers.
What's the usual process for developing one of your posts? Generally I choose the seasonal produce that I want to showcase. Then I think of a direction I want to take (I try to alternate between savory and sweet) and the kind of specialty I want to share with my readers. Then, after some intense brainstorming and a little research (online or in my books and magazines), I decide which recipe I'll make. Next comes the execution of my dish. Right after that I head straight to my outdoor "studio" (balcony) in order to arrange and prep my food. Once that's been done, I can finally take my photos. Afterwards, I edit my pictures in Photoshop and write my article. The whole process takes about a week. It's a real labor of love that demands time, concentration, and quite a lot of sacrifice!
What are your favorite ingredients and tools? I love my red Kitchen Aid stand mixer which my boyfriend gave me two years ago as a birthday/Christmas present. Being a bake-aholic, I could not have dreamed of a better gift than this retro powerhorse. It's both beautiful and practical. I also treasure my microplane grater, Chinese knife and wok, Thai mortar and pestle, [Swiss peeler](/
What are your favorite food and cooking resources? I find my inspiration in magazines (Saveur, Bon Appetit, Jamie Magazine, Good Food, Delicious, Food & Wine, Elle A Table and Cuisine De Saison), cookbooks (by Nigel Slater, Dorie Greenspan, Tish Boyle, King Arthur Flour, Greg and Lucy Malouf, Jamie Oliver), websites (Epicurious, Foodgawker, Tasteologie, Tastespotting, Pinterest), tv shows (The Hairy Bikers, The Fabulous Baker Brothers, The River Cottage, Baking Mad With Eric Lanlard, Saturday Kitchen, Jamie Oliver's Food Revolution and blogs.
What photography equipment do you use? As I'm limited financially, I use nothing fancy: a Nikon D40 with the 18-55mm kit lens. I hope to upgrade my lens soon and buy something more sophisticated.
Where else can we find your work? I freelance for the The Rambling Epicure, a daily international food chronicle and online newspaper where I ponder the meaning and significance of food in everyday life. You can also find my recipes on the Swiss site Knowitall.ch, an English-language community website for Geneva, Vaud and neighboring France. Otherwise, I am on Facebook (personal page & blog page), Twitter, Pinterest and Flickr.
What food blogs do you follow? Many! As a matter of fact, I follow so many blogs that it would be impossible to mention them all here. There's a considerable amount of amazing, talented and inspirational bloggers out there. Not one week goes by without me discovering new and delightful blogs that I add to my reading list. Each day, I spend hours visiting my favorite sites and surfing the net in search of unique food writers, photographers and cooks.
Here are a few of them: Souvlaki For The Soul, What's Cooking Mexico, What's For Lunch Honey?, Life's A Feast, Lucullian Delights, Les Cuisines De Garance, Juls' Kitchen, Junglefrog Cooking, Indian Simmer, What Katie Ate, Roost, Emiko Davies, My Cooking Hut, Sinfully Spicy, Sunshine And Smile, Almond Corner, and E-Curry.
Do you know a blog or blogger who deserves to be featured in this space? Email a nomination — including a link to the site and a few sentences on why they're worthy of love — to__siteswelove@saveur.com.