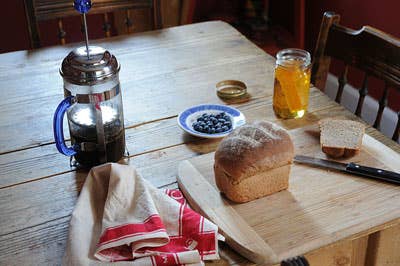 Culture
Sites We Love: Simply Breakfast
Gorgeous photos? Check. Engaging writing? Check. Seriously inspiring recipes, tips, and culinary curiosity? Check, check, and check. The best food blogs all seem to have a lot in common — but what separates them out are the strong personalities behind them. In our Sites We Love series, we sit down with some of our favorite bloggers to find out how they do it — and why it's as much fun for them as it is for us.
This week's Site We Love is Simply Breakfast, where proprietor Jennifer Causey chronicles her morning meals in exquisite, almost wordless detail. Each of her still life shots of steaming cups of coffee, buttered English muffins, and runny yolks — all bathed in beautiful morning light — is a world in and of itself; taken as a whole, her blog is a beautiful, visual meditation on the most important meal of the day. Here's what Jen had to say about her site:
Live since: I started the blog in 2007, but took some time off between 2008 and 2009.
Posting rate: About 3 posts per week.
Geographic location: Brooklyn, New York.
Why is the site called Simply Breakfast? I love simple photographs and simple food, so the name just came organically.
What's been your most popular post? The first year I started the blog, I wanted to get to know my readers. So, I created a post asking people where they lived and what their favorite breakfasts were. It was really interesting to read what people all over the world were eating for breakfast.
What's your favorite post? I always like when I can change things up and go out for breakfast, so I like this post from a recent trip to a lovely Brooklyn spot, Bakeri.
What's something great that you've learned or that's happened to you since starting your blog? I have received several emails from people telling me thank you for reminding them how important breakfast is: busy mothers, students, and even women with eating disorders. It makes me feel good to see that people are affected by something I am putting out in the world. I hope that even if people do not have time to sit down for breakfast themselves, that they can take a moment to find a bit of pleasure from my posts. I have also met friends all over the world through the blog. Even though there are not many words on the blog, I am able to connect with people through a love of food and photos.
What's the usual process for developing one of your posts? I usually post on mornings when I have a little extra time. I will make my breakfast, plate it, choose a linen, take the photo, and then enjoy my breakfast. Then I quickly upload the photo, tweak the contrast a bit, and post it.
What are your favorite ingredients and tools? I love anything with eggs and I have a special fondness for English muffins. Another favorite ingredient is almond butter; it is particularly good with honey on a thick crusty bread. As for tools, each morning I grind my own beans and use a French press for coffee. I also have a few favorite mugs that I
always like to drink out of. Having my morning coffee with breakfast is an important calming ritual for me. It allows me to sit down and take a moment to enjoy that delicious first sip before thinking about the day ahead. I also love my cast iron skillet. It is great for eggs, vegetables, or making a dutch baby in the oven.
What are your favorite food and cooking resources? For recipes and inspiration, I love the Good to the Grain cookbook, any of Nigel Slater's cookbooks, old issues of Gourmet magazine, and the 101 Cookbooks website. For ingredients, I love the Union Square farmer's market in NYC and Court Street Grocers for coffee. I also get coffee from Blue Bottle and Stumptown. Brooklyn Kitchen is a great store for locally made ingredients and great supplies.
What photography equipment do you use? I shoot with a Canon 5D Mark II, my 50mm or my 24-105mm lens, natural light, and a white foam core board to fill in light. Sometimes I shoot film with a Nikon 8008s.
All photos by Jen Causey/Simply Breakfast.
Do you know a blog or blogger who deserves to be featured in this space? Email a nomination — including a link to the site and a few sentences on why they're worthy of love — to siteswelove@saveur.com.