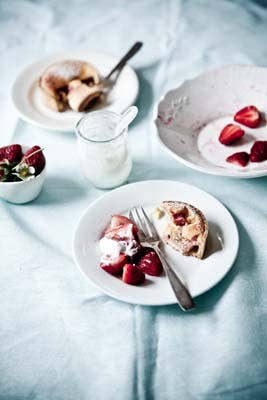 Shopping & Reviews
Sites We Love: Tartelette
Gorgeous photos? Check. Engaging writing? Check. Seriously inspiring recipes, tips, and culinary curiosity? Check, check, and check. The best food blogs all seem to have a lot in common — but what separates them out are the strong personalities behind them. In our Sites We Love series, we sit down with some of our favorite bloggers to find out how they do it — and why it's as much fun for them as it is for us.
Today's site we love is Tartelette, where French expat and former Pastry Chef Helene Dujardin's shares her love for fresh seasonal ingredients and stunning photography. With a gift for creating show-stopping desserts, Helen also provides instructions on how to make all her recipes gluten-free. Here's what Helene has to say about her site:
Posting rate: About 4 to 6 times a month
Geographic location: Charleston, South Carolina
Why is the site called Tartelette? Tarts were the first thing I learned how to bake under my grandmother's guidance. I took a real liking to them and soon it was the one I would bring to every family gatherings. One day, I discovered mini tart tins and started using those pretty much exclusively and I became "Tartelette". When I moved I started a blog, many years later and 3,000 miles away from home, I decided to use that nickname for my blog name as a sort of homage to my family, my roots, the first thing I cooked in the kitchen.
What's been your most popular post? Readers seem to really enjoy my travel posts, especially the ones about Provence where I grew up. Also, any posts with super fresh local ingredients, and posts with chocolate and donuts are always well received.
What's your favorite post? Difficult question… I'd say any post that has pushed my own limits in some ways. Whether it be in writing recipes, stories, personal and/or with humor, or in photography. My most favorite to write was my open letter to my brother. He is the angel looking over my shoulder. They all made me grow and motivate me to keep on getting better.
What's something great that you've learned or that's happened to you since starting your blog? Three specifically come to mind, currently: Forming long lasting friendships with a dozen of bloggers. People I sometimes vacation with, collaborate with or have over at the house for dinner. Also, as I continually practiced my photography, I was able to finally make full time career out of it. Wiley Publishing noticed that and asked me to write Plate To Pixel which was published last May. Having my pictures chosen by the Donna Karan non-profit organization Urban Zen to illustrate one of their events on healing through food.
What's the usual process for developing one of your posts? It's never quite the same, but it's always according to the season. A post can sprout from a specific craving we might have or from the produce that catches my eye at the farmers' market. As I develop and write it, I see the colors and shapes of the ingredients I am going to use and the photography takes root right there. I start forming a blog post as I cook. The story that goes along with the dish, whether rooted in my family memory bank or a more recent event, the colors and leads of the photographs (angles, composition, focus, etc...). Then I go shoot. I try to get 2 to 3 different frames for each recipes plus a couple of ingredient shots. After the pictures are selected and edited, I start writing a post. Then I read it aloud a few times to see if it flows ok and if there are typos, grammatical errors, etc...
What are your favorite ingredients and tools? Any seasonal and fresh produce, fruits, vegetable and herbs are my favorite. I live in a subtropical area with great markets and dedicated farmers. We feel very fortunate to have access to these resources pretty much year round. As far as tools, I would have to say a chef knife, a whisk , and plenty of elbow grease.
What are your favorite food and cooking resources? Cookbooks and my family's recipes journals. Food magazines from France that my mother sends me once a month. Google…I really like using it because it always leads me to new blogs, great stories, personal recipes, and thoughts. I like that too.
Where else can we find your work? I have photographed several cookbooks and shot features for magazines (print and online). I have also done commercial photography and worked with restaurants to provide them new images for their sites and menus. Clients include Running Press, Ten Speed Press, Le Creuset, One Kings Lane, Gibbs-Smith, Food & Wine, Slather Brand Foods, and more. My work has been highlighted by Elle Magazine, Forbes Magazine, Fine Cooking, Abc News, CNN, and many others.
Do you know a blog or blogger who deserves to be featured in this space? Email a nomination — including a link to the site and a few sentences on why they're worthy of love — to siteswelove@saveur.com.