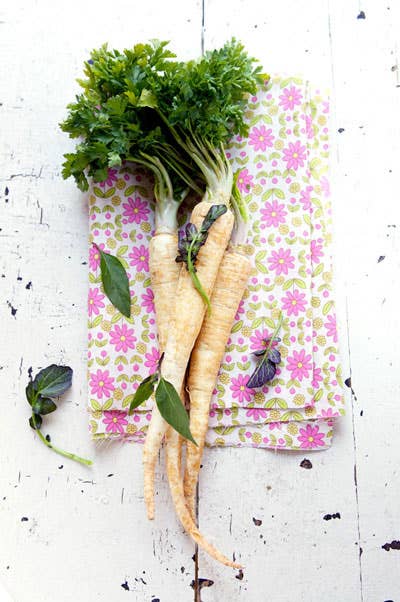 Culture
Sites We Love: La Tartine Gourmande
Gorgeous photos? Check. Engaging writing? Check. Seriously inspiring recipes, tips, and culinary curiosity? Check, check, and check. The best food blogs all seem to have a lot in common — but what separates them out are the strong personalities behind them. In our Sites We Love series, we sit down with some of our favorite bloggers to find out how they do it — and why it's as much fun for them as it is for us.
This week: French expat Beatrice Peltre of La Tartine Gourmande writes her recipes in French as well as English, and frames the recipes (many of them gluten-free) with tales of her family and travels. Here's what Bea has to say about her site:
Live since: November 26, 2005
Posting rate: About 5 posts a month.
Geographic location: Boston, MA
Why is the site called La Tartine Gourmande? I am French and grew up eating tartines _—_and loving them all. A tartine is basically the equivalent to an open-faced sandwich, with various toppings. French people traditionally eat tartines for breakfast, with butter and jam. Then, gourmande is someone who cannot resist food and therefore, a gourmand would have a tendency to obsess and talk about food all the time. That describes me quite well.
What's been your most popular post? I've noticed that most of my food and travel posts are popular—as well as my dessert posts! :-) I am have a weakness for these stories, and love to document my travels with an emphasis on food. And now on my life with my daughter Lulu and P., with food at its center. Coincidentally, my most popular posts (if popularity means number of comments) were the ones I published when I announced the birth of Lulu and my upcoming cookbook. My two babies in a way...
What's your favorite post? I like so many. It's a good thing. I want to feel proud of what I do and write, and look for quality versus quantity. If I am not ready or do not feel the inspiration inside me for a story or a recipe, then I don't post. One of my recent food and travel posts really resonate with me. It's the post I wrote when I traveled to the island of Belle-Ile en mer, on the west coast of France, in late August 2010. I had been dreaming to visit the place since I was a child, and really wanted to make the trip with my daughter Lulu. My parents, P. my husband and Lulu spent two weeks there. This small island is full of natural beauty. It's perfect for anyone who loves nature and delicious local food. The place is also reminiscent of Ireland and New Zealand where I lived, making it even more special.
There's also a recent post in which I tell the story of Lulu et les madeleines. It tells the story of the lovely walk we took on the beach on a Sunday in March, and the picnic we ate, which included homemade marbled madeleines. It was Lulu's first taste of a madeleine. Very special to me.
What's something great that you've learned or that's happened to you since starting your blog? I remember lying in bed one morning in October 2010; I was busy checking my mail on my iTouch. I thought I was going to choke when I saw the email of a journalist who was working for a TV documentary-like program I grew up watching on French TV. Everyone in France knows this program! The journalist was writing a story about new food trends, and she was asking whether she could come to Boston to interview me as, she said, she loved my blog. Now obviously, I could never have anticipated something like this to ever happen.
One month later, she arrived with a cameraman and we spent three days shooting, cooking and having an amazing time in my house and around Boston. The story she wrote was superb. Everyone in my home village, or old high school friends, saw it. It was frankly just unreal! So really, when I started my blog, I could never have imagined that it would allow stories like this one to occur, and that I would become a food writer, stylist and photographer by profession, meeting along the way many fabulous food people—bloggers, photographers and writers—who inspire me every day. I've learned photography and styling by practicing. Cooking by cooking. Food writing by writing. So yes. I've learned that when you follow your passion, and work hard at it, you can do amazing things.
What's the usual process for developing one of your posts? I start with an emotion or the memory of an event that touched me and was associated with food. Everything is, somehow! ;-) And I build a story around that. Sometimes it's a trip to the beach that inspires a recipe and my story, or it's the visit to the farmer's market that makes me rush to the kitchen to cook, style and photograph. Food is at the center of everything I do, really. I cannot let one day go by without feeling food between my fingers. I am completely addicted to making, styling and photographing food. And tell stories about it. And since I love to eat and express love to my favorite people with these foods (my mother started that!), it's a pretty happy match.
What are your favorite ingredients and tools? I have a strong liking for vegetables. I grew up in a rural village in northeastern France where everyone has a vegetable garden and fruit trees at the back of their house. Food is everywhere in my upbringing and culture. I've learned to eagerly anticipate les premiers radis (the first radishes), peas, watercress, cherries, apples and strawberries of the season. And eggs—Did I tell you my grandparents were farmers? Maybe that's why I love to shoot raw ingredients like these so much, and highlight the natural beauty you can find in their natural shapes and colors. They inspire my cooking and photography tremendously. In my kitchen, my favorite tool would definitely be a mandoline, and lots of different mold shapes and plates and cups to make food stand out on the plate. I am a serious prop collector! We eat with your eyes first, right?
What are your favorite food and cooking resources? Of course, I own a ton of cookbooks and food magazines. All with pretty images inside them—I cannot buy a cookbook otherwise. So to name a few, I'd say I enjoy Donna Hay cookbooks (they remind me of my delicious trips to sunny Australia when I lived in New Zealand); the French Elle a Table and Saveurs food magazines, because the food style really speaks to me, and they have me dream of my home country. I also like Jamie Oliver's style. I find his character and simple cooking really likable, and homey—and by the way, I'd love to have a house in the English countryside like he does.
What photography equipment do you use? When I started my blog, I was using a point and shoot camera. After looking at many pictures in magazines that made me think I want to shoot like that, I decided to buy a SLR camera. My first one was the Canon 30D. Then I bought the Canon 5D and now I am using the Canon 1D Mark 4. Most of my food shots are done with a Macro lens 100 mm and a 24-70mm 2.8 L lens.
Where else can we find your work? My photography portfolio is at beatricepeltre.com; I regularly write and photograph for the Boston Globe's food column and do regular photography work too for Boston magazine. I have also done photography work for cookbooks (Gingerbread by Jennifer Lindner McGlinn published by Chronicle Books). Other clients include Trader Joe's, Improper Bostonian and Bizbash. Additionally, my work has been featured on the radio (A Work of Mouth on NHPR); in newspapers (Le Figaro (French); Le Republicain Lorrain (French); The Washington Post; The Sydney Morning Herald (Australian)); in magazines (Refoto (Serbian); Cuisine by Lignac (French); Photographer's Guide to Turning Pro (English); Joshi Camera (Japanese)); and on websites like Design Sponge, Saveur (Thank you!); Babble; Canadian Living; Style at Home; and Public Radio Kitchen.
Photos by Beatrice Peltre/LaTartineGourmande.com
Do you know a blog or blogger who deserves to be featured in this space? Email a nomination — including a link to the site and a few sentences on why they're worthy of love — to siteswelove@saveur.com.