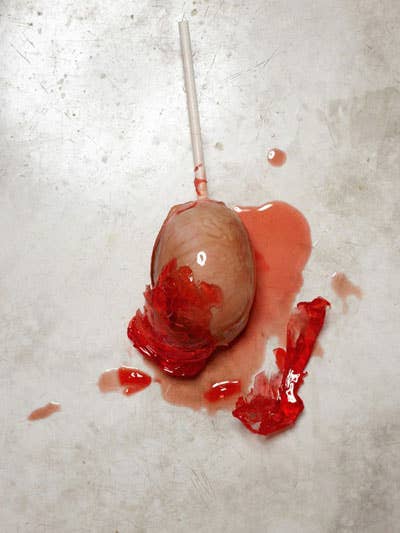 Culture
Sites We Love: Three to One
Gorgeous photos? Check. Engaging writing? Check. Seriously inspiring recipes, tips, and culinary curiosity? Check, check, and check. The best food blogs all seem to have a lot in common — but what separates them out are the strong personalities behind them. In our Sites We Love series, we sit down with some of our favorite bloggers to find out how they do it — and why it's as much fun for them as it is for us.
This week's Site We Love is Three to One, where proprietor Dimity Jones engages us with extraordinary and surprising recipes, in-depth restaurant reviews, and surprising food imagery. Whether it's Pig's Snout wrapped in spun sugar or a captious review of Brooklyn's best fried chicken, Dimity's creative edge shines through and leads readers on a journey that is sure to have their mouths watering and their minds pondering. Here's what Dimity has to say about her site:
Posting rate: 2 or 3 times a week.
Geographic location: Brooklyn NY
Why is the site called Three to One? Three, two, one, ...blast off? (Just kidding)
My friend Larry Link came up with the name, and I really liked it. It was the idea of having a place that takes the multitude of recipes that amass the internet today (have you ever searched for chocolate cake? egad, it's crazy, literally thousands will pop up) and reducing it to one.
What's been your most popular post? The candied offal story. Where we candied coated the ugly parts of the animal.
What's your favorite post? The lardo post, and I have no idea why. I ate Mario's lardo pizza, and it was oily and rich and amazing and it inspired to me to make my own lardo pizza at home. I love short story fiction and writing. So I guess most of my favorite posts, incorporate all of what I love to do the most; food, recipe, writing, art directing, and photography.
What's something great that you've learned or that's happened to you since starting your blog? Ruth Reichl subscribed to my blog and we ended up having an amazing fondue lunch together.
What's the usual process for developing one of your posts? Sounds odd, but it's usually random. sometimes I'm walking across the street in an unfamiliar, or even sketchy neighborhood and smell something amazing and I've got to go find it, hunt it down and learn more about it. I always have my camera with me. I'm not a food snob. I live, breathe, see, food, all kinds of it, and my blog is like the osmosis of what I find and what inspires me.
What are your favorite ingredients and tools? My go-to ingredients that I always have on hand are ricotta, basil, salt, and pickle juice. I love chorizo, andouille and blood sausage, saffron, oysters, and I'll pickle anything. My fridge is never without a wedge of Parmesan, that I can grate into anything—soups, pasta, rice dishes. I've hit a recent busy patch, so I'm concentrating on building natural flavors, but making the cooking process simpler. I love to throw some sun-dried tomatoes, and a lump of ricotta into the food processor, and quickly toss it in whole wheat penne. I love to make Pesto from scratch; chunky, raw, hand chopped. Tipped off by a friend, I've been poaching a whole chicken in a big pot of water, together with a lots of fresh Ginger. Carrots, celery, onions, garlic, peppercorns, (or whatever you have in the fridge, really. Parsley, or any stray fresh herbs). Simmer, let sit, and then after it's cooled, shred the chicken and use it for the entire week. In salads, sandwiches, or even a risotto. When you do make the risotto, use the water from the poached chicken as your stock, instead of a carton of chicken stock. It's phenomenal. I love that cooking the chicken this way is a 1-step cooking process, that gleans me 2 things. Cooked chicken, and flavorful broth.
Photo: Marth Stewart Living Magazine
The Farmers market is central to my cooking and always guides me on what ingredients to use. I usually do one walk through to see what's there. Taste when samples are offered, and check pricing. Then walk back through again and purchase. I love asking the stall holders questions. "How many more weeks will you have rhubarb?" Then I can go home and plan recipes knowing I'll at least have a couple more weeks of meals, where I can incorporate that one ingredient.
What photography equipment do you use? I use a Nikon, given to me by a photographer friend. I'm not really a photographer... I'm a creative director who just happens to have a blog on the side, and likes to take photos. My friend put the camera on manual setting, and it's been the best thing for me. I fumble through it, and usually bracket fairly heavily, but hopefully I get there eventually.
Where else can we find your work? In magazines. I've been a creative director for over 9 years, and designing magazines since I was 19. I was the design director on the launch of Lucky magazine, but the first magazine I ever worked on was Gourmet Traveler in Australia. So food has always been with me. You can find my recent work in Martha Stewart Living magazine, where I have been freelancing on and off there, for the last 14 months.
What food blogs do you follow? I'm inspired daily by my very creative friends: and follow more than just straight food blogs. I think food, style, fashion and beauty really overlap.
Watermelon with Oysters: This photo first appeared in the July 2011 issue of Martha Stewart Living Magazine. Photographer: Pernille Pedersen. Food Styling/Concept: Kris Kurek. Props: Carla Gonzalz-Hart. Art Direction: Dimity Jones.
Do you know a blog or blogger who deserves to be featured in this space? Email a nomination — including a link to the site and a few sentences on why they're worthy of love — to siteswelove@saveur.com.